Healthcare stocks have had a tough time lately. With the broad market selling off for months in anticipation of the Supreme Court's recent decision on Obama's health care law, investors have been leery of healthcare stocks. As always, such attitudes have done harm to perfectly solid stocks, most notably WellCare Health Plans (NYSE:WCG).
WellCare is a provider of managed care services, focusing on Medicaid and Medicare. As the YTD chart shows, the market has not been very kind to WellCare. WellCare jumped by almost 8% following the SCOTUS ruling, and looks to be on good footing for the coming months.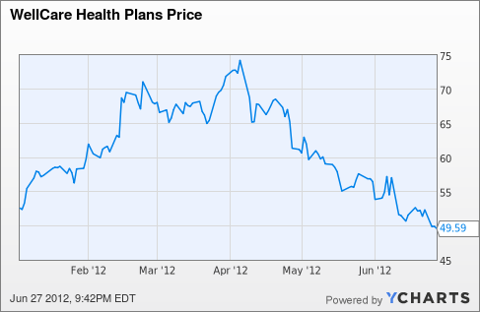 WCG's Return on Equity, at 27.63%, is highest in the managed healthcare industry (industry average is 22%).
Valuation statistics suggest Wellcare Health Plans are dirt cheap. P/E on a TTM basis is 7.36, half the healthcare industry average of 15.56. The PEG ratio clocks in at 0.46, suggesting future growth is underappreciated by the current stock price.
EPS growth on a TTM basis is a phenomenal 821%. As the stock has not appreciated by anything close to 821%, it represents a fairly good buy at current prices.
In each of the last 12 quarters, the company has reported earnings that beat consensus analyst estimates by at least 2%. (12 earnings beats in a row.)
Analyst coverage is very positive: as of June 26, 3 analysts had a "strong buy," two had a "buy," and eight had a "hold." None had "sell" or "reduce" ratings.
Price targets range from $61 to $85, with a mean of $73.10. This represents a mean upside of approximately 45%. Even the low target represents a significant upside of ~20%.
Institutional ownership is at 94.46%, suggesting money managers agree with the analysts.
The Supreme Court's recent confirmation of the Affordable Care Act gives markets a definitive answer on the future of the healthcare industry. This clarity could spur renewed interest in healthcare stocks that investors were afraid to touch due to the lack of certainty.
Disclaimer: I am an individual investor, not a licensed investment advisor or broker dealer. Investors are cautioned to perform their own due diligence. All information contained within this report is presented as-is and has been derived from public sources & management. Always contact a financial professional before making any major financial decisions. All investments have an inherent degree of risk. The future is uncertain, and actual results may be materially different from those expected. Past performance is no guarantee of future results. All views expressed herein are my own, and cannot be interpreted as the views of my employer(s) or any organizations I am affiliated with. Presentation of information does not necessarily constitute a recommendation to buy or sell. Never make any investment without conducting your own research and reading multiple points of view.
Disclosure: I have no positions in any stocks mentioned, and no plans to initiate any positions within the next 72 hours.