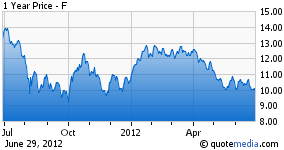 Ford (NYSE:F) had an interview with New York Times yesterday on June 28, 2012 and it discussed their impact with European, South America, and Asia operations. They released a press statement 8-K with the SEC about the updated guidance for the quarter. The statement discussed that their losses from these 3 areas of operation can triple this upcoming quarter from the previous quarter pre-tax loss of 190 million dollars. Although the impact may be significant and decrease overall earnings from the prior year's quarter, Ford will still be profitable from a strong North America segment and from Ford credit.
To an investor in Ford's stock, these warnings and guidance's should be of little surprise. Europe is going through austerity and growth in the region is decreasing or in a recession, this is no surprise. South America has been dealt with increased competition, pricing, and unfavorable currency fluctuations. Asia's profitability is decreased due to the amount of increased investments to have a stronger growth rate in China and Asian markets in the upcoming years. Overall, nothing too surprising; however, the stock does reflect this short term weakness in International operations.
The market may bring down the stock a little bit and will be around $9 probably in the upcoming weeks and possibly after their quarterly earnings in late July when released. The outlook given then will have an impact as well as conditions in Europe and how they persist. Inevitably an improvement in Europe will come, fluctuations and competitive prices in South America will ease itself, and Asia should be profitable with a successful push to a more important and significant market. North America and Ford credit should continue their strong performance and any setback may occur if high unemployment exists as well as low housing starts.
Thus, over the long term barring any significant and unfavorable impacts that may occur, the outlook for Ford in the next 3-5 years should be greatly improved compared to the current condition the auto industry is facing today. Noting that when the financial community is confident in the auto industry's ability to be profitable in a normal economy and fears of another recession ease away, then a significant change in Ford's appraisal will occur. Along with growth prospects by Ford in all areas of operation, and the general market improving with a higher GDP rate, employment, and housing, I see a significant increase in value that can occur in Ford's stock five years from now.
With these long term trends, I would value Ford to be a "dear" price to own below $12, and fairly valued around $16-17. This is indicative of using a conservative P/E ratio of 10 and Ford's estimated possible earnings trend during these difficult times in the global economy of around $1.20-$1.70 a share. Improvements in the industry as a whole, Ford's operations across all segments being profitable, and the general market level can move the P/E ratio to 13 and Ford's earnings to possibly $2.00-$2.50 a share. With this improvement very feasible in 3 to 5 years, I can assume a price range of Ford's stock in the future as around $26 to $32.5.
Currently, around $9 I see ample room for a margin of error or "safety" if these improvements do not occur. For instance if significant competitive pressures decrease Ford's ability to price effectively, or a deterioration of the less than normal quality global economy, then I see a marginally improvement in the share price. This includes the U.S. economy continuing with high unemployment, government debt, and European austerity continues. However, the grass is always greener on the other side and I assume that these are the known unknowns, which must be taken accounted for before investing the common stock. I believe in the long run, Ford will be an excellent investment for a long term gain in excess of the overall market if held for long term capital appreciation.
Disclosure: I am long F.
Disclaimer: The "EPS" numbers and assumed P/E ratios are estimates and can vary widely and may even be incorrect to some standards. However, they are conservative in my view and are used on a non-opportunistic approach. I also am expressing my own views of why I own Ford at these current levels and not recommending a purchase since due diligence is required to make such a speculative decision like investing in common stocks.