It's perhaps every investor's wish: To find the next Wal-Mart (NYSE:WMT) before it becomes a behemoth. So alluring is the perceived prize that investors are even willing to price some stocks, such as Amazon.com (NASDAQ:AMZN), as if they are guaranteed to be the next Wal-Mart. How else can they justify paying 180 times earnings for it, or already paying 43.4% of Wal-Mart's market capitalization, while Amazon still produces only 11.3% of the revenues, or 3.5% of the net earnings?
So yes, it's the desire to find the next Wal-Mart that drives people to buy Amazon.com. In a recent investor presentation, Josh Tarasoff from Greenlea Lane Capital lays down the logic:
Mass merchants compete on price, selection and convenience
Walmart is the dominant mass merchant, and its formula for success is straightforward
Scale efficiencies permit low prices, wide selection
Low prices attract more customers
More customers drive greater scale
Greater scale permits further price decreases
...And so on. So, you ask, perhaps we have already found the next Wal-Mart. According to Josh Tarasoff, it's Amazon.com!
I disagree. The next Wal-Mart is indeed out there in the open. And it isn't Amazon.com. The logic above, for mass merchants, is entirely right. But it forgets a key ingredient: Cost. Retailers than can successfully compete on price are the ones that have the lower costs. Wal-Mart could beat its competitors because it had the advantage of being able to put product in its customers' hands at a lower cost. And Amazon.com is NOT a low cost provider. I've shown this a couple of times before, but here it goes again:
Amazon.com's (operating costs ex-cost of sales/revenues) comes to 22.5% of sales (Q1 2012), whereas Wal-Mart's are 19.2% (2012 FY), and Costco Wholesale Corporation's are 9.5% (Q1 2012).

So who is the next Wal-Mart?
It should be obvious by now. As I have already mentioned, the key ingredient is cost. So as far as I can tell, the next Wal-Mart is Costco (NASDAQ:COST). That's because, like Wal-Mart, it's able to get products into customers' hands at a lower cost. Therefore, it's the one with the greatest ability to undercut its competitors on price, and consequently, the one most able to replicate the formula that leads to mass merchant success like Wal-Mart's. And Costco has to be even more able than Wal-Mart, in fact, as this is the only way of becoming the next Wal-Mart while in direct competition with Wal-Mart.
If this was not clear enough, then we can perhaps have a look at the evolution of earnings at Wal-Mart, Amazon.com, and Costco. Which do you believe is following Wal-Mart's trajectory?
click images to enlarge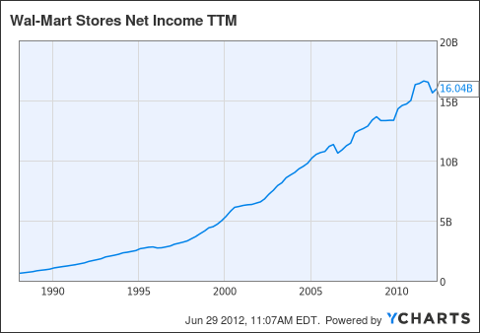 WMT Net Income TTM data by YCharts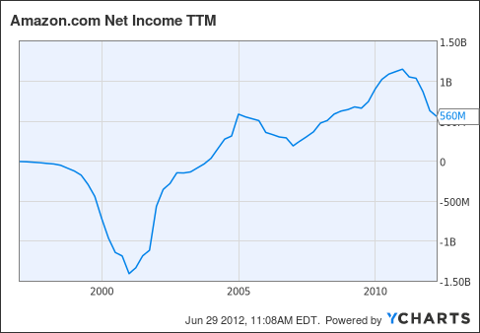 AMZN Net Income TTM data by YCharts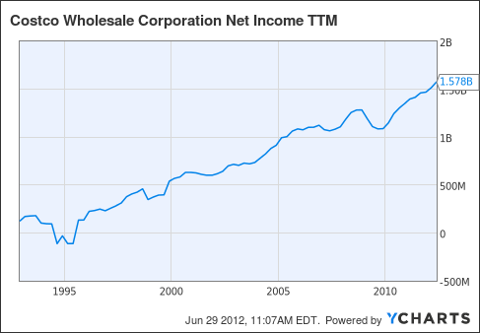 COST Net Income TTM data by YCharts
Why does Costco have a steady slope upwards like Wal-Mart, and Amazon.com doesn't? Because Amazon.com is competing on price without being a cost leader!
Amazon.com only appears to be the next Wal-Mart in revenues, but its earnings behavior betrays its cost weakness. Yet, Costco behaves like Wal-Mart in both revenues and earnings, as we can see below.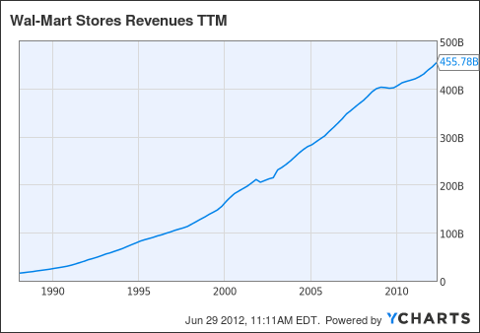 WMT Revenues TTM data by YCharts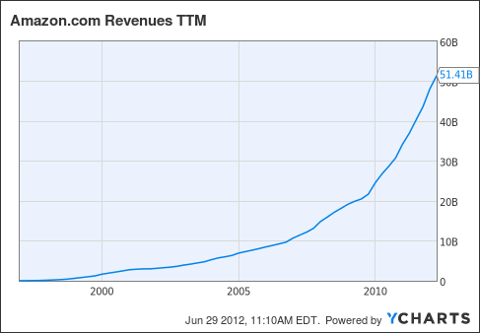 AMZN Revenues TTM data by YCharts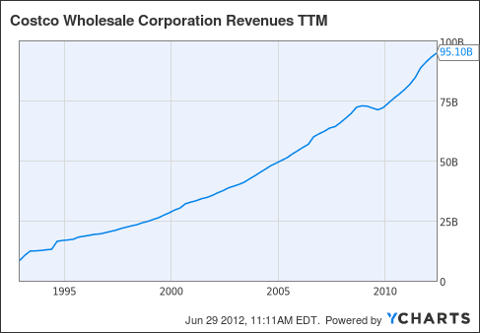 COST Revenues TTM data by YCharts
Costco: The Reasonable Choice

With the market so focused on Amazon.com as the next Wal-Mart, it kind of forgets that Costco is a much more realistic candidate for that title. This means that you can still buy Costco at a much more reasonable valuation. It trades at a forward 2012 P/E of 24.4 times and 3.2 times book value. Not cheap by any measure, but not irrational like Amazon.com for sure.
Disclosure: I am short AMZN.