Yahoo! Inc.'s (YHOO) three-year plan to double its operating cash flow may impress investors now, but it won't do anything to stop being bought out by Microsoft Corp. (NASDAQ:MSFT), says RBC Capital Markets analyst Ross Sandler.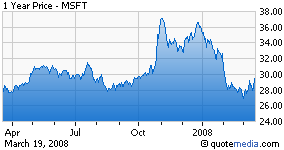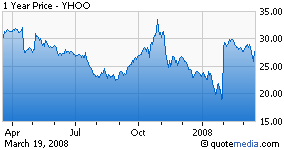 The search engine company released a press release earlier Tuesday indicating that revenue expectations will balloon 25% more in 2009 and 2010, beating the Street's estimates of 13% and 11%, respectively. Mr. Sandler questions the company's projections based on the current macro economic backdrop and would have to assume fairly meaningful share gains, which the company has shown little evidence of being able to accomplish.
Mr. Sandler said:
Judging by recent history, we remain skeptical of Yahoo's ability to execute smoothly against this plan. If the overall economy and the online advertising space were in a healthier place right now, we would have more confidence. At the very least, this is a smart last-ditch effort by Yahoo management to squeeze a few more dollars out of Microsoft.
Mr. Sandler hiked his price target to $32 from $24 and maintained an "outperform" rating on the stock. On Tuesday, Yahoo closed up 1.8% at $27.66.