It is clear that one way of managing our resources successfully for the future lies in recycling the resources and the products of those resources, again and again.
Filling our life with one-shot products and packaging, like paper, cans, plastic bags, wine bottles and cardboard, is not sustainable. These products need to either last longer and be useable for a continued range of uses, or to be made more biodegradable in order to be recycled easier into a raw material again, which can then be reprocessed and reused.
Recycling has the potential to be an important strategy for long run sustainability, if we are willing to look beyond short-run economics. First, recycling most certainly can enhance the health and productivity of the natural ecosystems. Recycling that reduces toxic wastes and environmental pollution obviously provides immediate benefits to human health. By reducing wastes, recycling also conserves natural resources, protects natural ecosystems, and encourages biological diversity, all of which enhance the long run sustainability of the biosphere.
I found two promising companies that can be worthy investments in a sustainable world.
The first one is Metalico (NYSEMKT:MEA).
Metalico is a leading full-service, broadly diversified scrap metal recycling company, principally operating in the Northeastern United States. The company's scrap operations source, buy, process, and sell four distinct groups of commodity metals for use in the manufacture of new products:
Recycling of scrap steel and iron, which is sold primarily to domestic mills and foundries.
Recycling of non-ferrous metals, principally aluminum, copper, lead, and nickel-based steel and high temperature alloys. These products are sold to domestic manufacturers and, to a lesser extent, to the export markets.
Buying catalytic converters and recover platinum, palladium, and rhodium, known as Platinum Group Metals (PGM's). These precious metals are typically refined and reused by industry in emissions control devices.
Metalico also recycles minor metals including molybdenum, tungsten, and tantalum, which are used in specialty steels, electronics, and high-technology-based products.
The company is also a leading fabricator of non-battery lead-based products, manufactured principally for commercial, industrial, and radiation shielding applications nationwide. Its facility in Syracuse, New York, converts aluminum scrap into deoxidizing cones, an additive used in the steel-making industry.
With a book value of $4.09 and EPS estimate 2012 of $0.20 and $0.34 in 2013 the stock has the potential to rise to $3.00 this year.
Another company I have been following already for some time is Guanwei Recycling (NASDAQ:GPRC).
In one of my former articles called "Guanwei Recycling Could Be The Next 3 Bagger" I already mentioned this sustainable recycling company.
Guanwei is one of the largest manufacturers of recycled LDPE in China; the company imports and recycles LDPE plastic scrap material into granular plastic for use in the manufacture of various consumer, industrial and chemical products.
The corporate structure of the Registrant is as follows: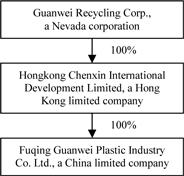 Guanwei is one of few companies in China certified by PRC representatives and Germany's TUV Rheinland, which allows them to import higher quality waste plastics from Europe directly.
The cost of processing plastic waste in Europe is significantly higher than in China. Guanwei's products are sold to customers in a wide range of industries, including shoe manufacturing, architecture and engineering products, industrial equipment and supplies, and chemical and petrochemical manufacturing. Guanwei operates its business in compliance with the highest environmental standards in order to meet the stringent requirements of both German and Chinese authorities.
On June 18, 2009, Umweltagentur Erftstadt, a provider of certification services, issued its audit report on the compliance of Guanwei's operations with German regulations regarding pollution and environmental controls. Based upon its audit, Umweltagentur Erftstadt determined that Guanwei should be issued a certificate (a "Compliance Certificate") as to such compliance. Holding a Compliance Certificate permits a plastics recycler to purchase plastic waste directly from German suppliers.
In my own due diligence process I had contact with Dr. Klaus Mackenbrock from this German environmental and sustainable consulting institute.
I was suprised to hear that the certification has been paid by German clients of Umweltargentur. A positive sign because Guanwei didn't pay themselves for this Certificate.
Dr. Mackenbrock knows the company since 2007 and visits Guanwei at least once in the two years to renew the Certificate. The Certificate is valid for 1 year, and can be renewed once without inspection on-site. So Umweltargentur has to visit the factory after 2 years again.
In Germany this kind of Certificate is needed, because German companies have to assure that plastics (e.g. PE-films) are recycled sustainable and "material-by-material." Details are determined in "Packaging Ordinance," and LAGA Announcement no. 37.
The audit covers the check of which ecological standards are required and what has been done to avoid environmental pollution. In this context Guanwei's ISO 14000 is more relevant and important.
The impression of the visits he made to Fuqing Guanwei were very positive.
But there a only a few factories of a "bigger size" that make such a good general impression. Every time, when I visited them, they were very busy on work. It is quite clean. I could not see pollution (like small pieces of film outside the factory site. The management (seems to me) is making a good job.

But with their actual recycling capacity they belong to the great and good ones, but they do not belong to the real big companies. For this they must increase their capacity. But I think, they have the potential for this.
Financials
As of the end of Q1, Guanwei had $10.1 million in cash and $26.2 million in working capital, or $0.51 and $1.31 per share, respectively. The company also had $34.6 million in tangible book value as of March 31, 2012, or $1.70 per share. The company lost $2.6 million in operating cash flow during the quarter, primarily due to growing accounts receivable (as the company began offering better payment terms to its largest customers) and inventories (stockpiling inventory in preparation of increased processing capacity).
| | | | | |
| --- | --- | --- | --- | --- |
| | Revenues | | EPS | |
| | 2011 | 2012 | 2011 | 2012 |
| Q1 (NYSE:MAR) | $14.1A | $16.2A | $0.14A | $0.10A |
| Q2 (Jun) | $15.8A | $16.5E | $0.17A | $0.11E |
| Q3 (NYSE:SEP) | $16.7A | $17.5E | $0.17A | $0.13E |
| Q4 (Dec) | $17.0A | $18.0E | $0.16A | $0.15E |
| FY | $63.6A | $68.0E | $0.64A | $0.49E |
The company can keep growing in the next few years as a result of the expanded plastic waste import quota and increased capacity; however rising raw material and labor could influence results like it did in Q1. Personally I think Guanwei can generate 2012 revenue and EPS of $68 million and $0.49. For 2013 I expect improvement of revenue and net income but I can't translate in yet in a concrete calculation.
In 2011, Guanwei received an expanded import quota, allowing it to import up to 115,000 tons of plastic waste, relative to a prior quota of 59,000 tons of plastic waste, primarily LDPE. Following the quota expansion, the company was able to import up to 99,000 tons in 2011, which should grow to 115,000 tons in 2012. Out of the 115K tons, 80K tons of the quota will be in Guanwei's name, while the company should continue to benefit from the 35K ton import quota granted to Fuqing Huan Li Plastics Company, a related third party. The import quota expansion should lead to substantial organic growth over the next few years and serves as a strong government endorsement of the company's environmentally friendly manufacturing facility. In connection with the import quota expansion, the company has also increased its production capacity from 65,000 to 80,000 tons annually, and plans to continue expanding processing capacity during 2012.
Conclusion
Guanwei shares remain significantly undervalued and in my opinion this company could be a three-bagger when common sense prevails again in the China space. At a price of $0.90 the stock is trading at a P/E multiple below 2 of my 2012 EPS estimate. A more realistic valuation would be 8x times earnings per share. Value investors and sustainability investors should have a look.
Disclosure: I am long GPRC.