Enbridge Energy Partners (NYSE:EEP) is the U.S. MLP arm of Canadian pipeline company Enbridge Inc. (NYSE:ENB). For investors, Enbridge Energy Partners offers an attractive dividend yield backed by a pipeline system providing crude oil transport from some of the most important energy sources for the U.S. to the refineries and markets.
Enbridge Energy Partners owns the U.S. side of Enbridge's crude oil pipelines which bring oil into the U.S. from the active Western Canada and North Dakota crude and shale oil plays. Enbridge currently brings the largest portion of the Canadian oil imported into the U.S. and that oil becomes Enbridge Energy Partners transported product when it crosses the border. EEP pipelines transport oil around the Great Lakes region and one pipeline takes crude out of Cushing, OK to the Wood River refinery in southern Illinois. EEP owns a significant amount of crude oil storage capacity.
In addition to crude transport and storage, Enbridge Energy Partners owns natural gas gathering, transmission and processing facilities in the Granite Wash, Barnesville Shale and Barnett Shale plays in Texas. Natural gas currently accounts for one-third of operating income, but Enbridge expects that portion to shrink to a quarter as liquids transport capacity continues to increase.
One quarter of Enbridge Energy Partners gross margins are exposed to commodity price fluctuations, but two-thirds of that exposure is actively hedged. EEP can be viewed primarily as a fee based energy transport company with the bulk of those fees governed by automatic annual increases which are linked to the rate of inflation plus a margin.
What investors get with Enbridge Energy Partners is a stable energy transport MLP with a current yield just above 7% and prospects for continued distribution increases. This is a better yield than many competitor L.P. companies with growing distribution rates. Enbridge Energy Partners plans on growth through capacity expansion of its current assets. The company forecasts the distribution amount to increase by 2% to 5% per year and the actual increase have been at 3.6% for the last two years. Enbridge, Inc. owns a significant amount of other pipeline assets in the U.S., but there are no indications that the company plans to drop down any of the assets to the MLP.
The Enbridge family of companies also includes Enbridge Energy Management LLC (NYSE:EEQ). The only assets of EEQ are EEP limited partner units. EEQ pays distributions in additional shares and avoids the pesky K-1.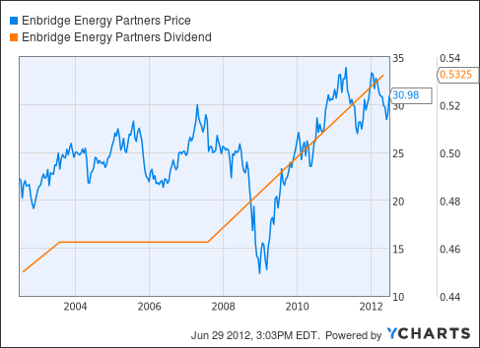 Disclosure: I have no positions in any stocks mentioned, and no plans to initiate any positions within the next 72 hours.