Crowned "a godfather of the hedge-fund industry," Julian Robertson founded Tiger Management in 1980. He started with an $8 million investment and turned it into $23 billion in assets under management at the fund's peak in 1998. When returns soured in the late 1990s, Robertson shuttered the fund to outside investors and returned all investor money in 2000. Apparently, the fund's demise has been blamed on the wrong stock picks and its failure to ride the tech rally in the late 1990s.
Tiger Management relies on long/short equity investment strategies to make money. Robertson is considered very aggressive in shorting stocks that he is convinced are destined to fail. His investment approach has also been considered very personal. In general, Robertson's investment style has been characterized as a "smart idea, grounded on exhaustive research, followed by a big bet." His investment approach is described in the book Julian Robertson: A Tiger in the Land of Bulls and Bears, by Daniel A. Strachman. With $2.5 billion in net worth, Robertson is ranked No. 491 on the list of Forbes Billionaires and No. 164 in the United States.
Since closing his fund in 2000, Robertson has been busy providing seed finance to his protégé hedge fund managers. In exchange, he usually receives a stake in their fund companies, called "Tiger Cubs." There are some 40 such hedge funds in which Robertson has a stake. Last year, Robertson reopened his Tiger Management fund to outside investors, raising as much as $450 million to finance his six Tiger cubs with best investment prospects. The supported hedge funds include Tiger Eye Partners, Long Oar Global Partners, Tiger Ratan Capital, Cascabel Management, Tiger Veda Management, and Teewinot Fund. Robertson contributed an additional $250 million to the cause.
Here are Julian Robertson's largest five positions that pay dividends:
click images to enlarge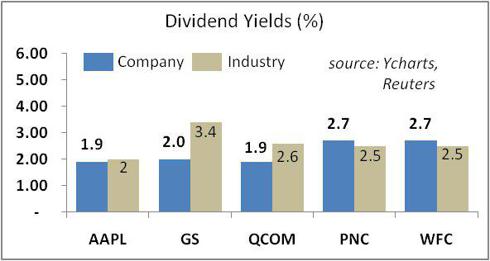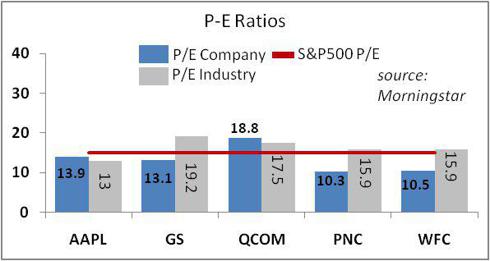 Apple Inc. (NASDAQ:AAPL) is the single largest share in Tiger Management's portfolio, currently valued at nearly $51 million. The company is the largest publically-traded company in the world, with market capitalization of $537 billion. Apple Inc. sells a variety of consumer electronics, including computers and software. Its famous trademarks include iPhone, iPad, iPod, and Mac. Apple's products have been selling at spectacular rates, boosting the company's earnings per share (EPS) as much as 65% per year over the past five years. For the next five years, Apple's EPS are expected to expand at an average rate of close to 21% per year.
Apple will initiate a quarterly dividend of $2.65 a share starting in its fiscal fourth quarter which begins on July 1, 2012. At current prices, the annualized dividend will yield 1.9% on a payout ratio of 26%. Apple's competitors, Microsoft (NASDAQ:MSFT) and Hewlett-Packard (NYSE:HPQ), pay dividends yielding 2.65% and 2.72%, respectively, while rival Google (NASDAQ:GOOG) does not pay any dividends. Recently, both Microsoft and Google introduced their own tablets, called Surface (Microsoft) and Nexus (Google), which will compete with Apple's blockbuster tablet iPad. At the current price, all of these tech stocks seem to be significantly undervalued relative to the market. That's probably why they are the three most popular stocks among hedge funds (see the list of 10 most popular stocks).
Goldman Sachs (NYSE:GS) is the second largest position in Robertson's fund, currently valued at $23.4 million. The company is a $46 billion multinational investment banking and securities trading firm. It is the fifth largest U.S. financial institution by asset size. The investment bank pays a dividend yield of 2.0% on a payout ratio of 27%. Analysts forecast that Goldman Sach's EPS will grow at an 11.7% average annual rate for the next five years. According to the bank's CEO Lloyd Blankfein, about 80% of Goldman Sachs' growth will come from emerging markets such as Brazil, Russia, India, and China. The company's credit rating was cut two notches last week by Moody's, largely because of its exposure to Europe. With respect to the stock's valuation, on a forward P/E basis, Goldman Sachs is trading below the banking industry and investment services ratios. Shares of Goldman Sachs are currently trading at $93.27 a share, slightly more than 2% below its price levels at the beginning of the year. Among fund managers, this bank is popular with Ken Heebner and Andreas Halvorsen, both of whom initiated positions in the company in the first quarter 2012.
Qualcomm (NASDAQ:QCOM) represents the eighth largest position in Tiger Management's portfolio, currently valued at almost $12 million. The company is a $93 billion global telecommunication giant that provides digital wireless telecommunications products and services. Qualcomm has seen its EPS grow at an average rate of 13.4% a year over the past five years. Analysts forecast a robust EPS growth averaging nearly 15% per year for the next five years. Qualcomm pays a dividend yield of 1.9% on a payout ratio of 30%. The company's dividend is 78% higher than that paid in 2007. Over the past five years, the dividend has increased at an average annual rate of 12.4%. Competitors Broadcom (BRCM), Texas Instruments (NYSE:TXN), and Nokia Corporation (NYSE:NOK) yield 1.2%, 2.5%, and 8.1%, respectively. Alcatel-Lucent (ALU) does not pay dividends. Qualcomm stock is currently changing hands at $54.91 a share, almost flat year-to-date. On a forward P/E basis, the company is trading at a small premium relative to its industry. Cantor Fitzgerald has just initiated coverage of Qualcomm with a buy rating and a price target of $66, implying an upside potential of 20%. Billionaire Ken Fisher and guru investor Stephen Mandel also hold large stakes in the company.
PNC Financial Services Group (NYSE:PNC) is the 11th largest U.S. bank by assets. Analysts forecast that this diversified regional bank will boost its EPS by 12.4% this year, followed by a more modest 6.3% per year, on average, for the next five years. Citing potential revenue growth problems stemming from the ever-declining interest rates, Citigroup downgraded the stock earlier this month. Still, PNC has solid cash flow from operations, expanding profit margins, and attractive valuation. The bank has a price-to-book ratio on a par with the industry's average ratio and slightly below its own five-year average ratio. Its forward P/E is below the ratios for both the industry and the S&P500 index. The bank pays a dividend yield of 2.7% on a low payout ratio of 29%. Its large competitors, Bank of America Corporation (NYSE:BAC) and Wells Fargo (NYSE:WFC), yield 0.5% and 2.7%, respectively. The stock is trading at $59.60 a share, up 1% year-to-date. Billionaire Ken Fisher and fund manager Rick Dillon (Diamond Hill Capital -- check out its top picks) are fans of the stock.
Wells Fargo is a $174 billion multinational diversified financial institution. With assets of $1.3 trillion, it is the fourth largest bank in the U.S. by asset size. The bank pays a dividend yield of 2.7% and has a dividend payout ratio of 30%. Its peers Bank of America Corporation and JPMorgan Chase & Co. (NYSE:JPM) pay yields of 0.5% and 3.4%, respectively. The bank is expected to grow its EPS at an average rate of 10.5% per year for the next five years. It stands to benefit from the refinancing boom amid historically low mortgage rates and the expected rebound in the housing market. Wells Fargo has favorable forward valuation. It is currently trading on a forward P/E below the industry's forward ratio. However, with regard to its the price-to-book ratio, the bank is trading at a premium relative to the industry on average. The stock is currently at $32.7 a share, up 15% year-to-date. The company is popular with legendary investor Warren Buffett, billionaire Ken Fisher, and fund manager Daniel Loeb.
Disclosure: I have no positions in any stocks mentioned, and no plans to initiate any positions within the next 72 hours.