Jack Ma & Softbank Smell Blood
It is becoming increasingly clear that Alibaba Chairman Jack Ma and Softbank (OTCPK:SFTBF) are interested in exercising their right of first refusal over Yahoo's (YHOO) 39% stake in Alibaba Group should Microsoft's (NASDAQ:MSFT) bid for Yahoo succeed. As I mentioned a while back, they obviously want to pick their own partner to maximize value. This raises lots of questions over how the stake would be valued, how Microsoft would react, and whether eBay (NASDAQ:EBAY) might get involved in the fray. One thing is for sure, the dynamics of this deal keep on getting more interesting.
Update: I found an interesting quote from the San Francisco Chronicle back in 2006. "Among China's leading businessmen, Ma is known for his bombastic comments. He routinely uses eBay as a dartboard while simultaneously praising it as one of the companies he most admires."
eBay Promoting U.S. Stores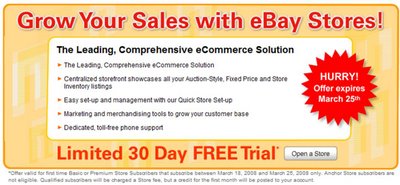 eBay has announced a 30-day trial promotion for opening a new eBay store. Read details of the promotion here.
In the U.S., estimates show store listings have grown 17% Y/Y QTD and this growth has accelerated since the fee structure changes went into effect. I suspect with the roll-out of best match, we may start to see eBay give store listings even more exposure within the system again.
eBay Enabling More E-Commerce Than Ever
This is a graph of the Gross Merchandise Value [GMV] that has flowed through eBay GMV Marketplaces every quarter since 2001. Seven years of almost perfectly linear growth obviously takes a toll on growth rates, but it still does not negate the fact that eBay is connecting more buyers and sellers than ever before (and this excludes non-GMV businesses such as classifieds or comparison shopping). In Q4 2007 alone, a record $16.2 billion of GMV traded hands through eBay Marketplaces while GMV growth stabilized around 12.5% Y/Y.
Even though GMV is becoming a less all-encompassing metric because of eBay's diversification into non-GMV activities, it is still the most important measure of health, representing the base on which about 50% of PayPal revenue and 85% of Marketplaces revenue is generated. Which is why it is reassuring that in Q1 2008, indications are that we will see yet another quarter of record GMV and a very welcome acceleration in Y/Y growth.