On the list of top % gainers on Tuesday, I was pleased to see FactSet Research Systems Inc. (NYSE:FDS) there, closing at $52.43, up $7.90 or 17.74% on the day. I do not own any shares nor do I have any options on this stock.
Let's take a closer look at this stock and why I think it's a compelling buy.
What exactly does this company do?
According to the Yahoo "Profile" on FactSet (FDS), the company
"...provides financial and economic information, including fundamental financial data on various companies to the investment community worldwide. Its primary product includes Marquee, a quotes and news application for company's investment management and banking clients."
And how did they do in the latest quarter?
It was the announcement of 2nd quarter 2008 earnings today, combined with the rally in equities that led to the big spike in price in FDS stock today. Earnings for the quarter ended February 29, 2008, increased 21% to $140.2 million compared to the year earlier same period. Net income increased to $29.5 million from $26.5 million last year and diluted earnings per share grew to $.59 from $.52 last year.
As pointed out in this report, "Excluding one-time costs and gains, the company earned $31.1 million or 62 cents per share compared with $26.5 million or 52 cents per share last year." This was ahead of analysts expectations according to analysts polled by Thomson Financial who expected profit of $.60/share. The company also beat expectations on revenue which had been expected to come in at $139.6 million.
Factset also raised guidance today for the upcoming quarter, guiding sales to between $145 and $149 million compared to the $121.1 million reported in the 3rd quarter of 2007. Currently, analysts polled by Thomson Financial are expecting sales of $143.5 million.
This is what I have in the past referred to as a 'trifecta-plus' in an earnings report: strong growth in both revenue and earnings, beating expectations on both, associated with the raising of guidance for future results! There isn't much more an investor could want from a report than this!
What about longer-term results?
Since I am generally not interested in 'one-quarter wonders' on this blog, and instead am looking for stocks demonstrating persistence of quality results, I like to review the Morningstar results on each company.
Reviewing the "5-Yr Restated" financials from Morningstar.com on this company, we can see the steady revenue growth noted by the gradual pattern of increasing purple bars...with $222 million in revenue in 2003 increasing to $476 million in 2007 and $501 million in the trailing twelve months (NYSE:TTM).
Earnings show an equally consistent and impressive pattern of growth, growing from $.99/share in 2003 to $2.14/share in 2007 and $2.25/share in the TTM. The company also pays a dividend and has been steadily increasing it from $.15/share in 2003 to $.36/share in 2007 and $.42/share in the TTM. Outstanding shares have been extremely stable with 52 million shares reported in 2003 actually decreasing to 51 million in the TTM.
Free cash flow has been positive and has grown, except for a slight dip in the TTM, from $72 million in 2005 to $117 million in 2007 and $110 million in the TTM.
The balance sheet appears quite healthy to me with $155 million in cash, which by itself could easily pay off both the $64.9 million in current liabilities and the $28.7 million in long-term liabilities combined with plenty left over as well! Calculating the current ratio, the $242 million in total current asset, when divided by the $64.9 million in current liabilities, yields a very healthy ratio of 3.73.
What about some valuation numbers?
Reviewing the Yahoo "Key Statistics" on FactSet (FDS), we find that the company is a mid cap stock with a market capitalization of $2.53 billion. The trailing p/e is a very acceptable (for me) 23.29, with a forward p/e (fye 31-Aug-09) of 18.53). With rapid growth estimated to continue, the PEG ratio works out to an acceptable 1.15 (generally I prefer PEG's between 1.0 and 1.5).
Looking at the Price/Sales ratio, we can see that the stock is reasonably priced with a Price/Sales [TTM] figure of 4.32 compared to the industry average of 4.78 per the Fidelity.com eresearch website. Profitability may be a little light compared to comparables, at least as measured by the Return on Equity [TTM] which comes in at 27.88% vs. the $31.41% ROE [TTM] of similary companies per Fidelity.
Finishing up with the Yahoo numbers, there are 48.23 million shares outstanding with 42.87 million that float. Currently (as of 2/26/08) there are 4.89 million shares out short, representing 9.7 trading days of volume (the short ratio)--far in excess of my own '3 day rule' for significance. This is 11.3% of the float---and may have well resulted in a 'short squeeze' today on the back of the great earnings report and the surge in overall stock prices.
As I noted, the company pays a dividend which on a 'forward basis' is $.48/share or yielding 1.00%. The last stock split, also noted above, was a 3:2 split on February 7, 2005.
What does the chart look like?
Looking at the 'point & figure' chart on FactSet Research (FDS) from StockCharts.com, we can see the tremendous appreciation in stock price from a low of $12 in September, 2001, to a high of $73 in October, 2007. The stock has been under some pressure recently along with all of the financial-related companies, but rebounded strongly today. The chart still looks acceptable to me without being over-extended but I would appreciate seeing the stock back at the $68 level before this amateur could feel that the technicals looked quite encouraging!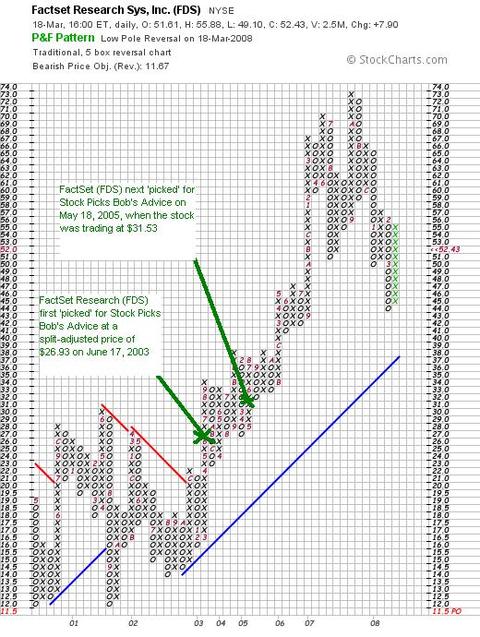 Summary: What do I think?
Needless to say I really like this stock. The only thing giving me concern has been the recent weakness in all of the Financial Stocks and this stock rides along with those companies. They reported great earnings, beat expectations and raised guidance. Longer-term, they have steadily raised revenue results, earnings results, and also pay a dividend which they have been steadily raising!
Outstanding shares are absolutely stable, free cash flow is positive and basically growing, and the balance sheet appears solid.
Valuation-wise, the p/e is moderate, the Price/Sales is low compared to its peers, the Return on Equity is a tad weak, but the PEG is at a very acceptable level. On top of this, there are a lot of short-sellers who are feeling the Cramer 'house of pain' in this stock. Finally, with the current move higher, the stock chart is moderately hopeful for a continued appreciation in this stock price. If I were buying a stock (at least when I am following my own rules :(), this is the kind of stock I would be buying.
Disclosure: no positions