On June 28, the United States Supreme Court upheld the constitutionality of Obamacare, but not all healthcare equities reacted positively to the news. The hospitals and care providers largely appreciated, while the insurers largely declined. Currently, medical device makers will be subjected to a new tax, which should be bad for business, while pharmaceutical companies, like hospitals, may benefit from growing Medicaid business, but many anticipate that the plan may undergo changes that could reverse these outcomes.
One additional healthcare investment that is likely to benefit here would be healthcare REITs. Healthcare REITs generally provide investors with a method of investing in the hospitals, rehabilitation facilities, and senior health retirement centers that will service the nation's healthcare needs. Most healthcare REITs manage the property and are merely landlords to the hospitals and related facilities, but added business for those hospitals should mean that hospitals may more easily pay their rent, including handling coming rent increases, and also potentially expand their facilities.
For several decades, medical costs have increased at a rate that has outpaced inflation. If the trend continues into the future, it can be expected that investments in the businesses that service healthcare might also outpace inflation. Being the landlord to such medical services facilities may be a beneficial position. Of course, the current regulatory and insurance landscape does present concerns within the American healthcare industry, and potential risks to investors. Nonetheless, if a medical center does survive, it will have to pay its landlord rent.
Healthcare REIT exposure should also help increase the average portfolio's yield. Several of the largest publicly traded healthcare REITs offer yields well above the market's average. Additionally, beyond the income stream that the REIT business requires, medical real estate is a highly focused industry that differs from both residential and most traditional commercial real estate, making it a potentially growing and low-correlation asset allocation.
Below are recent performance numbers for seven publicly traded healthcare REITs: HCP, Inc. (NYSE:HCP), Health Care REIT Inc. (HCN), Omega Healthcare Investors, Inc. (NYSE:OHI), Senior Housing Properties Trust (NYSE:SNH), and Ventas, Inc. (NYSE:VTR).
These healthcare REITs have an average annual yield of over 6%, which means that these equities yield more in six months than the S&P 500 will pay out for the year, or that the group would pay out about three times the yield of the benchmark over the full year.
The lowest yielding listed equity is Ventas, which is also one of the larger healthcare REITs by market valuation, currently at about $17.9 billion. Ventas now yields 4.1%, which is still over double the benchmark's yield. Not counting dividends, the company has appreciated 12.18% so far in 2012, and 15.4% over the last 12 months. See a recent performance chart for VTR: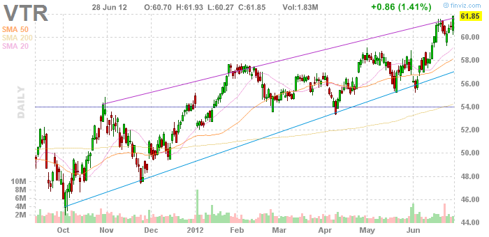 HCP is also one of the larger healthcare REITs, with a market valuation of about $18.2 billion, and a yield of 4.6%. HCP shares have appreciated 4.5% so far in 2012, and 18% over the last 12 months. HCP is also a dividend aristocrat, which means HCP has increased its dividend every year for at least the past 25 consecutive years. See a recent performance chart for HCP: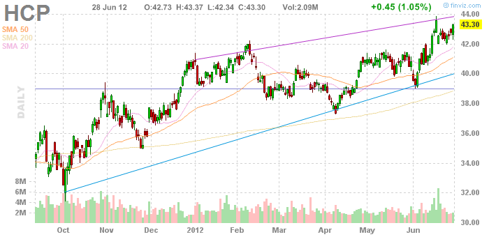 The highest yielding listed healthcare REIT is Omega Healthcare Investors, which has a market valuation of $2.4 billion and a yield of 7.4%. OHI, which is largely a long term care facility manager, currently pays a $0.42 quarterly dividend, and has increased its dividend in four of the last five years, including this year. So far in 2012, OHI shares have appreciated by 17% and they are up 9.4% over the last 12 months. See a recent performance chart for OHI: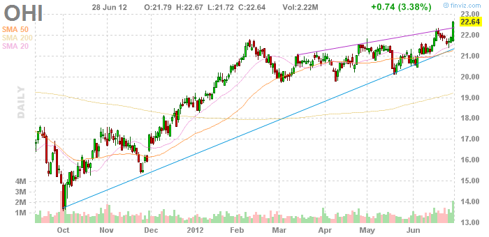 Senior Housing Properties Trust is the second highest yielding listed healthcare REIT, with a 7% annual payout. SNH is currently valued at about $3.6 billion, and is primarily focused on senior living facilities. SNH is down about 2.5% so far this year, and down about 6.46% over the last 12 months, making it the worst performing listed equity over both terms. See a recent performance chart for SNH: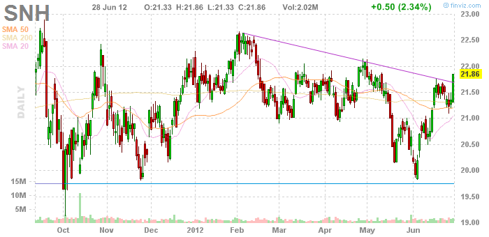 These healthcare REITs should benefit from anything that will improve the cash flow, volume and profit margins of their healthcare service providing tenants. Moreover, the uncertainty that is now removed from the market may help prompt some hospitals to shortly extend leases or implement growth plans that were on hold, pending the resolution of Obamacare. These healthcare REITs may provide investors with both competitive levels of immediate income and also an opportunity to invest in the probable future growth of healthcare services throughout the nation.
Disclosure: I have no positions in any stocks mentioned, and no plans to initiate any positions within the next 72 hours.