I began the year as a loud bull, having shared my wildly optimistic call for 1600 on the S&P 500 by year-end 2012 last October. I was careful not only to not toot my horn in March, when the market looked like I might not have been optimistic enough, but also not to be premature in calling for an end to the nasty correction in Q2.
I wasn't surprised to see the market pull back. In fact, I had shared the following words on my blog for Invest By Model subscribers in mid-March:
I continue to think that we could get a pullback from higher levels. These calls are nearly impossible to pin down precisely - I certainly have no crystal ball. While everyone in the world seems to be dwelling on when to sell, I think the bigger thing to think about is when to buy! I have suggested the near-term top could occur closer to quarter-end, probably in the first week or two of April. I have also suggested that 1435 is the level I expect to print before this pullback. I think we could see a 5-7% pullback, but I want to say that it might be easier to jump on moving freight train than to thread the needle I am describing.
Of course, I do not have a crystal ball - that was the part I nailed! I got the timing right regarding the peak, though I missed by 0.8% on the level, as 1422 proved to be the intraday high on 4/3. I also missed on the extent of the pullback, as we were down 11% at the lows. While I didn't put a time-frame on the correction I saw coming, I will say that I certainly thought it would have been quicker. In retrospect, I shouldn't have been too surprised, as a gain for Q2 after two prior massive quarterly gains was quite improbable.
I share this perspective for a number of reasons. First, I know that I have no crystal ball, l and I don't mind repeating it publicly. No one does. Second, I know that there are counter-trends within trends - the market doesn't always move in the long-term direction it is headed. I believe Q2 was the counter-trend.
So, is the counter-trend trade over now? I think that the lows were set in early June, but I have to admit that I don't yet have the confirmation I am seeking that the correction is over. Investors Business Daily changed its outlook in Mid-June, which I thought was a bit premature. They have very precise rules based on time from a low and volume patterns, and somehow the NASDAQ barely managed to trigger their system to "confirm" the rally. The recent relative strength in Financials (NYSEARCA:XLF) is a tell that should embolden fellow bulls. Nailed in Q2, they are still up over 12% in 2012 and cleared their mid-June peak on Friday. There are a few other positive technicals too. One that stands out to me is that conservative investors are actually buying stocks - this shows in the advances of four or the ten sectors in Q2 as I describe in another recently published review of Q2. Here's an example: Johnson & Johnson (NYSE:JNJ). Multi-year highs! It wasn't just JNJ but many big dogs, like AT&T (NYSE:T) and Wal-Mart (NYSE:WMT). If this were a bear market, these stocks might not go down, but they wouldn't go up.
I would like to see the S&P 500 clear 1370 - it's close. At that point, I believe that the sentiment pendulum will be swinging bullish and setting us up for a relatively quick move towards 1500 going into Labor Day. This type of action will be very different from the prior two years, which were strangely similar. In the past two years, the market peaked in Late April, while this year we topped out a month earlier. We also had deeper corrections in 2010 and 2011. One HUGE difference was that we were working off large year-over-year gains in both years, but this year we never really got those big gains year-over-year. Even now, with the market back near the highs, we are up just 4% from a year ago on the S&P 500 (NYSEARCA:SPY), while the Russell 2000 (NYSEARCA:IWM) is actually down 3%. There wasn't as much to correct, as even after the strong Q4 and Q1, the YTD-2012 peak in the S&P 500 was only 4% above the 2011 high. The R2000 high was actually below the 2011 high.
Let's look at the cumulative YTD return for the S&P 500 for the past few years: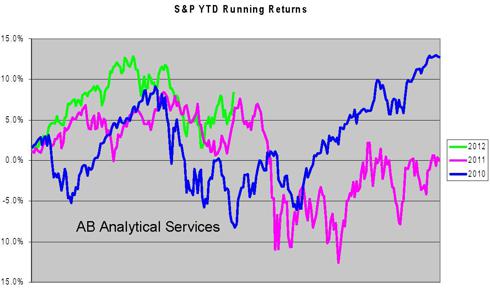 A few observations:
2012 peaked earlier in Spring
2012 peaked higher (matching full year 2010)
2012 correction milder than 2010, 2011 (so far)
2012 6/30 higher than 2011 and 2010 at 6/30
At this point, I have shown that the pattern in 2012 is very different already from the prior two years. Despite the huge fears of a summer swoon, it didn't happen, at least yet. Of course, at this point last year, we hadn't yet gone negative either. "Sell in May and go away" hasn't exactly worked. As much as I am reiterating my bullish call, I am also wary of the implications of crossing the zero line like we did last July when we had the debt limit issues. Clearly, though, I am not the only one who is nervous these days. My clients are universally worried - who's not?
All of the nervousness has done nothing to help people advance towards their long-term investment goals. Sitting it out has actually been an opportunity cost except for those who timed it just right. Don't look now, but STOCKS ARE UP 9.5% in 2012 so far. It may not feel good, but this is a fact that doesn't seem to be widely appreciated. Bonds continue to benefit from sheep jumping off a cliff investors choosing this "safe" asset class, but they are up just 2.4% YTD as measured by the Barclay's Aggregate Bond Index (NYSEARCA:AGG). In all fairness, that's a lot more than one gets in the bank. How long will this flood into bonds continue? At what point does the greed replace the fear? When it stops, and I have been early predicting so, but when it does, it will be like pouring gasoline on a fire, especially if it happens in the context of a reaccelerating economy. Imagine!
My 1600 argument was never based on a particularly robust economic scenario but rather improved sentiment with modest economic growth. I had based my target on 14PE on what the projected 2013 EPS will be for the S&P 500. When I initially shared my forecast, they were expected to be about $115, but the current consensus number is now $118 ("bottom up", meaning by adding up the estimates on all of the stocks) according to Standard & Poors. I think that it's actually likely to be closer to the $111 "top down" estimate. This still works out to the mid-1500s, but I think my 14PE is rather conservative. If the S&P is growing and is anywhere near $110, we could get a 15 or 16 multiple assuming interest rates are only moderately higher.
I don't know exactly how the year plays out, as there remains tremendous uncertainty about economic growth in Europe and Asia (and the Americas!) as well as the elections here. Let's not even talk about the "fiscal cliff". It's not as if the angst isn't universal, though. Just as we saw this week, when the consensus was that a Supreme Court victory for the ACA would be bad for stocks, we never know "what's priced in". I continue to expect a muddle-along economy but am hopeful that sentiment can improve. It won't take much in my opinion. It wasn't that long ago that sentiment was quite positive, and we knew that Europe was a challenge and were aware of the impending elections and the "fiscal cliff" then too. I rely on technicals in addition to valuation and fundamentals, and they are telling me that the bull market that began in 2009 has now been tested three times. To me, this recent test appears to be almost over. Hope that there is another little dip after what seemed like an artificial calendar-driven boost last week, as it might be the last for a while.
Disclosure: I have no positions in any stocks mentioned, and no plans to initiate any positions within the next 72 hours.
Additional disclosure: JNJ is in the Conservative Growth/Balanced Model Portfolio at InvestByModel.com, a service operated by the author