The Dividend Champions spreadsheet and PDF have been updated through 6/29/12 and are available here. Note that all references to Champions mean companies that have paid higher dividends for at least 25 straight years; Contenders have streaks of 10-24 years; Challengers have streaks of 5-9 years. "CCC" refers to the universe of Champions, Contenders, and Challengers.
With a Little Help from My Friends
June proved to be a surprising month, not only in terms of the number of promotions from one category to another, but also in terms of additions to the Dividend Champions "universe." The newest Champion - Universal Health Realty Trust (NYSE:UHT) - was not expected to join that list until next year. On June 7, the company announced a modest half-cent increase in its quarterly rate, to 61.5¢ per share, prompting me to update its streak of increases from 23 to 24 years. But as I often do, I decided to double-check its distribution history and found that it had started paying shareholders in the fourth quarter of 1987, increasing the rate every year thereafter. Having started operations in 1986, the initial dividend was an increase from the zero amount paid in its first year of operations, so the company's streak of higher dividends actually stretches to 26 years, not 24, prompting a "surprise" promotion to Champion status. The second "surprise" promotion came when fellow SA Contributor Robert Allan Schwartz tipped me off to a longer history than shown at Yahoo for Enterprise Bancorp (NASDAQ:EBTC), which has raised its payout for 18 years, not 8, prompting its promotion to Contender status.
On June 5, I received messages from both SA Contributor Kurtis Hemmerling and SA member SDS (Seductive Dividend Stocks), passing along lists of possible CCC companies. Although many did not pan out, I was able to initially add about five companies from those lists. But I decided to take a second look at two companies in particular that appeared on both lists. Even though both seemed to fail to raise their payouts in (calendar) 2009, American Science and Engineering (NASDAQ:ASEI) and Brinker International (NYSE:EAT) turned out to have valid streaks when viewed from the perspective of their Fiscal Years, ending in March and June, respectively, giving them streaks of 5 and 7 fiscal years. This prompted me to look at some other companies that operate under different fiscal years than most companies, which typically use the calendar year. Subsequently, I promoted three companies on an "early" basis from the "Near-Challengers" in Appendix B on the Notes tab, since they had already reached a fifth year on a fiscal-year basis.
Seeking to "rescue" any companies that had been deleted for "freezing" their dividends on a calendar-year basis, I re-examined the "Frozen Angels" (in Appendix C of the Notes tab), but only found one company - Molex Inc. (NASDAQ:MOLX) - that could be reinstated as a Challenger. Needless to say, allowing for "odd" fiscal years gives a bit of additional latitude for companies to maintain their streaks of higher dividends, but it seems fair, given that such a perspective coincides with the way these firms report earnings and make subsequent dividend declarations. Any company that qualifies on this basis will be marked as "FY Streak" in the Notes columns of the CCC listings. Such a notation was attached to Champion Bowl America Inc. (NYSEMKT:BWL.A), whose fiscal year ends July 2, and the company's streak was updated from 39 to 40 (fiscal) years, even though it falls in the category of "overdue" increases, having not declared an increase in the last seven quarters.
A few recent SA articles have focused on how the current Champions have done over the long term, as far back as 30 years. Of course, the common criticism has been that such "back testing" benefits from a survivorship bias, and that may be a valid argument. But it doesn't change how good these companies have been for a very long time. Anyone who wants to come up with what they consider more valid evidence - pro or con - may want to participate in the "Dividends Heritage Project" being proposed by SDS (see here), who has compiled thousands of dividend declaration going as far back as 1956. Personally, I don't have the time or necessary skills (programming, database analysis, etc.) to dive into such a project, but it could prove fruitful for anyone seeking to do a historical analysis of dividend streaks.
Quick Summary
The Summary tab includes a table comparing the composite numbers from the latest update to those from the previous month and the end of the previous year. Below that is a summary of the latest month's activity, in terms of companies added, deleted, or promoted. That is reflected below:
Quick Summary:

6/29/12

Champs

Contdrs

Challgrs

Total

No. of Companies

105

172

196

473

Ave. No. of Years

38.8

14.6

7.2

16.9

Average Price

53.04

47.89

43.88

47.37

Average Yield

2.97

3.10

3.44

3.21

Ave. MR Increase

7.12

8.62

10.27

8.95

5/31/12

Champs

Contdrs

Challgrs

Total

No. of Companies

104

166

189

459

Ave. No. of Years

38.9

14.6

7.2

17.1

Average Price

51.79

45.88

42.06

45.65

Average Yield

2.99

3.19

3.54

3.29

Ave. MR Increase

7.27

9.18

10.01

9.10

12/30/11

Champs

Contdrs

Challgrs

Total

No. of Companies

102

146

200

448

Ave. No. of Years

38.7

15.1

7.2

17.0

Average Price

49.98

46.20

42.62

45.46

Average Yield

2.94

3.10

3.36

3.18

Ave. MR Increase

7.24

8.47

10.99

9.39

MR = Most Recent

Additions:

American Science and Engineering Inc. to Challengers*

Brinker International to Challengers*

CCFNB Bancorp Inc. (OTCPK:CCFN) to Contenders

ConAgra Foods Inc. (NYSE:CAG) to Challengers*

Farmers & Merchants Bancorp (OTCQX:FMCB) to Contenders

Farmers and Merchants Bancorp (OTC:FMAO) to Challengers

First Robinson Financial Corp. (OTCPK:FRFC) to Contenders

Frisch's Restaurants Inc. (NYSEMKT:FRS) to Challengers*

HEICO Corp. (NYSE:HEI) to Challengers

Hillenbrand Inc. (NYSE:HI) to Challengers*

Koninklijke KPN N.V. (OTCPK:KKPNY) to Challengers

Molex Inc. to Challengers (reinstatement)*

PSB Holdings Inc. (OTCPK:PSBQ) to Challengers

Visa Inc. (NYSE:V) to Challengers*

*Fiscal Year Streak

Deletions:

(None)

Promotions:

Best Buy Corp. (NYSE:BBY) from Challenger to Contender

Enterprise Bancorp from Challenger to Contender

Oil-Dri Corp. of America (NYSE:ODC) from Challenger to Contender

Thomasville Bancshares (OTCPK:THVB) from Challenger to Contender

Universal Health Realty Trust from Contender to Champion
(Table from author; may include underlying data from FinViz.com)
Let's Go to the Chart
As a bonus, I'm inserting one of Chuck Carnevale's F.A.S.T. Graphs below, highlighting one of the companies listed above. When the stock's price line has moved into the green area, it suggests that the stock may be undervalued in relation to its earnings.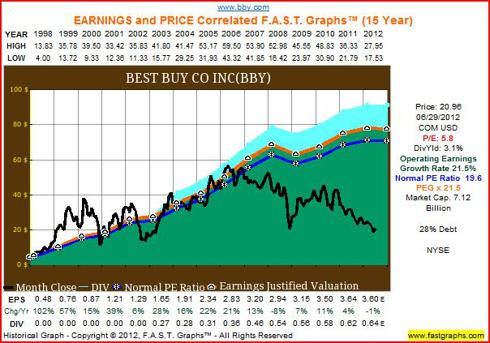 Disclosure: I am long CAG.