Speedway Motorsports, Inc. (NYSE:TRK) March 13, 2008 close: $25.03
52-week range: $23.42 [today] - $41.68 [Aug. 9, 2007]
Yield = 1.32%
Speedway Motorsports, Inc. owns and operates auto racing tracks in Atlanta [GA], Charlotte [NC], Bristol [TN], Ft. Worth [TX], Las Vegas [NV], Sonoma [CA] and the recently acquired New Hampshire Speedway. Races are run under the NASCAR, NEXTEL Cup and Busch Grand National circuit banners.
TRK's latest quarter showed an operating loss after one-time write-downs in its sports marketing arm - Motorsports Authentics- their joint venture with International Speedway Corporation. Including this charge-off Speedway reported full year earnings of $0.87 versus all-time record EPS of $2.53 in 2006.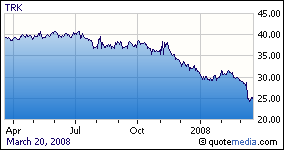 TRK shares fell to a new four-year low today in reaction [over-reaction?] to this news. Company management says they expect a rebound to $2.40 - $2.50 for 2008 and Standard and Poors is now looking for $2.40 [AFTER seeing the latest earnings report]. Management noted that 2007 showed record attendance and revenues were close to the all-time high set in 2006.
Auto racing continues to be wildly popular. It is the second most watched sport in the US - trailing only NFL football. A new TV contract was implemented last year that increases annual payments to the tracks by 40%. With the restructuring of the merchandising arm now complete results should be very good going forward.
10 of the previous 12 years saw earnings growth year-over-year. EPS expanded from $0.64 in 1996 to $2.53 in 2006. Book Value climbed from $4.96 to $18.74 over that same period.
Dividends were initiated in 2002 and now stand at $0.33 per year for a current yield of 1.32% - the highest ever for TRK shareholders.
Large Holders as of Dec. 31, 2007 [year-end share price: $31.08]:
Columbia Wanger Asset Management: 7.13%
Cardinal Cap. Management: 4.32%
Dimensional Fund Advisors: 3.42%
River Road Asset Management: 2.19%
Barclays Global Investors: 1.25%
Rothchild Asset Mangement: 1.12%
Vanguard Group: 1.00%
Officers and Directors owned a hefty 65.5% of the common as of 2007's proxy statement. They are very motivated to see these shares go back up.
Speedway shares now trade below the lows from late 2003 right through 2007. With earnings prospects looking good for 2008 and beyond- this appears to be a great entry point for new investors.
If Speedway management and analyst opinions are accurate then TRK shares are now offered at just 10.5x forward earnings.
TRK's 10-year median P/E has been 19x and Value Line is assuming an 18 multiple for their 3 - 5 year projections. Since coming public in 1995 there has only been one year their annual average P/E was under 15.8x.
Even a return to a 16 multiple on the low-end estimate of $2.40 leads to a 12-month target price of $37.92 or up over 51% from today's quote.
Is that $37.92 price reachable? These shares hit actual peak prices higher than my goal price [@ $39.30 - $41.70] in each calendar year 2004-2005-2006-2007.
Gentlemen... start your engines.
Disclosure: None