This is a special day in the Wall Street Daily Nation! It's not because we're ditching the long-winded analysis in favor of some carefully selected graphics. We do that every Friday.
Instead, it's because we've been vindicated! Three of our boldest, most unpopular predictions came to pass, despite all the nasty feedback that they wouldn't. Here's the proof in pictures. We hope some of you listened - and profited.
The Housing Bust is Over!
Prediction: In early February, I boldly proclaimed that the U.S. residential real estate market hit rock bottom.
Proof: The latest reading of the S&P/Case-Shiller 20-City Composite Index.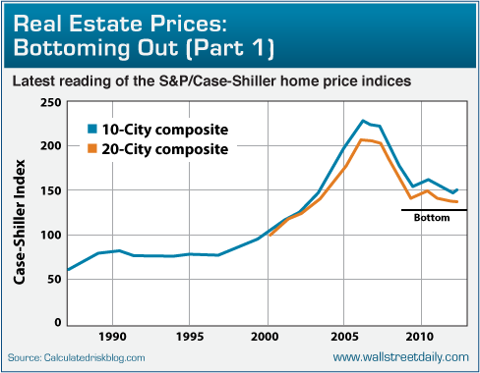 Real estate prices rose 1.3%, or 0.7% on a seasonally adjusted basis. Digging into the data reveals that prices in 19 out of 20 cities registered gains. So there's no anomaly in the data. A major price increase in a single market isn't skewing the results. The rebound is legit.
The trend is even more apparent when we look at the year-over-year changes in prices.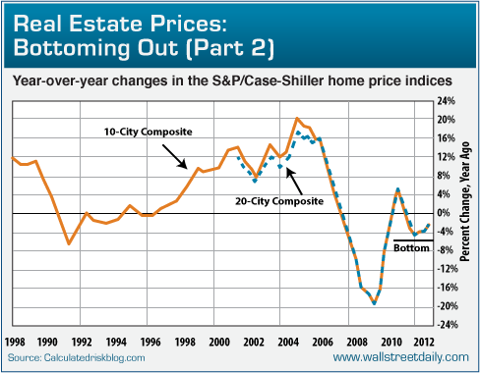 Bottom Line: Accept it. The housing bust is (finally) over.
Or as Bill McBride at Calculated Risk says, "It might be hard to believe, but earlier this year there was a debate on whether housing had bottomed. That debate is over… and the debate is now about the strength of the recovery."
Look Out Below… in China
Prediction: Starting in August 2011, I issued warning, after warning, after warning, after warning, after warning that a slowdown in the world's fastest-growing economy was brewing. And, in turn, Chinese stocks were a bad bet.
Proof: The price performance for the Shanghai Composite Index.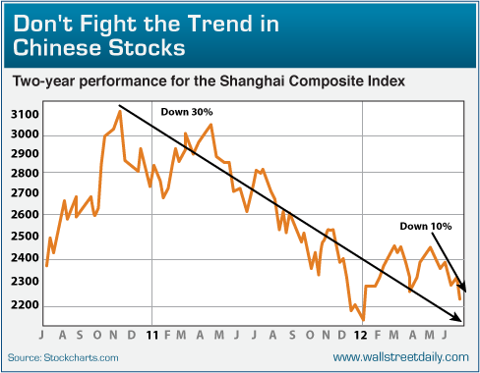 Since November 2010, Chinese stocks are down 29.8%. In comparison, U.S. stocks are up about 7% over the same period. And in the last two months the selloff has accelerated, with the Shanghai Composite down 9.6%, which is more than double the decline for U.S. stocks.
Bottom line: I'd avoid any thoughts of bargain hunting or bottom fishing in China. At least until the economic readings start improving.
A Tale of Two Social-Gaming Stocks
Prediction: On a CNBC appearance in late December, I dogged social-gaming juggernaut, and recent IPO, Zynga (Nasdaq: ZNGA). Instead, I recommended investors buy the lesser-known, Glu Mobile (Nasdaq: GLUU).
Proof: The price performance for both stocks.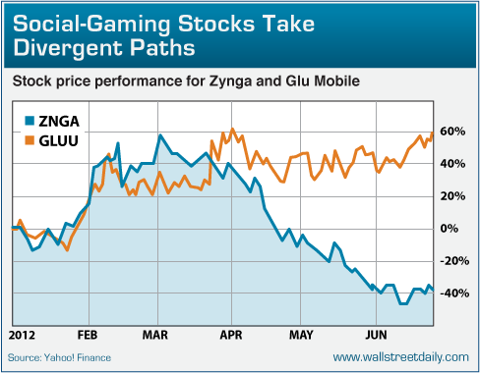 Zynga's down about 40% since that time. But Glu's up 60%!
Bottom line: Zynga serves as the latest reminder - after Zipcar (ZIP) and Groupon (NASDAQ:GRPN), which I also panned - that we should never bet on the most-hyped IPOs.