On June 29, Congress sidestepped a doubling of interest rates for new federal student loans. Under the bipartisan compromise, interest rates on new Stafford loans, which are subsidized by the federal government, will be 3.4 percent, which is where they were. The rates were set to double in July. This extension should be positive news for the industries that service colleges and universities, including those that manage student housing options, such as student housing REITs.
College students generally have three options when it comes to were they will live. They can stay at home, stay in dormitories and other on-campus housing options, or they can stay in housing options that are near their college campus. Staying at home is generally the cheapest option, and the one that was most likely to grow as a choice of new students if their borrowing costs were to substantial increase. Since student borrowing rates are remaining at their current rate, students will probably be more likely than otherwise to prefer on-campus and off-campus options other than staying with their parents. It also means that students may more easily finance rent increases by their landlords.
There are not many options when it comes to investing in student housing, but a select few apartment REITs have focused their businesses around building portfolios of apartments near college campuses, and serving the housing needs of their students. There are three publicly traded REITs that presently primarily own and operate such properties within the student housing category.
The largest such student housing REIT is American Campus Communities (NYSE:ACC), with a market cap of around $3.36 billion and a yield of three percent. ACC has appreciated 7.2 percent since the start of 2012 and 29.96 percent in the last 12 months. Though ACC's equity has appreciated over the last several years, the company has maintained its current dividend rate since the start of 2005. See a recent performance chart of ACC: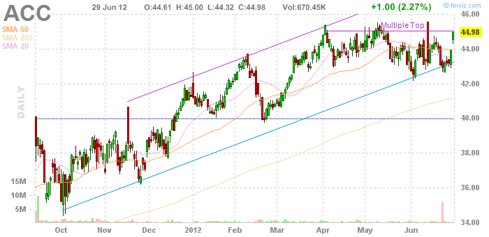 Education Realty Trust (NYSE:EDR) is another student housing REIT. EDR has a market valuation of about one billion dollars and a present yield of about 2.55 percent. EDR's quarterly dividend has gone from a high of 30 cents in early 2005, to a low of five cents at the end of 2009. In mid 2011, EDR increased its dividend by 40 percent, to its current rate of seven cents per quarter. Since the start 2012, EDR shares have appreciated by 8.3 percent, and they have gained 29.29 percent over the last 12 months. See a recent performance chart of EDR: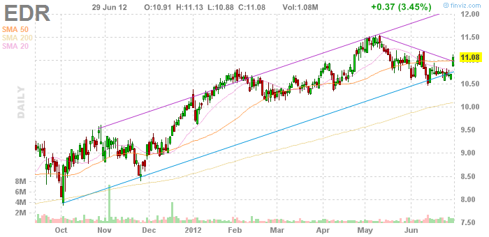 Campus Crest Communities (NYSE:CCG) is a third student housing REIT. CCG, which markets its properties under the Grove name, has a market valuation of $322 million and a yield of 6.2 percent. CCG has only been publicly traded since late 2010, and started off paying a quarterly dividend of 13 cents. The company has subsequently increased its quarterly dividend to sixteen cents. CCG has appreciated 3.3 percent since the start of 2012, but has declined by 19.7 percent over the last 12 months. See a recent performance chart of CCG: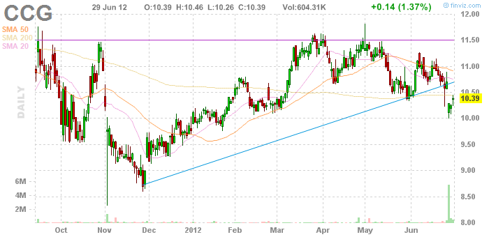 Both ACC and EDR have performed very similarly over the last year, while the considerably smaller CCG has noticeably underperformed them. See a 1-year comparison chart: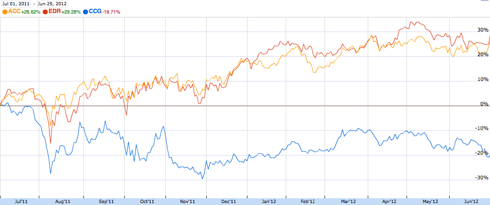 Over the last quarter, though, CCG's level of correlation to its peers has noticeably increased, though it has still largely underperformed them. See a 3-month comparison chart: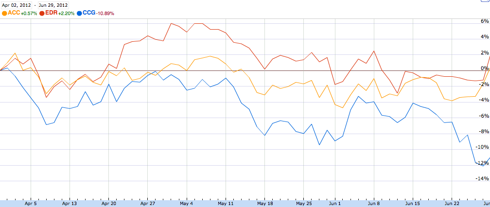 These student housing REITs may all begin to perform better, now that some uncertainty has left their near-term future. Most student housing options are chosen over the summer, with leases signed in August and September. As such, this extension appears to have arrived at a good time for the industry.
Disclosure: I have no positions in any stocks mentioned, and no plans to initiate any positions within the next 72 hours.