On Thursday, June 28th, Swiss National Bank (SNB) vice chairman Jean-Pierre Danthine repeated a claim made consistently by the SNB: at 1.20 the Swiss franc is overvalued relative to the euro. So, one would think that on a day when the euro (NYSEARCA:FXE) surges in response to surprise progress from the 19th European Summit, the EUR/CHF currency pair would finally get a lift. Quite the contrary. While EUR/CHF did nudge upward slightly to start the day on Friday, June 29th, the currency pair closed at its lowest point since the SNB established the 1.20 floor last September.
images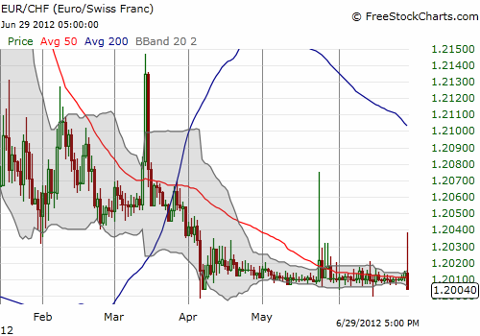 EUR/CHF is again on the verge of challenging the 1.20 floor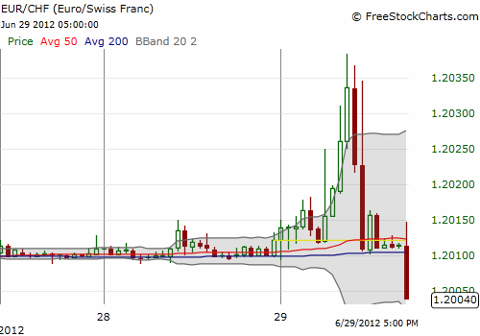 As the U.S. stock market opened for trading, the small gains in EUR/CHF were wiped out in two hours
Source for charts: FreeStockCharts.com
I have stated before that euro-optimism must be tempered until the "fat franc flies." I think that remains the case. The SNB must be frustrated as the market simply refuses to cooperate with its desire to weaken the franc (NYSEARCA:FXF). The SNB has already run up foreign reserves to 306.1 billion francs in May from 247.2 billion francs in April trying to defend the floor and now openly floats the idea of capital controls and negative interest rates. Yields on Swiss government bonds up to four years in duration already sport negative interest rates. One would think then that Friday's move is likely the result of speculators who continue to press bets that the SNB will not be able to maintain the floor. Yet, the latest weekly report on commitments of traders published by the Commodity Futures Trading Commission (CFTC) indicates that "the net Swiss franc short position more than tripled compared from the previous week, climbing to $3.1 billion."
With EUR/CHF just about sitting on the 1.20 cap, I have to wonder again whether the SNB will finally be forced to raise the cap to truly demonstrate its seriousness. If so, the SNB will really need to crank up the printing presses in order to stave off fresh pressure from safe haven seekers rushing to grab "cheap" francs.
Be careful out there!
Disclosure: I am long FXF. In forex, I am long EUR/CHF