With the usual suspects dangerously loitering on every corner - US sluggishness, China slowdown, euro breakup fears - the markets have absorbed a lot of bad news this past two months. The DJ index, having been down 1,200 points, has recently clawed back a partial recovery and smaller stocks have suffered much more.
One of the absolute worst hit areas is the oil sector. The drop in oil prices has hurt all E&P stocks and small caps have been hardest hit with share prices down dramatically from their 2012 highs.
Consequently, the valuation differential between large cap and small cap E&P companies is remarkable. For example EOG Resources (NYSE:EOG) and Continental Resources are trading on next year p/es of about 14 and the current stock prices have about 45% upside potential to analysts target price. Within the small caps it is a different story. Carrizo (NASDAQ:CRZO) is on a forward p/e of 4.6 and the stock has 63% upside potential, Basic Energy Services (NYSE:BAS), a service company, trades at a forward p/e of 6.1 and the stock has upside of over 82%, and Bonanza Creek (NYSE:BCEI) is on a forward p/e of 6 with the stock having upside of 58%. Many such stories abound.
Indeed, investors who have followed the E&P sector for the past couple of years will be aware that valuations this summer are already significantly lower than they were in 2011. Look at Northern (NYSEMKT:NOG), it is now a $15.40 stock and traded at $17 this time last year. The major difference being that, in 2011, sales and earnings were much lower than they are today - a largely similar stock price but a far cheaper valuation.
What is clear is that the dark news filling our TV and other media screens is having a disproportionately large impact on small investors than large institutions who invariably invest in large companies.
During late 2011 and early 2012 the upward momentum in financial markets confirmed that the continuing growth of the US economy - it is the world's biggest economy - is still more important than the negative news coming out of Europe or elsewhere. During that time, news of an improving US economy clearly trumped the dark reports coming out of Europe. When we get another period of good news the market is again likely regain some strength and these same beaten-down small-cap stocks should perform better than their larger peers. That is what happened in summer 2011 with NOG - it traded at $17 in June and then jumped to $25 in July as Q2 earnings season unfolded.
And here's the good news: Q2 earnings season is coming again.
I won't pretend to be able to call the exact moment during the coming days or weeks when pummeled stocks will start to move up into the Q2 earnings season, or even if they will drop further before starting the run. Those who move earliest might make the best profits, but those who buy later should have lower risk, each to their own.
The trading suggestions listed below in this note are being put out there as short-term trades i.e. you buy and then you sell. Deciding when to sell can be more difficult than deciding when to buy. Best to set a target at the outset and then cash-in when this is met. When in doubt always think of bulls, bears and pigs.
From the list three companies have potential to make excellent profits; BAS, BCEI and CRZO. From the current stock price each can be expected to deliver profits of 20% or considerably more with favourable conditions. The other listed trades should also perform strongly even if not quite as well as these three favorites, time will tell.
Basic Energy Services (BAS)
images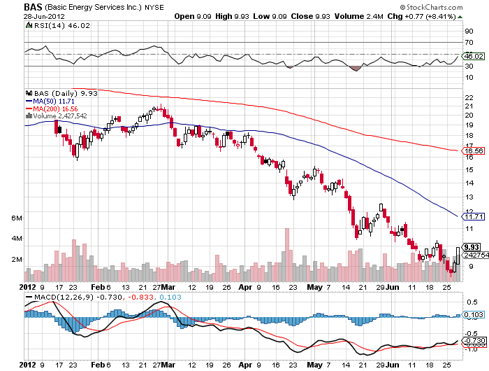 BAS provides well servicing, pumping services, fluid services etc to the oil and gas industry. The nat gas side of the business has experienced softness on the back of the very weak prices but this is a relatively small part of the company's business. Overall, the company continues to forecast growth. There are multiple reasons to anticipate a stock rerating going into earning: (1) A still growing business; (2) $35 million share repurchase program announced in late May; (3) insiders buying heavily in the $11-12 price range in late May and again in the $9.50 range in mid June; (4) the stock being on a forward p/e of 6 and; (5) the shares having potential upside of 82% to analysts target of $18.07. Currently the stock is $9.90 and it should move up sharply into its Q2 earnings release which is expected July 22.
Bonanza Creek (BCEI)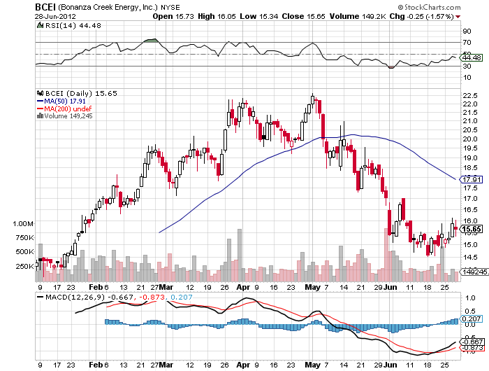 BCEI is a driller mostly in the Niobrara and in particular in the Wattenberg field. From a 2011 y/end exit rate of 1,500 Boepd the company is on track for a 2012 exit rate of 13,000. It is also largely debt free, it is 1.5 months ahead of its drilling plans and may even accelerate its plans further. Q1 2012 saw sales and EPS growth of over 100% even though during Q1 only 3 of the 8 horizontals drilled were in production by quarter-end. By July a total of 24 are expected to be completed, implying approx 15 new wells coming into production in Q2 and another 6 in Q3. Investors can expect big production increases in Q2 and Q3.
Insiders bought stock in the $18-$20 range in late May. More inside buying occurred in mid-June when a director made a substantial open-market purchase at just under $15 a share. This last purchase, coming just 2 weeks before the end of Q2, is a good indication that the underlying business is performing very well - most probably ahead of expectations.
Overall, BCEI is a well run company with no negatives and has many positives. Currently the shares are trading at $15.65, being a forward p/e of 6 and the stock should move several dollars higher going into a positive earnings release on about August 10.
Carrizo (CRZO)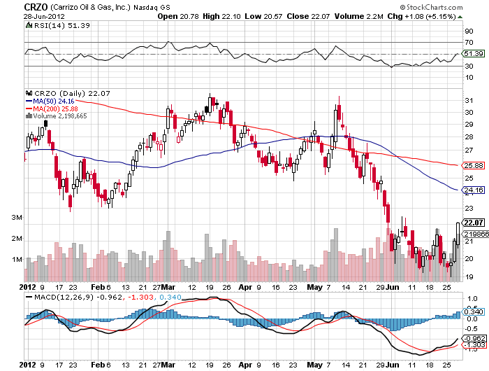 Carrizo's main focus is in the Eagle Ford followed by the Niobrara and it has achieved a fast-track conversion of its business from nat gas to oil (now about 70% of sales). During Q1 2012 Carrizo beat analysts' estimates by a wide margin.
The recent drop in oil prices has led to analysts culling estimates for E&P companies across the board but not so for CRZO. Amid all the market gloom their forward earnings have actually been raised this past 2 months from $4.26 to $4.81 - a notable feat with declining oil prices - leaving the shares, currently at $22, trading on a forward p/e of just 4.60.
On May 24 Credit Suisse cited EPS estimates of $7.26 for 2013 and $9.97 for 2014. And here is the best part; Credit Suisse used an oil price assumption of $84/Bbl. A price of $84/Bbl is attainable for Carrizo with WTI as low as $78/Bbl because the company gets WTI plus $5 or $6 from Eagle Ford production, its core asset, due to proximity to refiners. However, the Credit Suisse estimates include production from the North Sea asset which is planned to be sold for cash in H2 2012, and therefore the figures are high. Even striping out $1.50 from the 2013 and 2014 EPS for the North Sea asset, the forward earnings estimates are still eye-popping.
CRZO's deep-value shares are an example of the sorts of rare opportunities that this market is throwing up in the small cap E&P segment. The current $22 share price gives 63% potential upside to the brokers' target of $35.94. The stock should run hard ahead of the next earnings report which is expected around August 5. Investors may expect CRZO to again beat its Q2 guidance because, during the Q1 conference call, management clearly issued conservative guidance.
Kodiak (NYSE:KOG)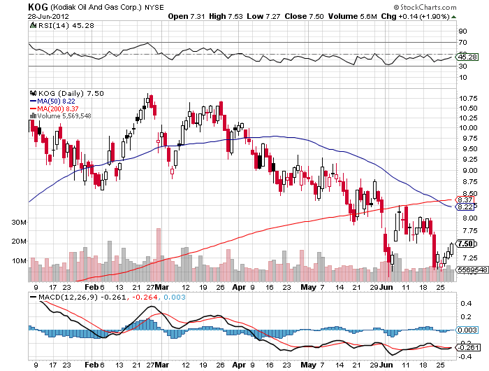 Kodiak is a widely followed Bakken E&P player. As with the entire oil sector the stock has been hit by negative sentiment and it now represent good value at $7.50, equating to a next year p/e of 7.3 and offering potential upside of 48% to brokers target of $11.10. Whilst KOG missed its Q1 earnings due to operational issues field reports since then suggest that the company is making good progress with solid drilling progress and strong IP rates occurring. As such there are reasons to anticipate at least a reasonably positive Q2 earnings report. KOG is a high beta stock, almost 2.5, and even modest overall market sentiment should translate into lively gains for the stock price ahead of Q2 earnings which are expected on July 30.
Northern (NOG)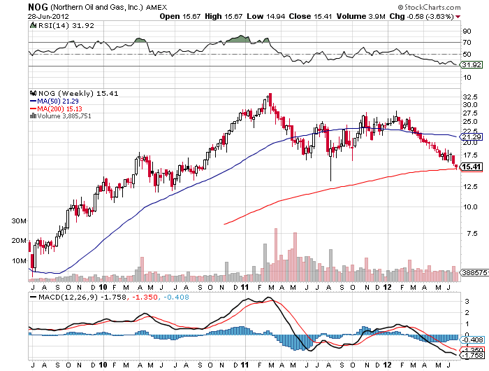 Northern is also a well known Bakken producer. From this chart notice in particular the June-July 2011 trend and the parallels with where we are again in June-July 2012. Currently trading at $15.41 the stock represents a potential upside of 81% to analysts' target of $27.90. Given its attractiveness on a fundamental basis (170,000 acres, good valuation, modest borrowings), it would be a surprise if the stock price didn't receive strong support ahead of the Q2 earnings report expected August 9.
Oasis (NYSE:OAS)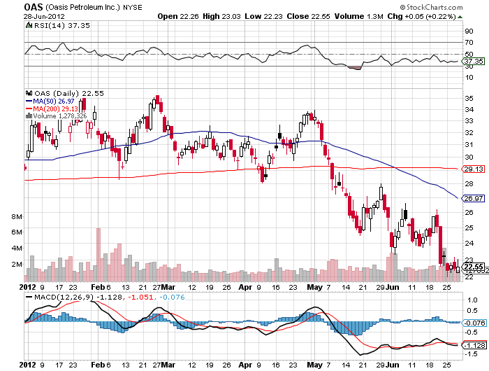 Oasis reported Q1 results on May 7. Observe from the chart how the stock price strengthened ahead of those results and then sold off heavily afterwards. Clearly there is good momentum behind these moves. Oasis has very sizable Bakken acreage, over 300,000 acres, and is attractively valued. The stock now at $22.50 is on a next year p/e of 9 and represents potential upside of 71% to analysts target of $38.53. Expect investors and momentum players to close this gap ahead of the Q2 earnings due August 6.
Whiting (NYSE:WLL)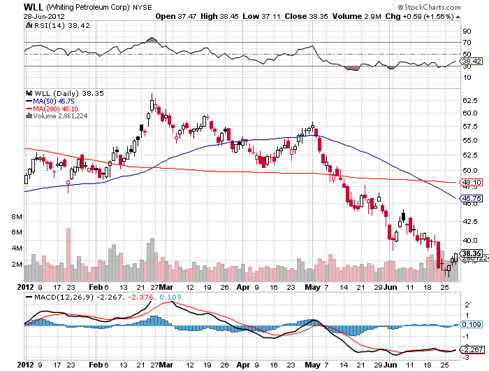 Whiting is another promising Bakken company and again the recent chart indicates good investor momentum. The surge into February 22 occurred ahead of the Q4 2011 results and the May 22 peak occurred ahead of Q1 2012 earnings. Whiting has a very large tract of Bakken acreage, over 700,000 acres, and the stock at $38.35 is becoming increasingly attractive trading on a forward p/e basis of 8.1. From the current price the shares have 71% upside potential to analysts target of $65.47. Expect positive momentum ahead of the Q2 results due July 25.
Disclosure: I hold BCEI and CRZO as core long-term holdings. I've already taken short-term trading positions in BAS, BCEI and CRZO and am likely to take short-term positions in KOG, NOG, OAS and WLL ahead of their earnings.