Shares of Portugal Telecom (NYSE:PT) are down sharply over the past year as investors have sold anything Eurozone related. However, PT is now an interesting speculation.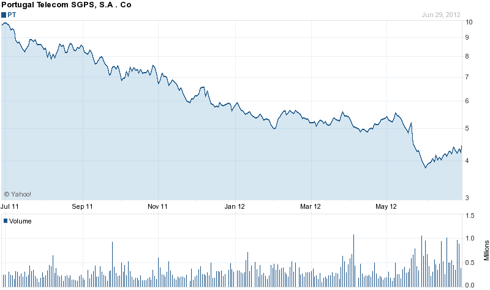 (Yahoo)
Dividend
At the end of June, PT announced it was cutting its dividend in half for fiscal years 2012-2014. The company will pay out 32.5 euro cents per share. This means that PT will pay a dividend of roughly 10%. While there are other European telecom plays such as Telefonica (NYSE:TEF), and France Telecom (FTE) that have a higher current yield, the chances of a dividend cut remain high. The fact that PT is still able to pay a significant dividend shows that despite the economic issues in the country, PT is still very profitable.
Share Buyback
PT also announced a 200-million-euro share buyback program. This is a nice bonus for shareholders.
Financed Through 2015
PT has said it is financed through the end of 2015. This is important as it limits PT's short term exposure to a freeze in the credit markets.
Telemar Norte Leste SA
In March of 2011, PT acquired a 25.3% stake in Telemar Norte Leste SA. PT now gets more than 50% of its revenue from the stake. The Telemar Norte Leste SA stake is nice because it reduces the exposure PT has to Europe and adds exposure to the faster growing Brazilian market.
Portugal Bond Yields Fall
Portugal's two-year bond yield has fallen to under 8% from over 20% in January. This move comes as Spanish and Italian yields have continued to climb. More importantly, the economy seems to be doing better. Exports for the first quarter rose more than 11% and the economy contracted by just 0.1%. The improvement in Portugal's economy is certainly very bullish for PT.
Conclusion
Despite its terrible performance over the past year, there are now many reasons to like PT. The dividend yield, share buyback, lack of financing needs, Telemar Norte Leste SA stake, and improvement in the Portuguese economy are all reasons to consider buying PT.
Disclosure: I am long PT.