Income investing strategies should provide positive results for retirees. I believe retirees, in 2012, should have an annual dividend yield of at least 8%. The portfolio should be configured to minimize market losses. This requires retirees put the time and effort into ensuring the portfolio risk versus reward balance is acceptable. I'll highlight 3 stocks, with an average 8.3% yield, to set as a simple example.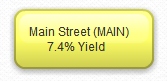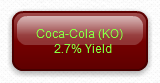 Main Street Capital Corporation (NYSE:MAIN)
Main Street Capital offers long term debt and equity capital to smaller companies. The client's size ranges from $10 million to $150 million. Clients seek Main Street Capital's service in management buyouts, growth strategies, debt refinancing, and diverse financial needs.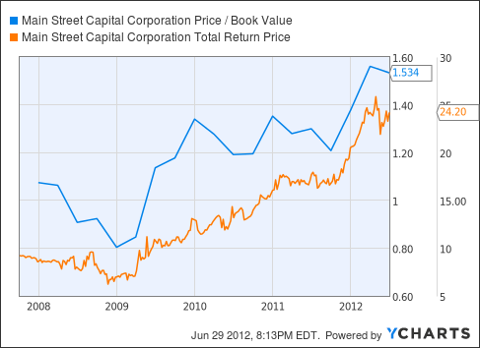 MAIN Price / Book Value data by YCharts
Main Street is a business development corporation with an annual 7.4% dividend yield. The company pays a monthly 14.5 cents per share. I would recommend using a collar option strategy to mitigate the potential for losses. Ideally the collar option would be established with a zero cost basis. Shareholders have had ample common share entry levels. Main Street Capital recently completed a secondary offering at $22.50.
American Capital Agency Corp. (NASDAQ:AGNC)
American Capital Agency operates in the subterranean investment universe of mortgage real estate investment trusts (mREIT). American Capital Agency is, in reality, a levered bond fund. Gary Kain, the Chief Executive Officer, borrows short term funds via repurchase agreements. These proceeds are invested in longer duration Government Sponsored Entity (GSE) Mortgage Backed Security (MBS) assets. The difference between short term borrowings and long term GSE MBS holdings is levered by a factor of 6x - 10x.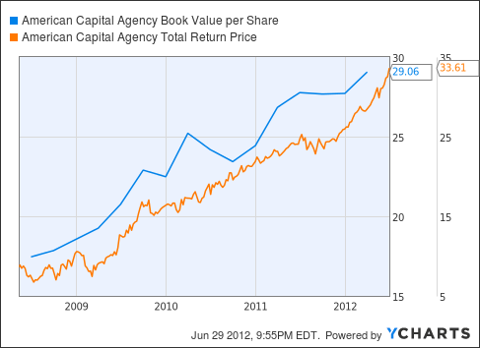 AGNC Book Value per Share data by YCharts
The net yield margin reflects the leverage and Gary Kain's hedging strategies. Mr. Kain recognizes GSE MBS yields could increase. If GSE MBS yields increase, then the American Capital Agency book value per share (BVPS) would decrease. As Treasury Bond and GSE MBS longer duration yields are low, Mr. Kain has to focus primarily on hedging the potential for an upside in interest rates.
American Capital Agency currently yields 15%. I would recommend buying a protective put or a collar option to reduce downside risk.
The Coca-Cola Company (NYSE:KO)
The Coca Cola Company is a pure blood blue chip. A retirees' portfolio should have ample blue chip dividend stocks. Coca Cola sells water, sugar water, and energy drinks on a global basis. In most markets, management has placed the company as the number one market share participant. There are very few dominant blue chip companies as strong as Coca Cola. The company has a strong balance sheet, wide product moat, annual dividend increases, significant share repurchase plan, and a focused business model.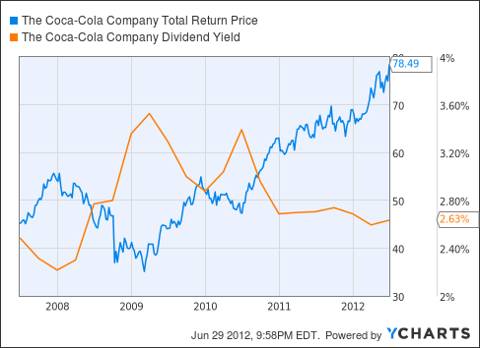 KO Total Return Price data by YCharts
Coca Cola offers a 2.7%, and increasing annually, dividend. This is a stock to hold through thick and thin times. The energy drink niche, including Monster Beverage Corporation (NASDAQ:MNST) and its product offerings, have witnessed high gross profit margins and rapidly increasing revenues. Coca Cola can explore acquisitions or a build out on their own name products.
Investors can purchase collar options to reduce significant capital loss. The beta is .43. I believe there are less than a dozen blue chip companies with the reliability of Coca Cola.
Retiree Safe Withdrawal Rate
Many retirees advocate the 4% safe withdrawal rate. I personally don't believe in a cookie cutter percentage to be applied to all retirees. Retirees may experience a market collapse, fiat currency impacts, medical needs, unique financial circumstances. The market does not go up in a straight line. An investor should think for themselves and build a portfolio to withstand unplanned market events. I recommend investors avoid investing quotes that apparently applies to a mass majority of investors. Every investor is different.
Conclusion

If a retiree works on their own, or with their investment advisor, an 8% yield is easily obtainable. Protective puts, in conjunction with selling covered calls, places a bottom risk to the fair market value of the overall portfolio. An 8% or higher annual dividend yield is reasonable to expect. The collar options provide the hedging to ensure capital losses do not impact portfolio positions. This requires thinking for yourself and doing your homework.