After a busy couple of months for the biotech sector, we will see a slightly slower month of July. That said, the four PDUFAs due late in the month are widely anticipated, and will give the respective share prices a jolt in one direction or the other. The earliest scheduled event is on July 17. This means that traders will have plenty of time to capitalize on rising stock prices during the first half of the month or set up opportune short positions to capture profits on an FDA mishap.
July 17
The obesity race ended after Arena Pharmaceuticals, Inc. (NASDAQ:ARNA) secured FDA approval for Belviq on June 27. Congratulations to Arena on that approval. More importantly, Vivus, Inc. (NASDAQ:VVUS) will finally receive notice on whether Qnexa can be marketed in the United States on or before July 17. We should not see another delay unless the FDA hands a crippling CRL to Vivus. I am expecting to see Qnexa receive the approval.
Having said that, there is one issue to address. Vivus submitted a REMS plan that may give the FDA ammunition to reject the entire NDA. A REMS plan is supposed to create safety by outlining specific risky situations and ways in which to prevent this from happening. Drug abuse is an example of a risky situation. In a sense, submitting a REMS plan creates a stronger safety profile. However, if the FDA does not agree with or the FDA feels that the submitted REMS is not sufficient then we may see another delay or a CRL.
I strongly believe Qnexa will and should be approved because in my opinion Qnexa is a better drug than Belviq. However, in order to avoid a tiresome debate from emotional investors and traders, I will simply leave it at that. I mentioned the REMS plan because it is a definite reason for the FDA to further delay approval. And since I believe in preparing for the worst case scenario, this is important to note in my mind.
Most importantly for traders and investors, Vivus's share price will continue to slink higher through the PDUFA date. We will likely see the share price in the 30-32 range prior to the approval, and if Qnexa is approved, then a nice 15-20% pop will be in order. After that, I expect the share price to slowly trudge lower to the same 30-32 range until Qnexa can be marketed and picked up by consumers.
July 24
On July 24, an Advisory Committee will convene to discuss GlaxoSmithKline's (NYSE:GSK) supplemental NDA (SNDA) for Tykerb. The indication to be discussed is for the treatment of patients with metastatic breast cancer whose tumors express HER2 and who have received prior treatment with trastuzumab (aka Herceptin). Tykerb is already approved for the treatment of advanced breast cancer and we should be seeing a positive recommendation from the Advisory Committee.
The Advisory Committee will be focusing on whether combining the two treatments causes any adverse reactions that are not seen when using one or the other by itself. While I am expecting a positive review, one hiccup for the future PDUFA date stems from the fact that a vaguely similar application was withdrawn in Europe because the EU agency felt that there was a lack of data to compare the risk/benefit of trastuzumab plus paclitaxel. In its most simplistic form, paclitaxel is a similar chemotherapy injection.
This problem in Europe may hamper the sNDA in the United States as well. Regardless of the decision, investors and traders should not expect too much share price movement. GlaxoSmithKline has been more or less range bound over the past six months and I expect this to continue for other reasons not associated with the Tykerb decision. It is also important to note that on June 8, Genentech received an approval from the FDA for Perjeta. Perjeta is a combination of trastuzumab and docetaxel. Perjeta has been approved for the same indication as the sNDA for Tykerb. I have my doubts about this one and I am not expecting a slam dunk vote from the Committee.
July 26
July 26 is the most anticipated day for biotech and healthcare market participants.
I will begin with a less anticipated event for traders and investors. Genentech's BLA for Lucentis will face an Advisory Committee in the morning. The new version of Lucentis is intended to treat diabetic macular edema. Lucentis is already approved for age-related macular edema and macular edema following retinal vein occlusion. An eventual approval for Lucentis will be heart wrenching for Alimera Sciences, Inc. (NASDAQ:ALIM). Alimera has been working to get its diabetic macular edema drug Iluvien approved in the United States but was unable to receive an approval in November 2011.
In the afternoon session of the July 26 Advisory Committee schedule, we will see the Committee vote on Thrombogenic's BLA for Jetrea. Jetrea is an orciplasmin intrivitreal injection intended to treat symptomatic vitreomacular adhesions, including macular hole. Orciplasmin is a complicated molecule that maintains the properties of the human serine protease plasmin enzyme despite being a truncated version.
The goal of Jetrea is to inject orciplasmin into the eye in which case orciplasmin is supposed to target fibronectin, laminin, and type IV collagen fibers that adhere to the vitreous to the retina. Jetrea is definitely needed because as we get older, the vitreous thins and subsequently detaches from the retina. Thus causing floaters and the potential for a macular hole in rare cases.
As with most Advisory Committees, the safety profile will be key. When dealing with the eye, it is even more important for new injections to be safe and efficacious without any serious side effects. I would steer on the side of caution on this one.
The first widely anticipated PDUFA on July 26 is for Horizon Pharma's (NASDAQ:HZNP) Lodotra. Lodotra has been developed as an extended release medication to treat rheumatoid arthritis. Lodotra is looking fairly strong going into the PDUFA date. Lodotra performed better than placebo and pregnisone in clinical trials. Lodotra was compared to pregnisone by giving patients Lodotra the night before and giving them the instantaneous pregnisone in the morning in order to compare stiffness and IL-6 levels.
It is clear that Lodotra meets the effectiveness standards of the FDA, but what about safety? In terms of safety, it appears that Lodotra is safer than placebo and pregnisone with regards to adverse effects. The only adverse effect that Lodotra fared worse than immediate release pregnisone was headaches by 120 basis points. Lodotra patients also suffered more nasal inflammation than the placebo arm by about 140 basis points. These are very common side effects and based upon the small percent of patients that suffered the side effects (less than 5%) there should not be any problems.
Horizon's share price on the other hand is more difficult to determine. Since June 11, the stock has surged 79.6%. The question is whether this has more to do with Lodotra or the recent news regarding marketing deals for Duexis. It is most likely a combination of both; it is difficult to say exactly so, but the share price began to move about a week prior to the Duexis announcements.
I expect to see Horizon's share price move higher through the PDUFA date. Rheumatoid arthritis is a lucrative market and Horizon's management seems fairly confident about an approval since they are beginning a stage-three trial for Lodotra for polymalgia rheumatica. I am confident to say that I am expecting an approval for Lodotra. The data presented appears to be strong and Lodotra is safer and more efficacious than current treatments. This usually leads to an approval. However, due to the large amount of data submitted, there could be something hiding, or a delay could be on the way.
Click to enlarge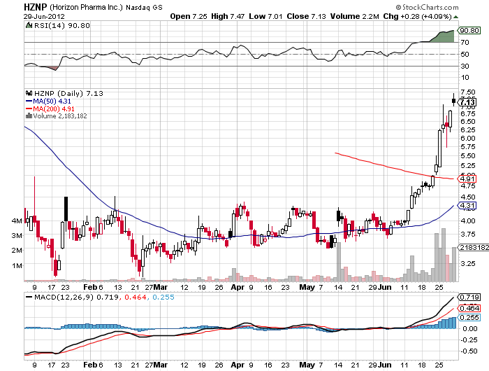 (Source: StockCharts.com)
Another potentially blockbuster drug that will receive an FDA decision on July 26 is Amarin Corporation PLC's (NASDAQ:AMRN) AMR101. AMR101 has been one of the most watched drugs over the past few years. AMR101 is a 96% pure omega-3 fatty acid that has been developed to treat patients with very high triglyceride levels. Recently, Amarin received some positive news from the US Patent and Trademark Office (USPTO). The USPTO sent Amarin a Reason for Allowance notice, which indicates a patent will likely be provided to AMR101, which, along with a few other AMR101 patents, will protect it from generic competition for up to two decades.
This is great news for Amarin for obvious reasons. More importantly, it appears that AMR101 is safe and efficacious. I am expecting the FDA to grant AMR101 marketing approval in the United States. The only hiccup could be a delay because Amarin submitted an incredible amount of data in this NDA. Having said that, I am confident the FDA will be able to make a decision this month.
I will be participating in this PDUFA since I have been holding a long position in Amarin since mid May. Even though I am confident an approval is headed Amarin's way, I will not hold through July 26. I do not mind taking a bit of risk, but I would much rather realize substantial gains as opposed to take a chance of losing all of it just for a little bit more. That said, I must reiterate that I have been optimistic about AMR101 for over a year and I am expecting an approval to be sent Amarin's way.
The share price will inevitably move higher over the next few weeks. The recent patent news makes me believe that the share price will be in the 16-17 range prior to the PDUFA. This is a conservative estimate but I do not feel confident guiding higher than that. One important note to make is that if the USPTO officially awards AMR101 with the 889 patent, then we will see the share price pop higher in accordance.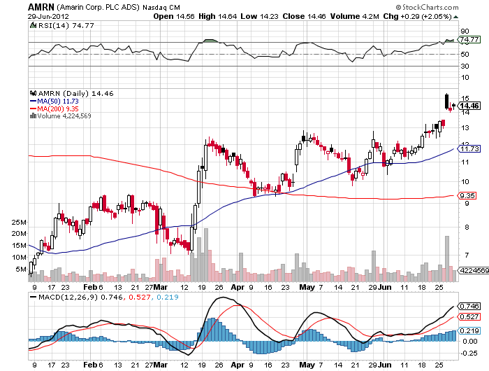 (Source: StockCharts.com)
July 27
The first of two PDUFAs scheduled for July 27 is for Progenics Pharmaceutical Inc. (NASDAQ:PGNX) and Salix Pharmaceuticals, Ltd.'s (NASDAQ:SLXP) Relistor. Relistor originally suffered a three-month delay. This decision was supposed to be made back in April, but the FDA stated it needed more time. In April, I expected Relistor to be approved, and that has not changed despite the delay. The main reason I expect approval is because Relistor is already approved for opioid-induced constipation (OIC) in patients that fail laxative therapy. The current sNDA will allow Relistor to be used to treat OIC in patients that suffer from chronic non-cancer pain.
There was not much information disclosed regarding the delay other than new studies were not requested. Therefore, it is difficult to say what exactly caused the delay. Perhaps a chemical, manufacturing, and controls mishap was found. Or the FDA simply needed more time to determine the risk profile of Relistor for the new indication.
Again, I am expecting Relistor to be approved. Salix is currently trading at all-time high levels due mainly in part to strong sales results and a strong pipeline. This is important because it is difficult to gauge where Salix's share price will end up over the next four weeks. That said, I am expecting the upward trajectory to continue.
The stock to watch here is Progenics. Progenics should move back to the 11 range prior to the PDUFA. The stock touched 11.34 prior to the three-month delay and I fully expect to see the share price move back to that level as traders and investors anticipate a positive decision from the FDA.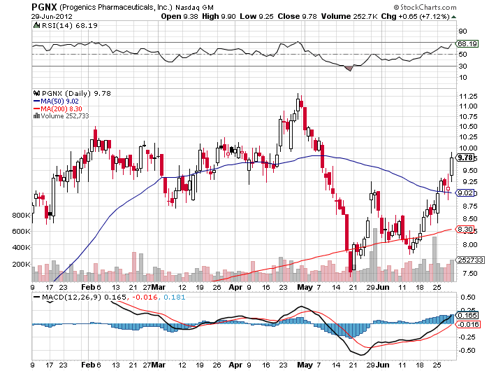 (Source: StockCharts.com)
That same day, the FDA is scheduled to send ONYX Pharmaceuticals, Inc. (NASDAQ:ONXX) and LIGAND PHARMACEUTICALS INCORPORATED (NASDAQ:LGND) a decision regarding the two firms' multiple myeloma treatment, Kyprolis. This should be an open and shut case. Onyx and Ligand will be receiving an approval on or before July 27. An Advisory Committee voted unanimously (disregarding one abstention) that Kyprolis presents a positive risk/benefit profile.
On the news, Onyx's and Progenics's share prices increased 43% and 13%, respectively. Keep in mind that Progenics stock jumped an additional 13% the day before the Committee meeting. It is clear that traders and investors are ecstatic about Kyprolis. Because of this, I expect to see each stock move significantly higher the days and weeks prior to the decision.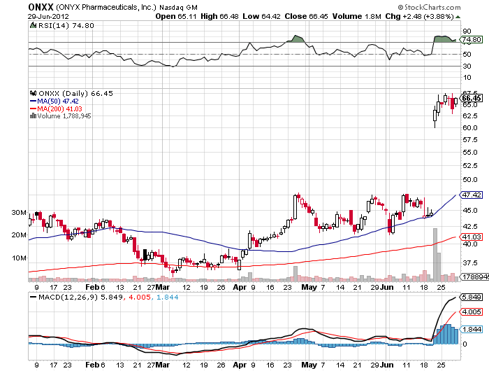 (Source: StockCharts.com)
The second half of July will be very exciting for biotech and healthcare market participants. The first half of July, excluding fourth of July festivities, will be more or less normal, but the fun really begins with the Qnexa PDUFA on July 17. One important note to take home is that the vast majority of the firms facing an FDA decision this month are small to medium caps. With the exception of GlaxoSmithKline, all of the companies are under $5 billion in market value. This will cause plenty of action for each stock because any approval or rejection has the potential to make or break these firm.
Disclosure: I am long AMRN.