Alcoa, Inc. (NYSE:AA) is a resource company focusing on aluminum production, with operations in more than 30 countries. With its current scale of production footprint, the company participates in global growth along with commodity heavyweights such as Rio Tinto (NYSE:RIO), BHP Billiton (NYSE:BHP), Vale (NYSE:VALE), ConocoPhilips (NYSE:COP) and Potash (POT).
Compared to the above-mentioned resource companies, Alcoa has a modest market capitalization of $9.3 billion and earnings of $25 billion, giving the company much room to grow into bigger commodity leagues. I particularly like Alcoa's breadth of operations across many countries, as well as the company's dominance in the aluminum production value chain.
Alcoa's products are met with worldwide demand in building and construction, technology, transportation, industrial and energy sectors. Alcoa is a worldwide player offering a broad range of quality products and is a leader in aluminum processing - which should serve the company and its shareholders well over the longer-term, as emerging market demand for aluminum is likely to increase.
This worldwide aluminum producer is valued at only 9x forward earnings and at the same time pays investors a 1.37% dividend yield. As a commodity player, investors should expect the majority of their remuneration to come from capital gains. By contrast, Freeport (NYSE:FCX) is one of very few leading basic material companies that pays a dividend of 3.7%. I have recently recommend FCX as a strong buy for both income and growth oriented investors.
With analyst mean estimates for 2013 earnings of around $1 per share, this translates into an earnings yield of roughly 10% - which is way more than could be reasonably expected from a globally operating resource company.
In addition to being cheaply valued, the company trades at only $8.75 and at the lower end of its 52-week trading range of $8.21-$16.60. Like I have argued in my other articles regarding the current cheap valuation of stocks and resource companies in particular (here and here), Alcoa's price is depressed with an earnings multiple of less than 10.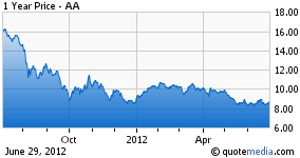 I have a conservative price target of $18 on the stock, which is about 10% above its 52-week high. In this scenario, the growth prospects are still not fully valued. Value investors on the hunt for bargains should consider AA as a longer-term investment. Based on current valuation levels, Alcoa has an upside of 80%.
Disclosure: I am long POT, FCX.