Schlumberger Limited (NYSE:SLB) is a leading oilfield services company providing technology such as integrated project management and information solutions, and equipment, to oil and gas companies globally. The company's main competitors are Baker Hughes Inc. (BHI), Haliburton Company (NYSE:HAL) and, to an extent, smaller companies such as Technip Ads (TKPPY.PK).
The oil and gas industry has had an interesting past three years. The year 2009 saw the largest ever YOY fall in energy demand worldwide for obvious reasons. This was followed by the largest recovery ever seen in 2010. However, the 2010 Deepwater Horizon spill resulted in a drilling moratorium in the Gulf of Mexico, a bit disconcerting for the industry. In 2011, there were some major natural disasters and political unrest and of course, the Europe's sovereign debt mess and slumping growth in the eurozone. So far in 2012, the industry has experienced a drop in crude oil prices due to lower-than-expected growth globally.
Schlumberger's Key Statistics
Schlumberger is very efficient in comparison to its peers, with a Return on Assets of 9.49%, Return on Equity of 16.11%, and Revenues Per Employee of $367,964.60.
Last quarter YOY EPS Growth was 40.58%, and the annual EPS growth (trailing 12 months versus prior) is positive at 8.26%. Projected EPS growth for the next year versus this year is a solid 21.36%.
Last five years' Revenue Growth has been 15.51%, better than the industry average of 11.67%. This shows that the company is managing its market leadership pretty well.
Capital Spending Growth was lower (10.30%) compared with its peers' average (14%). This shows that the company is able to spend less money and yet get a higher revenue growth, compared with peers. This is a very big positive.
Schlumberger pays an annual dividend of $1.10 and, at its current price, yields 1.69%. This dividend is in line with its peers.
Earnings Performance - Past, Present and Future
Since 2009, Schlumberger's EPS has been growing, albeit inconsistently. The Estimated EPS for 2012 is $4.27, and for 2013 is 5.37. Take a look at the following chart for Schlumberger's earnings growth and estimates for 2012 and 2013, respectively. Schlumberger will announce its Q2 earnings on July 20, 2012.
Click to enlarge

Heavy Dependency on Crude Oil Prices
Schlumberger's stock price has a very high correlation with the crude oil prices. Refer to the chart below to see the YTD chart comparison between the two.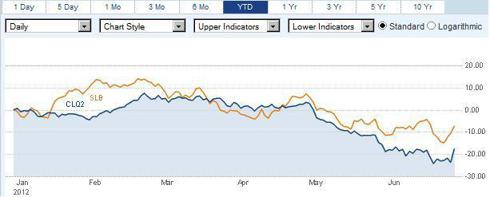 So before venturing further into Schlumberger's technicals and fundamental statistics, let us see what is expected of the crude prices. The West Texas Intermediate crude (also known as WTI crude) oil prices averaged more than $100 per barrel over the first 4 months of 2012, according to the EIA. From now through December 2012, the EIA expects the average price to be $95 per barrel. In 2013, the prices are expected to remain flat.
Long story short, with crude oil around $78 per barrel, EIA expects a bigger jump. This bodes well for companies like Schlumberger that are largely dependent on crude oil prices. However, before jumping to conclusions, please take a look at EIA's disclaimer regarding its numbers: This forecast rests on the assumption that U.S. real GDP grows by 2.2% this year and 2.4% next year, while world oil consumption-weighted real GDP grows by 3.1% and 3.5% in 2012 and 2013, respectively. Note that investors in this or similar trades that are correlated with various energy prices, must track comments and reports from organizations like the EIA.
Technicals
The following graph displays some important technicals for the stock.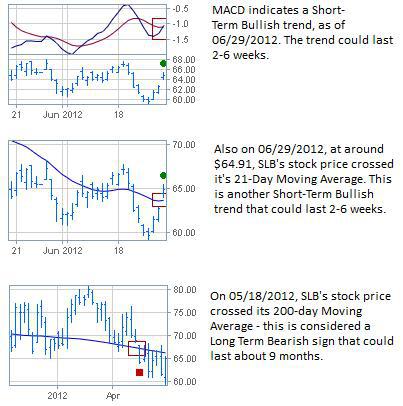 Bearish signs: On May 18, 2012, the stock price crossed its 200-day Moving Average—this is considered a long-term bearish sign that could last about 9 months. As of today, the Relative Strength and the fact that 50-day and 200-day Moving Averages are falling, indicate a general bearish trend.
Bullish signs: The short-term charts for Schlumberger show a couple of bullish signals, for the next 2-6 weeks at least. On June 29, 2012, the MACD turned positive, and the price crossed its 21-Day Moving Average. Intuitively, maybe the recent EIA announcement about the jump in average crude oil prices for the second half of 2012 could be a catalyst for Schlumberger in the short term, thus justifying the company's most recent bullish signals?
Schlumberger's Analyst Ratings
SLB has an average rating of Buy among the 33 analysts that have rated the company.
There are 10 Strong Buy ratings, 20 Buy ratings, and 3 Hold ratings. Note that there are no Underperform or Sell ratings for Schlumberger.
Price Targets
The consensus 12-month target for Schlumberger should be around $87; of the 25 analysts that have researched this stock, the price target varied between a low of $72 and a high of $103.
Risks
As discussed, the company will remain vulnerable to volatile crude oil (and even natural gas prices). If crude prices were to fall further, Schlumberger will no doubt be hit harder.
Talks of global or even regional recessions could cause oil and gas companies to reduce their spending—Schlumberger could face both pricing and demand pressure if this happens.
New government rules governing hydraulic fracturing could add costs and reduce operating margins for the entire industry, not just Schlumberger. Investors must keep an eye out for any legislation announcements around this.
Conclusion
Considering the EIA's estimate for rising crude oil prices within the next 6 months, and the earnings performance as well as growth of the company, Schlumberger appears to be currently trading at a lower price than fundamentals. The target price of $87 makes this Schlumberger Value Meal a Happy Meal.
Disclosure: I have no positions in any stocks mentioned, and no plans to initiate any positions within the next 72 hours.