Boy, analysts and talking heads were sure quick last week to proclaim that the commodities bubble had burst ... again. They said much the same thing back in 2006, but the darndest thing happened - the bubble came back to life.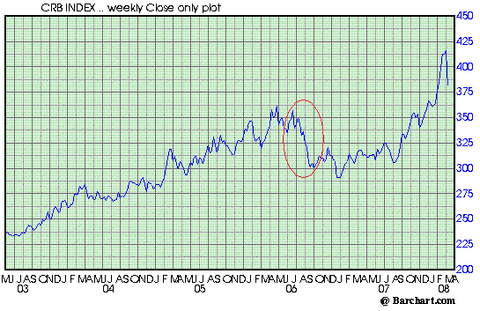 If only the housing and stock market bubbles could be re-inflated so quickly...
Then again, if the commodities bubble didn't stay burst last time, was it really a bubble?
If so, what are the odds of this one staying burst?
We'll find out soon enough.
The reaction to last Tuesday's rate cut by commodity markets - where speculators were said to be throwing in the towel after the Federal Reserve cut short-term rates by just three-quarters of a point rather than a full point - brings to mind what they sometimes say about British police officers.
Not issued firearms, but limited to such items as batons and pepper spray instead, when the bad guy is getting away from them, all they can do is yell:


STOP! Or I'll yell STOP again!
The thing is, when Ben Bernanke said much the same thing on Tuesday, commodity speculators listened to him.
They stopped in their tracks and sold what they had.
When the Fed chief highlighted inflation as a top concern before coming up short of market expectations for the largest rate cut in history (as a proportion of the current interest rate) - the speculators gave up.
They stopped, turned around, and walked back slowly with their hands in the air!
Now, the odds are that the endowment funds at Harvard and Yale were buying on this dip right along with their new buddies at pension fund behemoth CalPERS, but don't tell that to the traders at the NYMEX or to those who bought their first gold coins at $975 and their first wheat futures contract last week.


Plenty of help

Make no mistake about it though, the Fed Chief had lots of help.
We live in a finance-centric world and a bull market in natural resources is anathema to both the mainstream financial media and Wall Street (well, at least until Wall Street firms have their commodity trading departments fully staffed).
On CNBC they were all smiles as gold plunged back below $1,000 and the Dow rose.
This MarketWatch story is probably representative of what many investors and analysts felt after watching equities plunge so far in 2008 while oil and gold soared (hat tip B2B).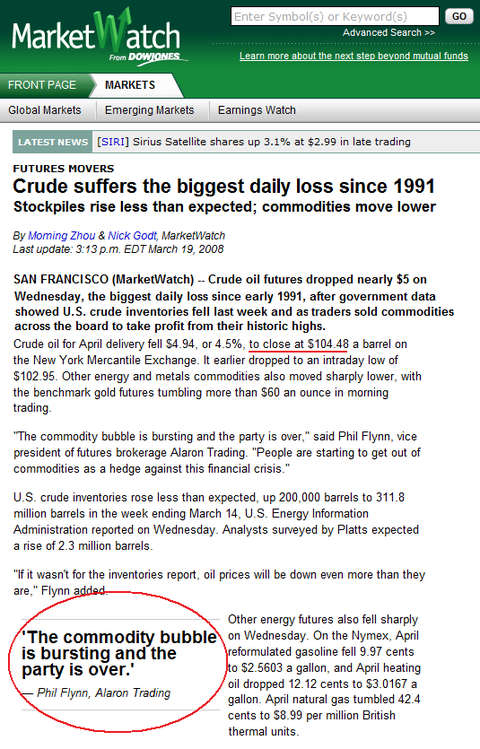 A year or two ago, would anyone have dreamed that you'd hear someone say that a commodities bubble had just burst when oil was last trading at $104?
If you read through some of the comments attached to that story, you'll be reminded of what most of the investing community still thinks about the natural resource sector. My favorite was the following observation:

"If commodity prices finally burst, then the money that was being invested in commodities should return to the stock market."
It all seems so simple.
Won't they all be disappointed if this commodities bubble behaves like the last one and doesn't stay burst?