When insiders buy shares on the open market, their companies are usually undervalued. Corporate insiders often have the inside track on their companies' prospects. An insider probably wouldn't risk investing too much of his or her own money into his or her own company unless the insider thought the stock might rise.
I screened for companies where at least one insider made an open-market buy in the last three days. Here are three energy stocks that I found:
1. Chesapeake Energy Corporation (NYSE:CHK) ​is the second-largest producer of natural gas, a top 15 producer of oil and natural gas liquids and the most active driller of new wells in the U.S. Headquartered in Oklahoma City, the company's operations are focused on discovering and developing unconventional natural gas and oil fields onshore in the U.S.
Chesapeake owns leading positions in the Barnett, Haynesville, Bossier and Marcellus natural gas shale plays and in the Eagle Ford, Utica, Granite Wash, Cleveland, Tonkawa, Mississippi Lime, Bone Spring, Avalon, Wolfcamp, Wolfberry and Niobrara unconventional liquids plays. The company has also vertically integrated many of its operations and owns substantial midstream, compression and oilfield services assets directly and indirectly through its subsidiaries Chesapeake Energy Marketing, Chesapeake Midstream Development, and Chesapeake Oilfield Services and its affiliate Chesapeake Midstream Partners (CHKM).​​​​​​​​​​
Click to enlarge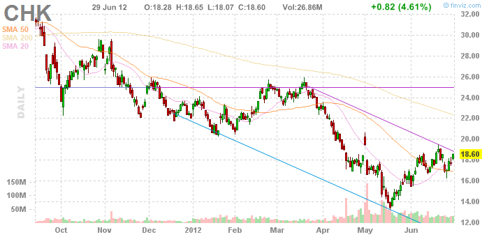 Insider buys
Merrill Miller purchased 27,700 shares on June 27th and currently holds 159,017 shares of the company. Merrill Miller has been a director of the company since January 2007 and a lead independent director since March 2010.
Brad Martin purchased 20,000 shares on June 28th and currently holds 55,000 shares of the company. Brad Martin is former Chairman and Chief Executive Officer of Saks Incorporated, a position he held from 1989 to 2007.
2. Energy Transfer is a Texas-based energy company that began in 1995 as a small intrastate natural gas pipeline company. Energy Transfer is now one of the country's fastest-growing natural gas and natural gas liquids transportation companies.
Energy Transfer owns and operates a diversified portfolio of energy assets. The company's operations include the gathering, treating, processing, marketing and transportation of natural gas and natural gas liquids. Energy Transfer offers two separate publicly-traded securities on the New York Stock Exchange:
Energy Transfer Partners (NYSE:ETP) is a publicly traded partnership owning and operating a diversified portfolio of energy assets. ETP has pipeline operations in Alabama, Arizona, Arkansas, Colorado, Florida, Louisiana, Mississippi, New Mexico, Utah, and West Virginia and owns the largest intrastate pipeline system in Texas. ETP currently has natural gas operations that include approximately 23,500 miles of gathering and transportation pipelines, treating and processing assets, and three storage facilities located in Texas. ETP also holds a 70% interest in Lone Star NGL LLC, joint venture that owns and operates natural gas liquids storage, fractionation and transportation assets in Texas, Louisiana, and Mississippi.
Energy Transfer Equity (NYSE:ETE) is a publicly traded partnership, which owns the general partner of Energy Transfer Partners and approximately 52.5 million ETP limited partner units; and owns the general partner of Regency Energy Partners (NYSE:RGP) and approximately 26.3 million Regency limited partner units. ETE is also the parent of Southern Union Company. The ETE family of companies owns approximately 45,000 miles of natural gas and natural gas liquids pipelines.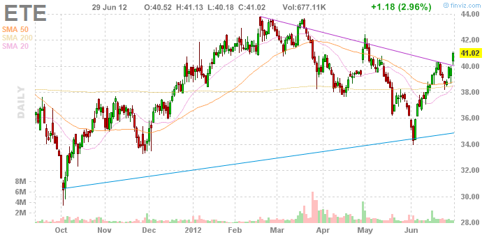 Insider buys
Kelcy Warren purchased 239,975 shares on June 27-28 through Kelcy Warren Partners II, L.P. Kelcy Warren is Chief Executive Officer and Chairman of the Board of Directors of Energy Transfer Partners. Mr. Warren also serves as Chairman of the Board of Directors of the general partner of Energy Transfer Equity.
3. Solar Power Inc. (SOPW.OB) is a leading vertically integrated photovoltaic (PV) solar developer that designs, engineers and constructs complete PV solar energy facilities (SEFs). The company develops SEFs to provide onsite electricity production for industrial and commercial enterprises. It also develops utility-scale SEFs to provide electricity to power grids serving vast areas. The company's business strategy is to work as a vertically integrated solar developer to design, engineer and construct high-quality, low-cost turnkey photovoltaic SEFs for these business segments.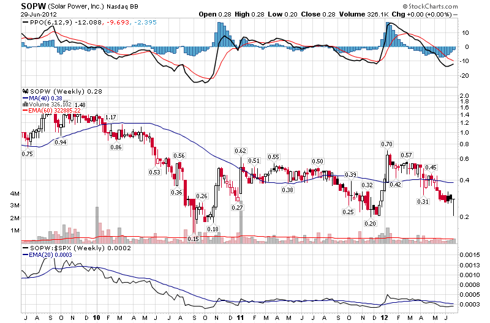 Insider buys
LDK Solar (NYSE:LDK) purchased 9,771,223 shares on June 27th and currently holds 141,517,570 shares of the company. Solar Power has 184,413,923 shares outstanding, which makes LDK Solar a 77% owner of Solar Power.
Conclusion
Solar Power's and Chesapeake Energy Corporation's charts show signs of bottoming. Energy Transfer Equity's stock price is just $1.5 shy from the 52-week high.
Disclosure: I have no positions in any stocks mentioned, but may initiate a long position in SOPW.OB, CHK over the next 72 hours.