Shares of Baidu (NASDAQ:BIDU), the Chinese search juggernaut, lost over 18% of their value during the last week and have declined more than 50% since reaching a high of $418.22 on December 28th. The share slump can be traced to the overall selloff in foreign equities, a general investor shift from momentum stocks to value stocks and commodities, recent inflation and social concerns in China, and short selling.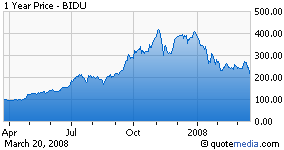 With a trailing p/e of nearly 83, the shares are still expensive and trade at a significant premium to other China based web companies like Sohu (NASDAQ:
SOHU
) and Sina (NASDAQ:
SINA
), with trailing p/e ratios of 57 and 34, respectively.
At current levels, Baidu shares trade at more than 2.5 times the 32 trailing p/e of Google (NASDAQ:
GOOG
); however the premium can be justified by the company's 2007 revenue and net income growth rate of 108% and 79% versus just 51% and 17% for Google.
Baidu is the search leader in China, with share estimates north of 70% in what is now the world's largest internet market.
Future growth prospects for the company are bright and will get a turbo boost this year from the Summer Olympics.
In spite of the rosy future, near term trends indicate Baidu shares are likely to remain anchored in the $200 to $225 range and could breach the $200 level with another market sell off.
If the $200 support level is taken out, short sellers could quickly drive the shares down to near the August 16
th
low of $161.
The latest data indicates that nearly 12% of the company's share float is sold short and the recent share performance indicates the short sellers are now in the driver's seat.
Should a sub $165 price level be reached prior to the company's Q1 earnings release, it will represent a good buying opportunity as at this level, shares will trade at a more palatable trailing p/e of 60 (based on the reduction in share price combined with the anticipated Q1 earnings). From these levels, I anticipate the shares will climb back to the $240 to $250 range prior to the start of the Summer Olympics, representing a healthy 50% move for an opportunistic investor.
Disclosure: No position in Baidu.