We had quite an exciting end to the second quarter on Friday. Europe announced an informal agreement to support banks and investors responded with a frenzy of buying. We were prepared.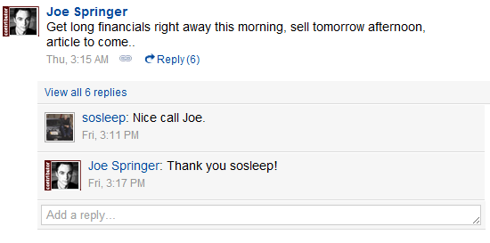 Now though, we turn to the second half of the year in all of its complexity.
Ozzy
I asked the esteemed Skyler Greene what he thought of the market for the rest of the year. Naturally, the conversation turned to Ozzy Osbourne's upcoming Black Sabbath tour. We discussed what stocks we thought Ozzy should lock in right here in order to please his wife come the holidays (Ozzy's, not Skyler's).
So with THAT thin premise in mind we get to what we are addressing here: how to set up for the next six months.
Most investors are "buy and holders" to an extent, having neither the time nor the inclination to watch stocks on a daily basis. A commenter said recently:
Like I said I plan to retire in 30 years and check PM's stock price every 6 months.
That sentiment, checking in every once in a while, is probably pretty typical of the average investor. So with the world and the market being so problematic and opportunity-filled Skyler and I decided to each put together a portfolio to get from here to the end of the year. A portfolio for Ozzy Osbourne to return from his tour in six months and be able to buy Sharon Osbourne whatever it is that makes her happy.
You can follow Skyler and me (and some guy named Carlos Pineda, hi Carlos!) at the Satisfy Sharon link.
Check out Skyler's picks. Though he's got some bond exposure in case danger does indeed lurk, he's a bull. He's got some high yielders, and then a lot of plays that should do well in an economic upturn. Not bad.
I myself, though, think this market may get REAL UGLY. I think we may be in for a little rally, as long as Europe can put on a good face. But before the year is out it I think some stocks, notably financials and tech but also oil and anything else that requires a high-functioning Europe, will be hammered all over again.
So where to hide? A good bond fund can give some nice yield, but bond funds can get hit in downturns too. A lot of people are surprised by that.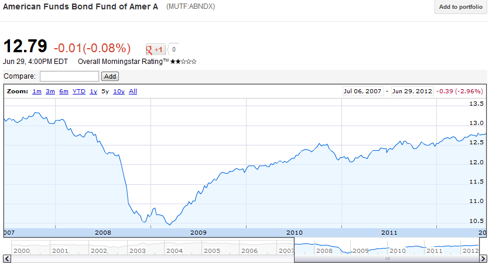 Isn't that ridiculous!? You get bonds for protection and get hammered along with stocks. Surely gold protected you in 2008.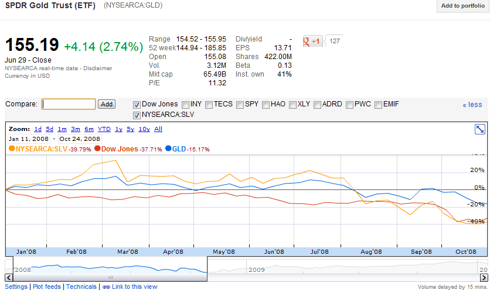 That is both gold and silver folding with the market crash. Astonishing.
The Springer Method
This is something I like to do. I call this the "Springer Method". The Springer Method goes like this:
You are thinking of buying a stock/fund/whatever. First you imagine what you would feel like if things go your way. Are you happy or are you relieved?
Then, you imagine what you would feel like if things do not go your way. Is it "we'll get them next time" or are you planning your vengeance on God?
You're wrong, kid. It's not a crime to kill an elephant. It's bigger than all that. It's a sin to kill an elephant. You understand?
That is the essence of the Springer Method. If your investment does not work out for you, and that would have a causation-effect relationship with you hunting elephants in order to sin against God, that investment is not a good "fit" for you.
Let me tell you something personal about me. If I bought a bond fund and a gold fund and a silver fund because I thought the market was going to crash, only to see these things get pole-axed too, my head would explode.
Skyler's got a silver position but it is for speculation as he will show. Neither of us like metals as an investment, they have pyramid scheme qualities.
No, what I am going to concentrate on is: domestic utilities, railroads, domestic telecom, powder river basin coal, and domestic transports. Most of these are defensive sectors to be sure, yield abounds and growth is traditionally lacking but I like some stories.
Here are my picks for a "buy and holder" about to go on tour for 6 months like Ozzy Osbourne, follow along with Skyler and me at the link above as the rest of the year unfolds. I have 24 picks in all. Note the exchange on which my picks trade. I'm so wary of a tech sell off that I don't even want anything that trades on the Nasdaq for fear ETFs will drag it down. The only real casualty of that discipline was Costco (Nasdaq:COST).
Going Off the Rails On a Crazy Train
10% each - Union Pacific (NYSE:UNP), Kansas City Southern (NYSE:KSU)
1% each - Genesee & Wyoming (NYSE:GWR), Norfolk Southern (NYSE:NSC), CSX (NYSE:CSX)
Railroads Union Pacific and Buffett-owned BNSF partner in facilities in the powder river basin and that is why we like UNP. The basin is home to the cheap kind of coal, natural gas prices are on the rise, and the Summer is really hot so far especially in the midwest (UNP's stomping grounds and near the basin). From the basin a lot of coal goes to the Kansas City interchange where KSU picks it up and takes it to the coal fired power plants. KSU also is the main artery from Mexico to the United States and with the Panama Canal expanding KSU's Mexican port/terminal is going to be very busy. The others should be steady with a shaky Europe.
Midwestern Utilities With Sub-Bituminous-Coal-Fired Power Plants, I'm Coming Home
5.5% each - Empire District (NYSE:EDE), Entergy (NYSE:ETR), Exelon (NYSE:EXC), Great Plains Energy (NYSE:GXP), Westar (NYSE:WR)
1% each - American Electric Power (NYSE:AEP), AES (NYSE:AES), Duke (NYSE:DUK), Consolidated Edison (NYSE:ED), Public Services Enterprise (NYSE:PEG), Southern Company (NYSE:SO), TransAlta (NYSE:TAC)
Yield-city and heavy on the Midwestern utilities with sub-bituminous-coal-fired power plants. I recently counseled selling Philip Morris (NYSE:PM), this is where I think erstwhile PM holders should be. Because of what I think will be a strong American dollar going forward and a troubled globe I think most US-based global consumer non-cyclicals should be avoided. This includes much loved old-faithfuls Morris, McDonalds (NYSE:MCD), Colgate (NYSE:CL), and Coke (NYSE:KO). Check out these utilities and note the yield on many beat the consumer non-cyclicals handily.
Telecom Solution
10% each - Verizon (NYSE:VZ,), AT&T (NYSE:T)
3% - Sprint (NYSE:S)
Landline is fine but Verizon's quicker, AT&T is such sweet liquor. If you are not getting these Ozzy references just keep moving. We have yield in an industry that has become a utility of sorts. Sprint could pop for some growth but mostly I am happy with a steady US industry that is shielded from European banks, or Chinese or Indian banks for that matter.
Mr. Coaley
10% - Arch Coal (NYSE:ACI)
Arch is my favorite play on powder river basin coal and has started to rebound after getting slammed with the rest of the coal sector. If you take the plunge on Arch keep rooting for HEAT in the heartland.
Road To Somewhere
3% each - Ryder (NYSE:R), Roadrunner (NYSE:RRTS), XPO (NYSE:XPO)
I think Europe falls apart and oil goes with it. Good for the US consumer, good for transports. Trucking in the United States should be a great place to be if fuel is cheap. Check out XPO for an interesting story, Mr. Jacobs is trying to corner the market.
Conclusion
The second quarter ended with a flourish but all may not be settled on the world stage. If you are the type of investor that checks in once in a while but mostly likes to hold, this is how I think you should be set up. Please due your own due diligence, here is a guide to get you started.
What do you think? How will the second half of the year play out and where should investors be? Please follow Skyler and me at the link near the top and have a great second half of the year investing.
Disclosure: I am long ACI.