Nestlé Foods (OTCPK:NSRGY) is the largest food company in the world but remains relatively unknown to most U.S. investors because it does not trade on any of the major U.S. stock exchanges. With turmoil in the markets investors should be looking for safer investments that can deliver consistent growth in a recessionary environment. Nestle has a large portfolio of well known brands and products: Nestle Chocolates, Lean Cuisine, Stouffers, Hot and Lean Pockets, Gerber baby foods and a strong pet food business to name a few.
So why do we believe Nestlé is so well positioned? And will it continue to outperform other key food companies like General Mills (NYSE:GIS), Kraft (KFT) Sara Lee (SLE) and Campbell's Soup (NYSE:CPB)?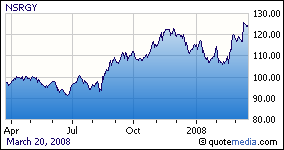 First and most importantly, Nestlé's portfolio of products are as you would expect: primarily international. International food category sales continue to outpace food sales in the U.S.. While most U.S. category sales are flat on a volume basis, international food sales have been showing a 3-5% rate of real growth. It's obviously easier to drive sales volume in categories and markets that are growing. Other U.S. food companies are starting to see the light and expanding their presence overseas but Nestle has a higher percent of its sales already in international and emerging markets.
Secondly, Nestlé's portfolio is less exposed to the most volatile of the commodity markets : wheat, corn and dairy. Cereal, bread and cheese makers all have to contend with very difficult, rising commodity costs. While hedging can help delay the impact of rising commodities (as General Mills latest earnings showed), eventually food companies will have to raise prices to cover commodity costs and that's never good for sales volume over the long term.
Nestlé's largest commodity exposure is in dairy products followed by cocoa. Thanks to a very diversified portfolio, the impact of these commodity increases has less impact to the company's bottom line. In fact, many of its pet food products are actually showing lower raw material costs thanks to weakness in pork and other meat products.
Third, Nestle has a strong and deep management team that makes it a well run company. They have strategically focused the company and its products on their nutrition, health and wellness platform and it's paying off with stronger organic growth.They have done well with some of their other key strategic moves:
Joint venture with General Mills in cereal
Integration and expansion of Gerber
Integration of Novartis
This all leads to the conclusion that Nestle is well positioned for future growth. It's amazing that the largest food company in the world is relatively unknown to most U.S. investors. This may be the best reason to check out what's cooking at Nestle.
Disclosure: None