Retail sales turbulence has slammed into the electronics industry with a vengeance. ChangeWave's latest consumer survey shows a sudden huge pullback in electronics purchasing by U.S. consumers – the largest one since we began measuring spending trends back in 2002.
The February 18-25 survey of 4,427 consumers looked at a range of popular gadgets, including digital cameras, iPods and video game consoles.
Only 19% of survey respondents say they'll spend more on electronics over the next 90 days compared to 33% who will spend less – an unprecedented sign of weakness in this space.
Hardest Hit Electronics Items
Several perennial favorites will be hit hard over the next 90 days, including LCD TVs (10%; down 4-pts), digital cameras (7%; down 4-pts), cell phones (8%; down 6-pts) and iPods (2%; down 4-pts) – all which are down significantly from a year ago.
Despite the sudden lack of enthusiasm for gadgets, there are still some bright spots. The Nintendo (OTCPK:NTDOY) Wii remains wildly popular among consumers, with 8% saying they plan to buy one in the next 12 months – up 3-pts from a year ago.
Another bright spot lies in the extraordinary surge in demand for High-Def DVD players, where 9% of respondents say they are planning to buy a Blu-ray player in the next 90 days. GPS devices (9%) also continue to hold their own among consumers.
Hardest Hit Consumer Electronics Stores
Key electronics retail outlets will be disproportionately affected by the spending downturn, with Best Buy (NYSE:BBY) (45%; down 6-pts) and Circuit City (NYSE:CC) (14%; down 3-pts) hit hardest. Amazon (NASDAQ:AMZN) (16%; down 3-pts), Apple (NASDAQ:AAPL) (6%; down 3-pts) and eBay (NASDAQ:EBAY) (7%; down 2-pts) will also register declines.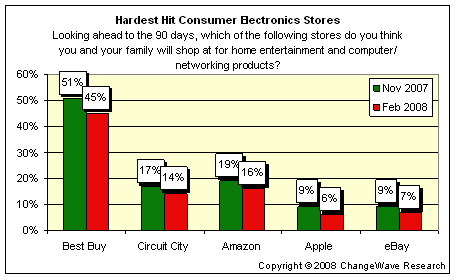 The top two stores bucking the electronics downturn are Costco (23%) (NASDAQ:COST) and Wal-Mart (NYSE:WMT) (12%) – both which look set to maintain their consumer electronics market share going forward.
Will the Tax Rebate Check Help?
As reported in our recent consumer spending report – No Signs of a Bottom – among respondents expecting to receive a special tax rebate this spring, only 7% say they're likely to spend it on consumer electronics.
By comparison, a strong majority say they're likely to use the special rebate to either pay down debt (33%), invest the money (23%), or save the money (21%).
Thus, there is frightfully little in our findings to suggest the federal stimulus package will jumpstart consumer spending on electronics. Rather, our findings point to an increasingly preoccupied American consumer who has fallen out of love with gadgets – at least temporarily.
Investors should check to see their seat belts are securely fastened – turbulence ahead.
Paul Carton co-wrote this article.
*************************************
This article summarizes the results of a recent ChangeWave Alliance survey. The Alliance is a research network of 15,000 business, technology and medical professionals who spend their everyday lives working on the front line of technological change. For more info on the ChangeWave Alliance, or if you are interested in joining, please click here.