The part I of "3 Healthcare Companies Seeing Insider Buying In Last 3 Days" was published on June 29th covering GenMark Diagnostics (NASDAQ:GNMK), Palomar Medical Technologies (NASDAQ:PMTI) and CytRx Corporation (NASDAQ:CYTR).
When insiders buy shares on the open market, their companies are usually undervalued. Corporate insiders often have the inside track on their companies' prospects. An insider probably wouldn't risk investing too much of his or her own money into his or her own company unless the insider thought the stock might rise.
I screened for companies where at least one insider made an insider buy in the last 3 trading days. Here are 3 healthcare stocks that I found:
1. AspenBio Pharma (APPY) is focused on obtaining FDA clearance for its lead product, AppyScore, which is a unique blood-based test in the final stages of development. AppyScore is designed to help physicians manage the large number of children and adolescents who enter emergency departments of hospitals each year complaining of abdominal pain, many suspected of having acute appendicitis. Abdominal pain is a high-volume, potentially high-risk complaint which represents one of the main reasons for emergency department visits. Acute appendicitis is the number one reason for emergency abdominal surgery.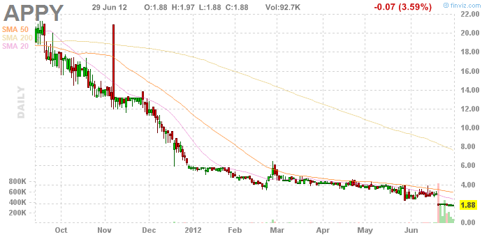 Insider buys
Jeffrey McGonegal purchased 5,000 shares on June 28th. Jeffrey McGonegal became Chief Financial Officer of the company in June 2003, was appointed Corporate Secretary in January 2010, and served as interim President in December 2004 and January 2005.
2. Omeros (NASDAQ:OMER) is a clinical-stage biopharmaceutical company committed to discovering, developing and commercializing products focused on inflammation, coagulopathies and disorders of the central nervous system. The company's most clinically advanced product candidates are derived from its proprietary PharmacoSurgery platform designed to improve clinical outcomes of patients undergoing arthroscopic, ophthalmological, urological and other surgical and medical procedures.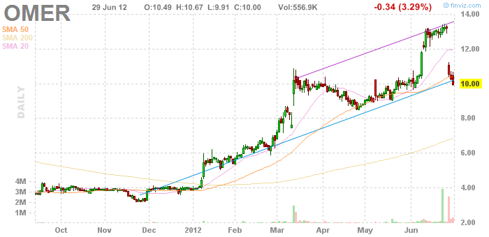 Insider buys
Peter Demopulos purchased 14,635 shares on June 27th and currently holds 165,722 shares directly and 164,382 shares by family trust. Peter Demopulos, M.D., FACC, FSCAI has served on the company's board of directors since January 1995.
3. Milestone Scientific (NYSEMKT:MLSS) is engaged in pioneering advanced computer-controlled drug delivery technologies for the medical and dental markets and currently sells its award-winning products through a global distribution network serving North and South America, Asia, Africa, Europe and the Middle East.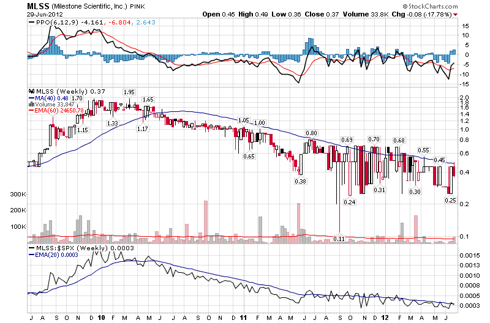 Insider buys
Leonard Osser purchased 51,724 shares on June 27th and currently holds 2,522,540 shares of the company. The company has 15.3 million shares outstanding, which makes Leonard Osser a 16% owner of the company. In March of 2009, Leonard reassumed the position of Milestone's Chief Executive Officer and has served as the company's Chairman from 1991 until September of 2009. He originally served as the company's Chief Executive Officer from 1991 through 2007.
Conclusion
Omeros' stock is currently strongly up-trending. It is still too early to tell if Milestone's or AspenBio's stock have found a bottom.
Disclosure: I have no positions in any stocks mentioned, but may initiate a long position in GNMK, PMTI over the next 72 hours.