Dryships (NASDAQ:DRYS), the largest publicly traded drybulk shipping company in the world, has achieved extraordinary growth over the last two years. At the same time, its stock has been hammered by relentless short selling. One quarter of the float is short. Yet the fundamentals of Dryships is strong. The disconnect between the performance of the company and the stock gets more extreme each day. The share price is so down that I believe there is no other publicly traded company with more compelling statistics.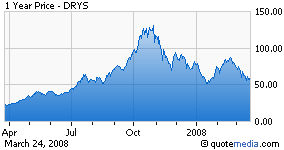 So what are the facts about Dryships. If you go to Yahoo Key Statistics, you'll find:
Enterprise value is $3.24 billion versus a market cap of $2.1 billion.
P/E of 4.3.
Profitability margin of 81.6% and operating margin of 66%.
ROA 13.7%
ROE 64%
Quarterly revenue growth of 195%
Quarterly earnings growth of 443%
There are no other companies out there that can beat Dryships on the statistics. Run any stock selector looking at this low a P/E (4!) with this kind of ROE, margins, earnings and revenue growth. If you can find a better stock, please let me know.
A few days ago, Dryships announced at the Capital Link shipping conference that they would earn $651 million in 2008. Last year they earned $475 million. If the stock goes no where, the P/E will drop to slightly above 3. 38% growth in earnings; P/E 4.
With the remarkable earnings of Dryships, this is a great short squeeze.
Disclosure: Author has a long position in DRYS