Oil at $100 plus per barrel has not produced many winners for investors in the upstream, downstream or integrated oil and refining companies. Crack spreads have narrowed, exploration costs are rising faster than ROI and the NOC's have a death grip on cheaper to extract resources. Since October of 2007, there has been a slow grinding death spiral in these stocks, and with the refiners, the spiral has not been so slow.
The reasons are many, ranging from failure to complete projects on time, relentless rising costs, hedge fund illiquidity and a market refusal to price explorcos NAV at the higher and current oil prices. Suffice it to say that 2008 so far has not been a good year to start an energy fund.
However, this does present the investor with an opportunity to find companies with great assets and rising production at much cheaper prices. A quick look at one of them follows.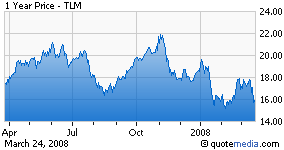 Talisman Energy (NYSE:TLM) is beset by an excess number of shares, a falling oil production graph line, and investor consternation of a perceived lack of strategy, Alberta's punitive tax increase on deep gas wells and the universal problem of not having completed projects on time.
It is no wonder that the stock price has tanked and disappointed every analyst from Calgary to London. Every analyst, and I mean all of them, have knocked this stock down. Price as of this writing: $15.80.
The good news: the Company is undertaking a complete portfolio review with a strategy of increasing reserves to longer life expectancy. Talisman has retired 50 million common shares; the Alberta government has started negotiations to end the proposed punitive measures and "unintended consequences" of the recent proposed royalty hike that affects deep gas wells.
Talisman is achieving great success in Vietnam with her exploration results, garnered a share, albeit a small one, in a LNG project in the hottest LNG market and has righted itself under new CEO Manzzoni to achieve production targets. Furthermore, Talisman has recently purchased RSX Energy, a land rich, cash poor Canadian junior gas explorco with interesting prospects. Talisman got the company cheap and as most of the lands are in Alberta this implies that Talisman has some optimism about royalty reform talks with Alberta.
A key factor in buying Talisman is that her production problems are not reservoir based but an outgrowth of too few engineers, rising material costs and rig availability.
Bottom line: Great worldwide assets and a rising production profile to 2010. This stock is cheap and the analysts are still skittish, a contrarian time to buy. Keep your eye on Vietnam; the potential here could be explosive to the positive.
Disclosure: none