Solitario Exploration & Royalty (NYSEMKT:XPL) is on track to becoming the newest U.S. gold producer with its development stage Mt.Hamilton gold project in Nevada. With the recent completion of the feasibility study managed by SRK Consulting, Mt. Hamilton has demonstrated robust economics with $535 operating cash costs and excellent potential to add additional resources.
Historically, Solitario has established itself as one of the leading Latin American exploration companies by pioneering mineral exploration in emerging new geologic terrains and building major new land positions. From the success in the exploration arena, the company has created an outstanding portfolio of Net Profit Interest Royalty structured joint ventures on advanced mineral projects with partners such as Votorantim Metais, Anglo Platinum (OTCPK:AAUKF) and Newmont Mining (NYSE:NEM), all major international mining companies. With this business strategy Solitario greatly reduces financial risk and minimizes shareholder dilution, while continuing to build a deep pipeline of exploration projects in Peru, Mexico, Brazil, and Nevada.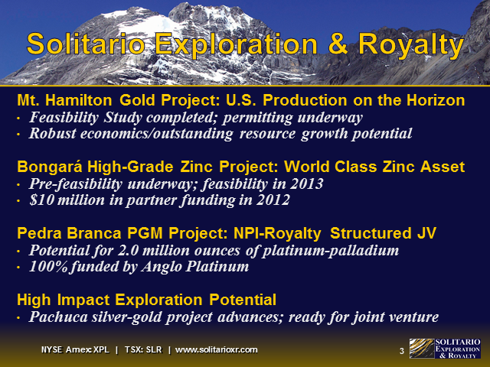 I see at least 3 reasons to buy the stock currently:
1. Insiders are buying
Christopher Herald purchased 180,000 shares on June 26th and currently holds 1,006,962 shares of the company. Mr. Herald has been a director of Solitario since August 1992. He has also served as Chief Executive Officer since June 1999 and President since August 1993.
James Maronick purchased 45,000 shares on June 26th and currently holds 544,230 shares of the company. Mr. Maronick has served as Chief Financial Officer of Solitario since June 1999.
Walter Hunt purchased 20,000 shares on March 23rd and currently holds 334,962 shares of the company. Prior to his appointment as COO in June of 2008, Mr. Hunt was Vice President of Operations and President of South American Operations of Solitario since June 1999.
2. Mt. Hamilton project could generate nearly $390 million in life-of-mine cash flow
The project's life-of-mine cash operating costs on a gold equivalent basis (at a 52:1 silver to gold ratio) are estimated at $535 per gold-equivalent ounce recovered, well below world-average industry cash costs. The economic base case assumes a $1,323 life-of-mine gold price and a $25.34 silver price, generating approximately $226 million in cash flow (operating margin - EBITDA) on a pre-tax basis over the mine's currently anticipated eight-year mine-life. At gold and silver prices of $1,700 and $33 per ounce, respectively, the project will generate nearly $390 million in life-of-mine cash flow. Initial capital costs are estimated at $71.9 million, including a contingency of $6.3 million. On average, silver production contributes approximately 11% to the overall project revenues.
The Mt. Hamilton gold project will be an open pit mining operation with heap leach processing and projected gold recoveries of 79%. The reserves are contained within a well-defined ore body displaying excellent continuity of mineralization that will be mined within a single open pit.
The project is currently ongoing a permitting process which is expected to last up to 18 months according to webcast on April 17th 2012.
3. Bongara project could produce $20 million annually in free cash flow starting at year 2016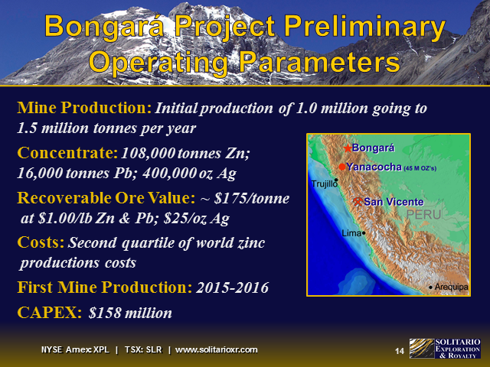 The project started underground drilling in the fourth quarter of 2011. Solitario's partner, Votorantim Metais, is now working towards completing a pre-feasibility report by year's end 2012, drilling an additional 20,000 meters of core from both surface and underground, completing the 32-kilometer access road to the mine and permitting further underground development. The Bongará project hosts the high-grade Florida Canyon zinc deposit where zinc mineralization has been intersected over a four square kilometer area. The mine is expected to start production in 2016 and the project is funded through Votorantum Metais.
Conclusion
The company stated in the webcast on April 17th that they are not considering dilutive financing. With this fact and the recent insider purchases it makes sense to invest into this small $45 million market cap exploration and royalty company.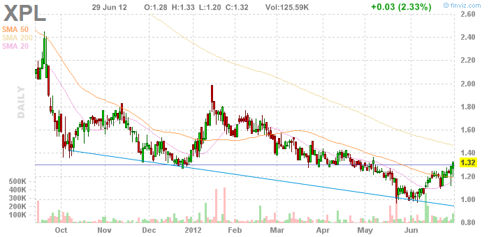 Disclosure: I have no positions in any stocks mentioned, but may initiate a long position in XPL over the next 72 hours.