Vivendi (OTCPK:VIVHY, VIV.PA) creates, publishes and distributes digital products and services. It is an integrated company controlling the value chain from production to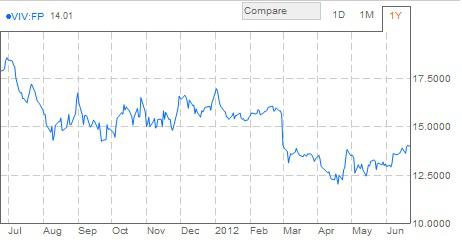 publishing and distribution of content like video games and music. Vivendi owns an interesting set of assets ranging from the world's leader in video games [Activision Blizzard (NASDAQ:ATVI)] to the world's leader in music (Universal Music Group). The stock is listed on the French stock exchange (CAC). U.S. investors can also invest through the OTC market. The company has the following fully owned business lines:
Universal Music Group: The world's leader in recorded music, number one in most major countries (United States, United Kingdom, France and Germany), and possesses the largest catalog of musical works. In 2011, best-selling albums included titles from Lady Gaga, Rihanna, Lil Wayne and Justin Bieber.
SFR: The number one mobile and fixed-line alternative telecommunications operator in Europe and France's alternative telecom leader. In 2011, SFR's share of the mobile telephony market in France was 31.3%
GVT: Brazil's alternative telecom leader offering fixed-line telephony, Internet, and pay-TV services and products. This business line has been a growth engine for Vivendi. Its Compounded Annual Growth (CAGR) over the period 2006-2011 is 34% for Revenue and 40% for EBITDA.
Canal+ Group: France's leading publisher of premium and theme channels, France's leader in the aggregation and distribution of pay-TV offers (12.9 million subscriptions) and Europe's largest producer and distributor of films.
Vivendi also has two business lines in which it has a majority stake:
Maroc Telecom Group (majority stake of 53%): the number one mobile and fixed-line telecommunications operator in Morocco (41% market share). Maroc also has controlling stakes in the historical operators in Mauritania (Mauritel and Burkina Fasso (Onatel), Mali (Sotelma) and Gabon (Gabon Télécom). In addition, it holds 100% of Casanet, one of the leading suppliers of Internet solutions in Morocco.
Activision Blizzard (majority stake of 60.32%): the world's number one independent publisher of online and console video games. It owns a portfolio of proven franchises: Call of Duty® and World of Warcraft®, StarCraft® and Diablo®.
More information on the company can be found in the 2011 annual report (pdf).
Vivendi is not a great business. A quick look on the return of net profit retained in the business over the last 8 years, gives a fairly good indication it is a mediocre business at best:
8-year net profit: $26,628 Million
8-year dividend and buy backs: $19,887 Million
8-year debt increase: $11,865 Million
Net profit retained: $18,606 Million
In an 8-year period Vivendi has invested $18.6 billion back in the business. In the same period revenue has grown from $26.5 billion to $35 billion. Earnings per share have gone from $4.41 in 2006 to $2.7 in 2011. Not really returns you would like to see as a long-term stockholder.
The balance sheet doesn't look very good either with more than $12.6 billion in net debt. Stockholder equity is $24.4 billion. More concerning is that Vivendi has $39 billion of intangible assets on the balance sheet, giving it a negative net tangible equity.
Profitability and earnings also don't indicate we're dealing with a great business. The 2011 return on equity was 12.87%. Let's analyze this further. Profit margin is 8.69% and asset turn-over is 0.52, giving a return on assets of 4.49%. The financial leverage (assets / equity) is 2.87. This gives a return on equity of 12.87% (return on assets * leverage ratio). Both profitability and return on assets are low. By using a relative high leverage ratio Vivendi is capable of getting a reasonable return on equity.
Reason I got interested in the stock is that it is cheap (EV/EBITDA value of 3.65). In other words you can buy the company against 3.65 times EBITDA, which is cheap even for a mediocre business.
Vivendi also has "hidden assets" with the majority stake in Activision Blizzard and Maroc Telecom Group. Let's take the current market cap of both companies to estimate the value of these stakes.
Activision Blizzard market cap is $13.3 billion. Vivendi owns 60.32% taking the value of their stake to $8 billion.
Maroc Telecom Group (also listed at the CAC) has a market value of $10.8 billion. Vivendi owns 53% taking the value of their stake to $5.7 Billion.
The two majority stakes have a value of $13.7 billion. At close of business last Friday the market value of Vivendi was $23.7 billion. The value of Vivendi stake in these two businesses is equal to 58% of its market cap. This is where it gets interesting. The Maroc and Activision Blizzard contribution to the $7.5 billion in EBITA is 36% ($2.7 billion). In other words, 58% of the market cap contributes to 36% of the EBITA, while the other 42% of the market cap provides 64% of the EBITA. An indication that the sum of the parts is valued less than the individual parts.
Vivendi should trade close to double its current stock price. Although it is not a great business, it has number 1 positions in key markets and a fairly robust business model. Canal + is a subscription-based business and the exposure to Brazil and Africa will help offset weakness in Europe. I do expect that the situation in Europe will become worse before it improves. Averaging in the stock over multiple months might provide opportunity to buy at even lower prices. The expected dividend of $1.26 a share (~7% Yield) will compensate you for waiting on the market to realize its fair value.
Disclosure: I am long OTCPK:VIVHY.