Discover Financial Services (NYSE:DFS) is a well-known credit card provider. Their well-regarded cashback program provides consumers with great value, and their stock looks to be a great value at current prices as well. It's up 44% YTD, but is still a bargain based on valuation and growth metrics.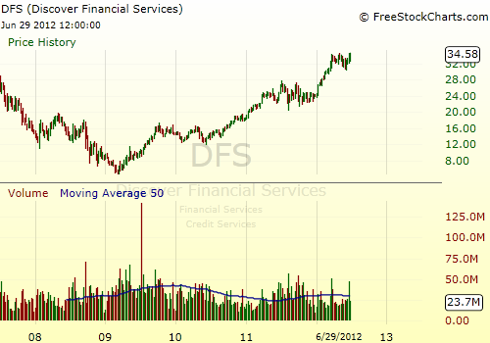 Reasons To Consider Discover
DFS stock is extremely inexpensive compared to peers. At a TTM P/E of only 8.02 and a PEG ratio of 0.75, Discover clocks in well below the consumer finance industry average P/E of 11.48 and PEG of 1.09. American Express Company (NYSE:AXP), for example, has a P/E of 13.93 and a PEG ratio of 1.17. Discover's definitely one of the cheaper credit card stocks.
Discover also has very strong growth metrics. EPS growth on a TTM basis is 41% and 5-year historical EPS growth is 12.43%. Cash flow growth over the past five years has been an impressive 12.33%. (Again, compare to American Express: 5-year cash flow growth of only 5.87%).
Discover's balance sheet and margins are fairly strong for the industry as well. Debt/Equity is 207%, compared to 419% for the consumer finance industry (304% for American Express). Discover's gross margin, at 49%, is significantly higher than the industry average of 36%. Operating margin and profit margin are similarly above industry averages.
Last quarter's earnings report was in-line with consensus estimates. The previous five were earnings beats.
Analysts are bullish. Of 24 firms covering Discover, 9 have a "strong buy" recommendation, 8 have a "buy" recommendation, and 7 have 'hold" recommendation. None have "reduce" or "sell" recommendations.
Discover does has a dividend, but at 1.2% yield, it won't blow anyone away. However, management is projecting increased dividends in the future, meaning investors should receive a solid yield-on-cost in the future.
Disclosure: I have no positions in any stocks mentioned, but may initiate a long position in DFS over the next 72 hours.
Disclaimer: I am an individual investor, not a licensed investment advisor or broker dealer. Investors are cautioned to perform their own due diligence. All information contained within this report is presented as-is and has been derived from public sources & management. Always contact a financial professional before making any major financial decisions. All investments have an inherent degree of risk. The future is uncertain, and actual results may be materially different from those expected. Past performance is no guarantee of future results. All views expressed herein are my own, and cannot be interpreted as the views of my employer(s) or any organizations I am affiliated with. Presentation of information does not necessarily constitute a recommendation to buy or sell. Never make any investment without conducting your own research and reading multiple points of view.