There is not any doubt that Apple (NASDAQ:AAPL) has changed the world we live in, excited hundreds of millions of consumers, investors and the technology world. The fundamentals are astounding and new products continue to roll out despite an economy that is sluggish at best.
I can go on with all of the platitudes but suffice it to say that Apple has been a miracle of a company for more than 20 years now, especially in the last 6 years.
We have seen all of the groundbreaking products, and have heard all of the whispers of more to come. We have seen the world of Steve Jobs through the eyes of Apple's birth, as well as the dark days when Jobs was not involved. We witnessed his resurgence with Apple, the transformation of the company once again, as well as the untimely passing of the master marketer.
That being said and with all due respect, we could have seen the best days of Apple already and now they need to perform mightily to stay on top. With a parabolic move in it's share price from $400 to $644 we watched with jaw dropping awe some daily moves that astonished the investment world but has since cooled off even in the face of the new iPad, Mac, and the latest and greatest iPhone (soon, very soon).
This is not a knock on the company by any stretch of the imagination. We have seen it before in "game changing" companies; Sony (NYSE:SNE), Microsoft (NASDAQ:MSFT), IBM (NYSE:IBM), and even Google (NASDAQ:GOOG), just to name a few. To be sure, Apple has been the best of them all by just about every metric.
Headwinds Apple Faces
Every great company reaches several tipping points if they are lucky and good enough. One of those tipping points is the moment that everyone simply knows that whatever the company touches turns to gold and seems like it will never end. On the other end of the spectrum is that tipping point when everyone simply knows that the company's best is simply not good enough to keep the momentum going.
Great companies become mature companies where top performance is expected just to keep pace. Like the heavyweight boxing champ who has defended his title 3 or 4 times but is now facing hungrier challengers at every turn. Eventually the "champ" submits and a new champion is crowned.
I do not believe that there is a new champion ready to be crowned in the technology "ring", but some of those challengers are certainly hungry. Hungry to take share from Apple and grab some moments in the sun.
It usually starts with news reports, articles, and competitive rumblings such as noted here:
"Sales of the ever-popular Apple iPhone may be slipping at Verizon Wireless, where sales representatives are said to be pushing the company's 4G LTE devices in a big way.
William Blair's Anil Doradla published a note Tuesday that said that even though the iPhone is still the best-selling smartphone in the whole U.S., sales have slipped at Verizon Wireless. Fortune was the first to report on Doradla's note.
Doradla in his research note said that his checks of Verizon's sales channel indicate that for the June quarter, the iPhone slipped as the top-selling device on Verizon's network to the No. 2 spot. The Motorola Droid Razr Maxx has replaced the iPhone at Verizon as the top-selling smartphone, according to Doradla."
No huge reason to sound any alarms just yet, but there are other issues that have cropped up that could give some investors pause like quality issues as noted here:
Next iPhone Facing Battery Supply Problems: An analyst for Topeka Capital Markets notes that only 30% of batteries for the upcoming iPhone from a Chinese supplier are meeting Apple's (NASDAQ:AAPL) quality control standards, Apple Insider says. The analyst is maintaining his prediction that the new iPhone will launch in September, a month ahead of most predictions. Other sources in China are suggesting the possibility of an August launch for the new iPhone model.
Of course these are just rumors but when they are pointed out by the same analyst that placed a price target of $1001/share just a few months ago, some might tilt their heads a bit.
Then there are some ongoing labor problems that still linger and by some accounts are deteriorating. Take a look at this article which does not paint a pretty picture:
"Labor practices in China have been questioned again, just as the company seemed to have gotten criticisms about lead supplier Foxconn behind it. Fortunately for Apple, none of the past complaints about its supply chain have cut into sales. Future ones are unlikely to either. Brand overcomes bad habits. China Labor Watch put out a large document that accuses Apple of not following labor practices at other suppliers based in China. Tim Cook, who visited China to show the company's commitment to fair labor, may have to go back again. China Labor Watch reported"
A well written introduction to a wide list of issues, but Apple is still placed in a very positive light by virtue of the brand, but yet one still needs to take note.
This one issue struck me:
"Excessive Overtime: The average overtime in most of the factories was between 100 and 130 hours per month, and between 150 and 180 hours per month during peak production season, well above China's legal limits."
If the excessive overtime is well above the legal limit in China, what will the government do? Will they take steps to curb the overtime which MIGHT cut into production? What can Apple actually do about this anyway? It might pay to keep an eye on this.
We also cannot afford to ignore the competition that is salivating over every sector that Apple has it's best products in.
We are very well aware of Microsoft's "soft" launch of it's "Surface" tablet, however there are others that need to be acknowledged. This article brings to the stage the Galaxy SIII by Samsung (SSU.SG):
"Barclays (NYSE:BCS) analyst, Ben A. Reitzes, is taking the Samsung launch of Galaxy SIII seriously, especially one loaded with new features and is in high demand (colleague lowered Galaxy SIII shipment estimates for Q2 from 8 million to 6.5 mln due to production shortages, but boosted Q3 from 14 million to 15 mln. Reviews on the new Samsung were generally positive."
Keep in mind that Barclay's re-iterated a share price target on Apple of $750, so are they having second thoughts about the re-iteration?
"Reitzes sees iPhone sales down 20% quarter-over-quarter in Q2 as competition spikes and Apple customers wait for the iPhone 5. He sees upside to sales in Q4. But, stronger iPad sales should pick up the slack for lower iPhone sales."
That does not seem like an alarm to me, but Barclays has its own problems of late anyway.
The Microsoft and Apple Historic Connection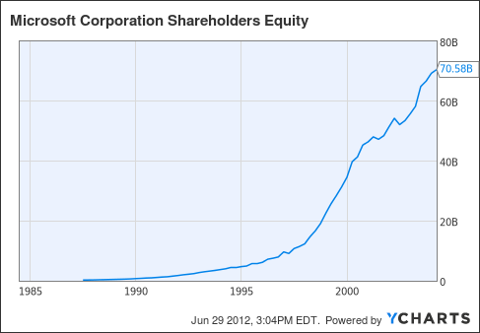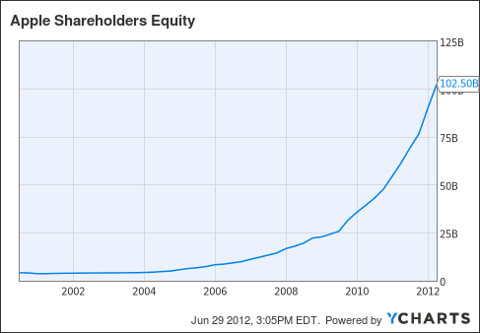 Notice that the two charts which show how shareholder equity grew in each stock during a specific time when everything was wonderful, are strikingly similar.
For Microsoft back in 2004, it was only months before that they split the stock and offered up a huge one time dividend of $3.00/share as stakeholders clamored for MSFT to return some of the $50 billion it had in cash reserves, to shareholders (sound familiar?). It was the very next year that the share price stagnated and has not been the same since. Shareholder equity has been flat aside from the regular dividend the company pays now, and the constant shareholder hopes and dreams of a new round of growth.
In 1990 Microsoft owned the software business. Actually they still do with Windows and "Office" being the most utilized software of any kind, anywhere, in virtually every computer. Even that has not moved the shareholder equity since 2004 when it was at the zenith of the computing world with a few issues that were being "addressed.
Per Wikipedia:
"Following Bill Gates's internal "Internet Tidal Wave memo" on May 26, 1995 Microsoft began to redefine its offerings and expand its product line into computer networking and the World Wide Web.[23] The company released Windows 95 on August 24, 1995, featuring pre-emptive multitasking, a completely new user interface with a novel start button, and 32-bit compatibility; similar to NT, it provided the Win32 API.[24][25]:20 Windows 95 came bundled with the online service MSN, and for OEMs Internet Explorer, a web browser. Internet Explorer was not bundled with the retail Windows 95 boxes because the boxes were printed before the team finished the web browser, and instead was included in the Windows 95 Plus! pack.[26] Branching out into new markets in 1996, Microsoft and NBC Universal created a new 24/7 cable news station, MSNBC.[27] Microsoft created Windows CE 1.0, a new OS designed for devices with low memory and other constraints, such as personal digital assistants.[28] In October 1997, the Justice Department filed a motion in the Federal District Court, stating that Microsoft violated an agreement signed in 1994 and asked the court to stop the bundling of Internet Explorer with Windows."
Microsoft complied and still remained the cash cow it was, and is, but they became a mature company and hope springs eternal for them to return to the amazing growth story it once was.
When we look at the Apple chart of shareholder equity, we start with 2005, and end today in 2012. To me the charts look eerily similar and to many shareholders Apple is just now getting into form. That being said, back in 2004, so was Microsoft.
My Opinion
I am an Apple bull but I do need to face some realities that history has shown can repeat itself.
Is Apple now a "mature company" rather than enormous growth and value investment? I cannot be certain, but I do think that as was the case with Microsoft, past success does not guarantee future success.
The choice is each of ours to see what we choose to see.
Disclosure: I am long AAPL, MSFT.
Additional disclosure: I own Apple LEAP call options