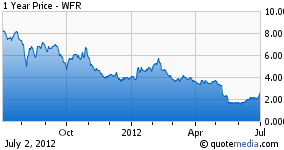 We reported last month that MEMC Electronic Materials (WFR) is trading significantly cheap compared to its rivals like First Solar (NASDAQ:FSLR), Suntech (NYSE:STP), and Trina Solar (NYSE:TSL). We also mentioned that an efficient vertically integrated supply chain will help the company.
Today, MEMC shares were up more than 19% on the news of completion of four solar plants in Europe, representing a total of 98MW. It is worth noting that despite the fears about weakening demand in Europe, MEMC has been able to take up significant orders in 2Q2012, which signifies a strengthening foothold of the company in Europe. Furthermore, the company recently reported the sale of a 20MW solar plant to southern company and turner renewable energy in Nevada.
These 2Q2012 developments demonstrate a far better performance compared to 1Q2012, when the company installed only 47.3MW, and revenues from solar energy fell 36% YOY. We are hopeful that the following developments should alleviate investors' fears about the weakening growth prospects for MEMC in the future, as a result of oversupplying and weakening demand. We foresee strong cash flows resulting from the following new developments in 2Q2012 financial results, especially a boost in previously burning cash reserves.
MEMC is a vertically integrated solar PV module manufacturer. Previously, the company experienced declining margins as a result of falling silicon wafer ASPs, oversupply and weakened demand. The company has recently shifted its revenue mix towards building solar plants from the selling of wafers.
Low production costs, high efficiency PV cells, strong balance sheets, and an expanding global distribution network are some of the key drivers to assess the performance of companies operating in the Solar Industry.
The Solar Industry has showed promising growth in the USA recently, and Japan s recent decision to subsidize electricity production from solar cells will further strengthen the prospects for the industry in the coming months. Moreover, the improvement in demand from Europe, as reported by some companies, despite weakening outlooks, will help the industry regain growth.
When we reported our bullish outlook on MEMC on June 11, 2012, the stock was trading at 0.15x times P/S. Today, it is trading at 0.23x P/S with an upside of 55% since our forecast. We believe that the stock has a further upside potential, especially when other competitors are trading near 0.27x P/S. We foresee strong 2Q2012 results for MEMC, and recommend buying it.
Disclosure: I have no positions in any stocks mentioned, and no plans to initiate any positions within the next 72 hours.