Synta Pharmaceuticals (SNTA) is a biopharmaceutical company focused on discovering, developing, and commercializing small molecule drugs to extend and enhance the lives of patients with severe medical conditions, including cancer and chronic inflammatory diseases. Synta has a unique chemical compound library, an integrated discovery engine, and a diverse pipeline of clinical- and preclinical-stage drug candidates with distinct mechanisms of action and novel chemical structures. All Synta drug candidates were invented by Synta scientists using its compound library and discovery capabilities.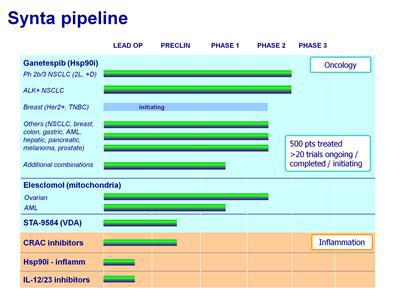 I see at least 3 reasons to buy the stock currently:
1. Insiders are buying
Vojo Vukovic purchased 3,000 shares on June 29th and currently holds 25,249 shares of the company. Dr. Vukovic joined Synta as Vice President, Clinical Research in January 2009. Dr. Vukovic has over 17 years experience in oncology drug development.
Safi Bahcall purchased 10,000 shares on June 29th and currently holds 2,343,135 shares of the company. Dr. Bahcall co-founded Synta and has been Chief Executive Officer since July 2001. Dr. Bahcall has led Synta from inception through multiple acquisitions, financings, an initial public offering, and the establishment of integrated, multi-product drug discovery and development organization.
2. Catalysts for 2012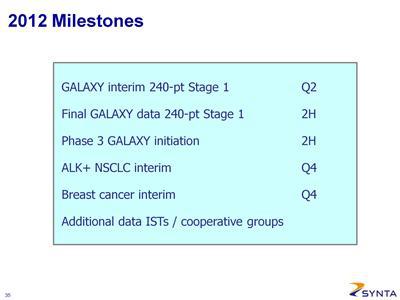 GALAXY Trial Next Steps
Enrollment completion of the Phase IIb stage and transition to the Phase III stage are expected later this year. An additional interim analysis of the Phase IIb portion of the trial, presentation of results at a medical meeting, and a more detailed announcement of plans for the Phase III stage of this trial are also anticipated for later this year.
ALK + NSCLC trial
Two clinical trials confirming ganetespib activity in crizotinib-naive ALK+ advanced NSCLC patients are also initiating: a company-sponsored, 100-patient, Phase 2 monotherapy trial and a Phase I/II trial in combination with crizotinib being conducted by Memorial Sloan Kettering Cancer Center. Preliminary results from the ganetespib monotherapy trial are expected by year-end.
Breast cancer
In addition to NSCLC, ganetespib is also being evaluated as potential treatment for metastatic breast cancer. Clinical data presented from a Phase II investigator-sponsored trial at the San Antonio Breast Cancer Symposium in December 2011 provided strong evidence that Hsp90 inhibition may be a promising approach for treating both HER2+ and TNBC. Based on this encouraging data, investigators at Memorial Sloan Kettering Cancer Center intend to initiate a Phase I/II trial evaluating ganetespib in combination with paclitaxel and Herceptin in HER2+ breast cancer, and ganetespib in combination with paclitaxel in TNBC. In addition, Synta is designing a global clinical trial also evaluating ganetespib in these two breast cancer patient populations.
3. The company has a $12.20 analyst price target
Edison Investment Research updated their research report on July 2nd commenting the recent trial data and maintaining their target price:
Synta has disclosed the much-anticipated data that supported a decision to go ahead with the Phase III stage of its GALAXY study of ganetespib in second-line, nonsmall cell lung cancer (NSCLC). The data show encouraging signs of efficacy, including a 2.5- to 3-fold improvement in PFS in two subgroups of adenocarcinoma, namely those with mutant KRAS and with elevated LDH. Improvements were seen in PFS and OS (with separation of the Kaplan-Meier curves) in the all adenocarcinoma group, but not in non-adeno. However, the decision not to disclose the statistical data on these results, seemingly for good reasons, panicked the market.
Valuation: $702m or $12.20/share
We maintain our valuation of the R&D pipeline of $702m, equivalent to $12.20 per share (basic), without adjusting for cash. By comparison, Synta's EV is currently $268m, highlighting an attractive investment case. Furthermore, we continue to assume a 50% risk adjustment for all indications (lower than is typical for a Phase III asset), pending definitive data from the Phase IIb stage.
Conclusion
The stock has a $18.25 price target from the Point&Figure chart. I believe it could be achieved sometime in 2013 if we get positive results from the GALAXY Phase III trial.
Disclosure: I have no positions in any stocks mentioned, but may initiate a long position in SNTA over the next 72 hours.