This article is the third in a series of writings dedicated to assisting income investors in finding new ideas in the marketplace. Much like our first articles (A Quest for Higher Yield and 3 More Great Names In The Quest For Income), the stocks and funds mentioned here are a diversified list of names and tickers. By providing this broad list of income investments, it is hoped that the reader may take away news ideas and concepts as to what could fit into their own portfolio. That being the case, let's continue on in our quest for income.
Nuveen Municipal Value Fund (NYSE:NUV)
Once again I am going to my list of closed-end funds [CEF] to find some very interesting possibilities for income investors. This time I have chosen the Nuveen Municipal Value Fund, and this fund has been a winner in these hard economic times. NUV is a closed-ended fixed income mutual fund that invests in the fixed income markets of the United States, as well as some portion of its portfolio in derivative instruments. As one might have guessed, its purpose is to distribute tax free income. It invests in undervalued municipal securities and other related income investments, exempt from regular federal income taxes that are rated Baa or BBB or better. Nuveen Municipal Value Fund, Inc. was formed on April 8, 1987 and is domiciled in the United States.
Since a picture is worth a thousand words, take a look at the following charts below to see how well this CEF has performed.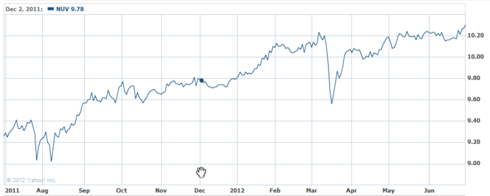 NUV currently trades for $10.26 a share, which makes for a yield of 4.58%. The distribution is made on a monthly basis and has remained very consistent for years. The distributions are derived from income with no reported return of capital. There is also the potential for a yearly distribution of long/short term capital gains. NUV currently trades at a premium to net asset value of approximately 1%, which has been rather consistent since the fourth quarter of 2011.
On an initial look, some income investors might not be that impressed with NUV. It might pay for those investors to take another look. First consider that the 4.58% yield is tax free. To compare it with other investments one would have to make a simple calculation to convert its tax free yield into a taxable equivalent yield. For example, a federal tax rate of 22% would make the taxable equivalent yield 5.9%.
If that was not enough to, one should also consider the price appreciation that this fund has had. At the beginning of 2011 NUV traded for a price of $9.19. The shares now trade around $10.24, which is roughly a year and a half later. This means that NUV has had its price per share appreciate 11.43% over that time frame. If the monthly dividends had been reinvested then the returns could have been more than that.
Finally, and one of the most important aspects of NUV, is that this fund is not leveraged. Today in the CEF universe leverage is a mainstay for many funds. Typically funds will take on the leverage to boost their yield rates and overall returns. Needless to say as interest and borrowing rates move, it can have a very negative affect on leveraged funds. The logic is that NUV, having no leverage, should not be as susceptible to the volatility that the other CEFs might have. NUV is a fund that I own and one of the winners in my portfolio.
Pembina Pipeline Corporation (NYSE:PBA)
Our next idea comes from Canada in the form of the Pembina Pipeline Corporation. This is one company that I am proud to own as well. Pembina Pipeline operates as an energy transportation and service provider company in Canada. PBA controls a 7,500 kilometer pipeline network, as well as related facilities that transport crude oil, condensate, and natural gas liquids in Alberta and British Columbia. Each day they transport approximately half of Alberta's conventional crude oil production and about 20 percent of the natural gas liquids produced in Western Canada
The company is also very involved in the oil sands and heavy oil segments of Canada. PBA owns and operates the Syncrude, Horizon, Nipisi, and Mitsue pipelines, as well as the Cheecham Lateral, which deliver synthetic crude oil produced from oil sands. Besides energy transportation PBA is also involved in the storage business via its midstream and marketing segments. This side of the house offers a network of terminals, storage, and hub services. There is also a gas services segment, which consists of natural gas gathering and processing facilities, including 3 gas plants, 12 compressor stations, and approximately 300 kilometers of gathering systems.
PBA holds a unique place in the world of energy investments. A good majority of the business is dealing with the transportation side of the energy sector. This gives PBA less exposure to the volatility in energy prices that other Canadian energy entities are experiencing. The basic concept is that PBA owns the pipelines but not what is in them. If oil trades at $50 or $200, PBA will get paid based upon existing long-term contracts with business partners.
Now PBA is not completely immune to the changes in energy prices. In a recent merger Pembina acquired all of the issued and outstanding common shares of Provident Energy in a transaction valued at $3.8 billion. In this deal PBA took Provident's natural gas liquids extraction, storage and transportation services thereby creating a fully integrated business segment. PBA is no longer just a pipeline company as it enters the world of extraction.
As positive as this all sounds, PBA has been suffering lately and there are several reason for this. First investors tend to lump the Canadian energy companies all together in one big basket. Although I feel this is a mistake, it is just going to happen. When we look around at the other Canadian energy names we are confronted with train wrecks. Consider names like Penn West (PWE) and Enerplus (NYSE:ERF), which also operate in the space. Both of these big energy players have seen their share prices nearly chopped in half as the bottom fell out of the energy markets. ERF even had to cut the dividend as natural gas prices fell to unheard levels. With PBA being identified with these other names it is easy to see why PBA share price has been weak as shown below on the chart.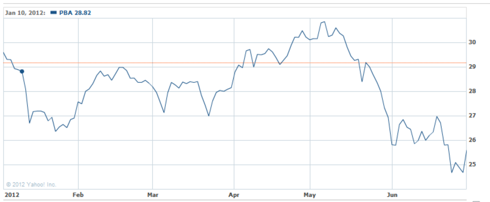 If that was not enough, one also has to consider that PBA recently decided to be listed and trade the New York Stock Exchange. Being listed on the NYSE can and will bring much more exposure to the company, but it will also have the potential to increase in volatility of the share prices.
Currently PBA's stock trades for roughly $25 a share, which makes for a 6.4% yield. The distributions are made on a monthly basis. On a positive note Pembina has lots of confidence in its new business model. This led to the decision to increase the monthly dividend rate by 3.8%, from $0.13 per share per month to $0.135 per share per month.
PBA is a very interesting company. It has the potential to fit into a specific niche for income investors. I continue to like the company and purchase shares when I can.
Eaton Vance Tax Advantaged Global Dividend Income Fund (NYSE:ETG)
Our next idea is another closed-end fund that has been rather popular with income investors. This fund is the Eaton Vance Tax Advantaged Global Dividend Income Fund. ETG's inception date is 1/30/2004, so it has been around for some time. The fund invests primarily in dividend-paying common and preferred stocks, and seeks to distribute a high level of dividend income that qualifies for favorable federal income tax treatment. ETG also seeks to invest in dividend-paying common stocks that have the potential for meaningful dividend growth. So instead of just chasing equities that are currently paying out high yield rates, management is attempting get into names that have the potential to do so at a future date. To do this, ETG will have to invest in both inside as well as outside of the United States. Here are a few current charts to give one a better idea of how the is fund is performing.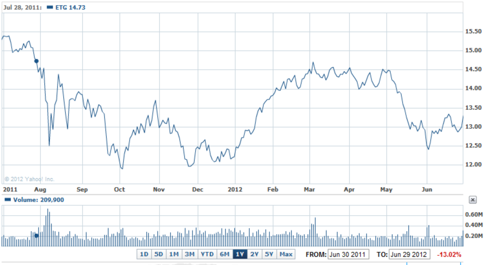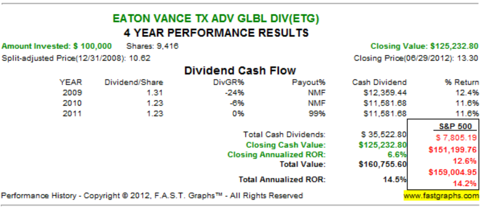 Currently ETG trades at a 5.5% discount to net asset value, and that is usually the case for this fund. The distributions are made on a monthly basis and currently they are yielding a 9.5% return. According to company records, this yield is covered by income generated by the fund and there has been no report of return of capital being used to make any distributions.
The question is how does ETG get such a fantastic yield by investing in dividend stocks? The answer is that it has used leverage to juice the returns. Currently the fund has an effective leveraged rate of 29%, which is rather high, but so far the strategy has been working out just fine.
Lastly one should take a look at the fund's specific characteristics. The fund holds some high-quality equities in blue-chip companies as shown below.

ETG is definitely worth considering for those income investors that might need a new and diverse holding in their accounts. Being a CEF, the funds will continue to have those unique characteristics that come only with this type of investment vehicle, but it could be another good find.
In conclusion, above is yet another three possible names that might prove interesting to some income investors. Not all will be appropriate for everyone, but the hope is as this series of articles expands we eventually find something for everyone.