Market Recap: The market was hit then rallied back all day after the ISM Index came out below the key 50 line to signal growth. The below-50 reading is a recessionary reading, and that news hit the market to start the day. Things started to rebound, however, throughout the day on the back of continued "risk-on" appetite that developed from Europe's moves on Friday. Additionally, construction spending came in strong at 0.9% vs expectations, and that report helped curb steep losses. The market, though, is going to be facing a tough challenge of rising much into Friday's job report, and we may see some weakness into that report.
Moving into tomorrow, the market's positive finish could give a nice spin on the half-day, but it will be a light day that could see some positioning into NFP. Tech was strong, so look for follow through there while manufacturing may continue to weaken with the ISM report.
Two Trades
Two trades we are watching right now are one pair trade and one earnings position. First, we like going long Expedia (NASDAQ:EXPE) and short Life Sciences (NASDAQ:LIFE). EXPE has been on fire as of late, and it should continue its upward movement. The company has good technicals, and it has outpaced the market at every turn this year. It should continue that trend at least until earnings. At the same time, LIFE got a downgrade from Goldman Sachs (NYSE:GS) today to Sell, and the company took it on the chin. We see the downgrade as definitely a negative headline that should persist for LIFE. Additionally, we like the looks of Goldman Sachs right now into earnings. The company has shown some good strength, and we think that the company has priced in a lot of potential asset management losses. EPS is expected to grow, and we believe that it is cheap right now.
Trade #1: Long EXPE, Short LIFE
Trade #2: GS, Jul21, $90 Puts, Sell
(click charts to enlarge)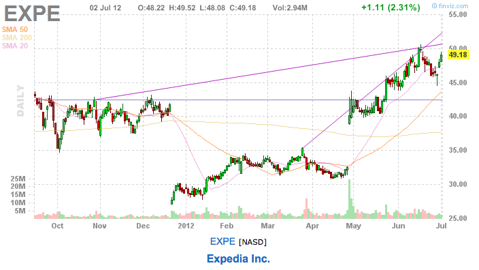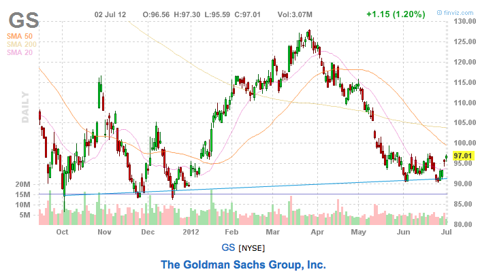 Tomorrow's Outlook
Tomorrow, we should see a pretty timid market. The market closes at 1PM tomorrow, so we may see some unwinding of things into the NFP on Friday. At the same time, we do have some interesting data to react to with Factory Orders and Auto/Truck Sales. Both sets of data are market impacting, but it should be a light day overall without major movements in the general markets. Individual stocks may see large movements overall. We do have Chinese PMI to watch that is definitely impacting of Asian markets as well as eurozone PPI. Overall, though, many traders will be taking the day off, so look for a lackluster day.
Oxen Group Moves
We had a pretty solid day in the markets, closing down four positions for gains while one for loss. We took a 4% gain on the second half of long Clean Energy Fuels (NASDAQ:CLNE) long and Biogen Idec (NASDAQ:BIIB) short from Short-Term Equity Portfolio. We also took a 12% gain on a Dollar General (NYSE:DG) bull put spread from Options Portfolio. We took a 30% gain on our long-term position in M/I Homes (NYSE:MHO) as well as a 10% gain on first portion of long-term position in Anheuser Busch (NYSE:BUD) from our Extended Value Portfolio. We took a 4% loss in a long eBay (NASDAQ:EBAY), short Williams Sonoma (NYSE:WSM) position. We added the above pair in EXPE and LIFE as well as long Capital One (NYSE:COF), short Pitney Bowes (NYSE:PBI) in our Earnings Alpha Portfolio.
We have the following positions. In our Short-Term Equity Portfolio we are long Ashland (NYSE:ASH), Expedia , Apple (NASDAQ:AAPL), and Clean Energy . We are short McDonald's (NYSE:MCD), Life Sciences , SPDR S&P (NYSEARCA:SPY), and Biogen Idec . In our Options Portfolio, we are long Dicks Sporting Goods (NYSE:DKS), Dollar General and AutoZone (NYSE:AZO). We are short Aflac (NYSE:AFL), Garmin (NASDAQ:GRMN), and Kohl's (NYSE:KSS). We have a reverse iron condor on Apple . In our Earnings Alpha portfolio, we are long Capital One , Disney (NYSE:DIS), Ashland , Vertex (NASDAQ:VRTX), Intuitive Surgical (NASDAQ:ISRG), Marriott (NYSE:MAR). We are short Pitney Bowes , Schlumberger (NYSE:SLB) and Walgreen (WAG). We have a reverse iron butterfly in Decker's Outdoor (NASDAQ:DECK).
Chart courtesy of finviz.com.
Disclosure:
I am long PNRA.