PriceSmart, Inc. (NASDAQ:PSMT) owns and operates membership shopping warehouse clubs in the United States, Latin America, and the Caribbean. Its warehouse clubs sell perishable foods and consumer goods at low prices to individuals and businesses, as well as offer ancillary services, including food courts, tire centers, and photo centers.
It is scheduled to report its Q3 2012 results on July 9, 2012, after the bell.
Technical Overview
The stock has a market capitalization of $2.04 billion, and is currently trading at $67.51 with a 52 week range of $51.37 - $84.32. The stock performance year to date: -2.58%. It is currently trading above 20 SMA, but below 50 and 200SMA.
Key Metrics
Trailing P/E: 32.15
Forward P/E: 23.60
Price/Sales: 1.05
Price/Book: 5.23
PEG Ratio: 1.84
Total Debt: 86.01M
Annual dividend yield: 0.90%
Return on Equity: 17.25%
Return on Assets: 9.19%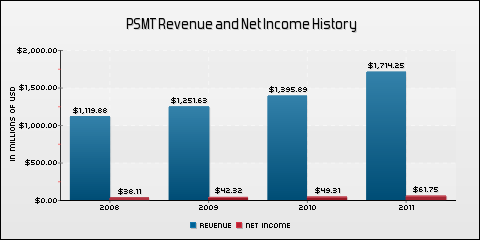 Recent EPS Actuals vs. Estimates
The company has failed to meet analysts' estimates in the last three quarters. In the last quarter, PriceSmart reported $0.67 EPS, failing to meet analysts' estimates of $0.69.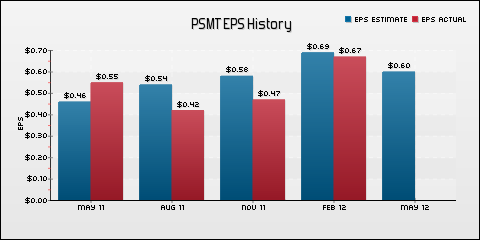 The consensus EPS is $0.60 based on 5 analysts' estimates, up from $0.55 a year ago. Revenue estimates are $510.68 million, up from $431.15 million a year ago. Analysts' median target price for the stock is $83.50.
Average recommendation: Overweight
Source: Marketwatch
Latest Developments
On March 19, 2012, PriceSmart, Inc. announced that on March 15, 2012 it acquired approximately 12,000 square meters of land in North Cali, Colombia, upon which it intends to construct and operate a new PriceSmart Warehouse Club, which would be its third in Colombia.
On February 10, 2012, PriceSmart, Inc. announced that on January 9, 2012 it entered into an agreement to acquire approximately 16,038 square meters of property located in La Union, Cartago, Costa Rica, upon which PriceSmart anticipates constructing its sixth Membership Warehouse Club in Costa Rica.
Competitors
PriceSmart Inc. operates in the discount, variety stores industry. The company could be compared to Costco Wholesale Corporation (NASDAQ:COST), Dillard's Inc. (NYSE:DDS), Fred's, Inc. (NASDAQ:FRED), and Wal-Mart (NYSE:WMT). Below is the table comparison of the most important ratios between these companies and the industry.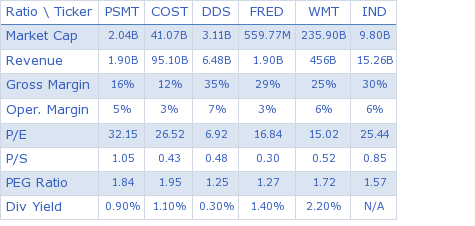 Below is the chart comparison with the stock price changes as a percentage for the selected companies and S&P 500 index for the last one year period.
click image to enlarge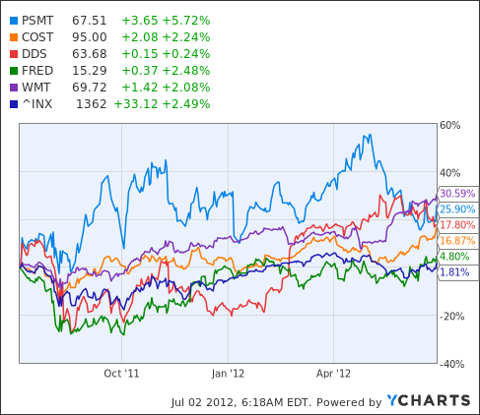 Competitors' Latest Developments
Sources: Yahoo Finance, Google Finance, Marketwatch, Finviz, Reuters.
Disclosure: I have no positions in any stocks mentioned, and no plans to initiate any positions within the next 72 hours.