The headline read, "Existing Home Sales Rise in February", but the real story in yesterday's existing home sales report from the National Association of Realtors was four short paragraphs in:
The national median existing-home price for all housing types was $195,900 in February, down 8.2 percent from a year earlier when the median was $213,500.
Once again, don't confuse a modest rebound in sales volume with an imminent rebound in sales price. As long as inventory is at historic highs and sales volume is near historic lows, prices will continue to fall.
That slightly larger blue bar below is virtually meaningless as long as that red curve is as high as it is.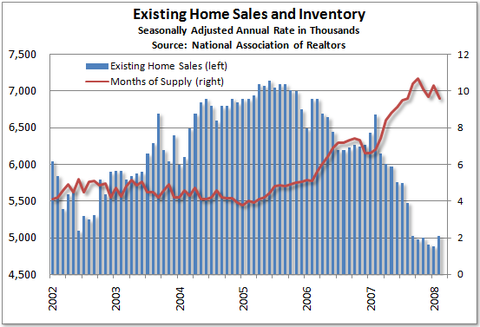 Now, if the government steps in and starts buying houses, maybe the blue and red in the chart will move a little closer - we'll see.
Also in the NAR sales report is the following:

Home prices within metropolitan areas are more telling. The most recent data shows roughly half of the metro areas in the U.S. with price increases, with healthy gains in markets such as Oklahoma City and Trenton, N.J.
What is conveniently left out of this bit of optimistic drivel is that the "most recent data" is from the third quarter of 2007, before all the bad stuff started happening. Some time ago, the NAR cited these statistics and they claimed price increases in two-thirds of metro areas - that was for data through June of 2007.
Look for these claims to disappear as soon as the fourth quarter data is available.
This is kind of disgusting when you think about it.