There's a commercial on TV for a financial advisory company where a husband gets his statement in the mail. The wife says "Let me guess, our money went up, then went down", and basically that process repeats. Doesn't everyone know how they feel? Markets go up, then down, then up, then down. But over longer periods of time, they might in fact be flat. That is the case here. Since February 24th, the S&P 500 (NYSEARCA:SPY) is essentially flat. If you've been invested in that index, you've made nothing. You might as well have been sticking your money under your mattress. While short-term traders may have made some nice profits, long term investors are finding this market difficult. For those looking for direction, things are unlikely to change anytime soon.
The problem now is that things are bad, but that makes things good. What does that mean? Well, as economic conditions get worse, the promise of more stimulus from governments, or more quantitative easing from central banks, increases. So when markets start to drift lower, the talk of things like QE3 from the Fed picks up again, and markets rebound. Then the next round of problems from Europe hit, and we drop again. Then Europe gets better for a day, and we see huge rallies like we did last Friday. So where are we going from here? Well, uncertainly will probably keep markets mostly flat. So here are some of the issues likely to shape any movements we do have.
US Economic Data Not Very Good:
It seems like for every report that is good, another one is bad. But the problem is that means that growth is not there, or not as much as expected. Instead of the US growing at say 3% this year, it might be lucky if it grows at just 2%.
In fact, some of the data has been just terrible. Look at Monday's Institute for Supply Management report, which came in at 49.7. Under 50 means that the manufacturing sector is actually contracting. The following chart shows how the index has fared over the past year.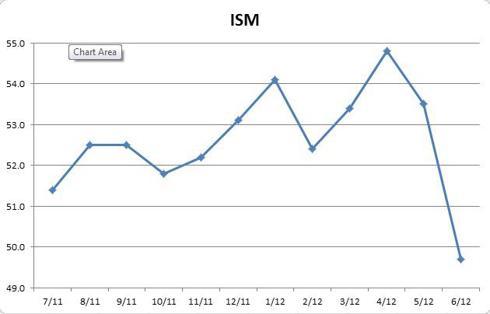 The June number just wasn't a simple decline. It was a fall off of a cliff. Now, markets were expecting it to decline from the prior month, but estimates called for a number between 52 and 52.5. They were still looking for this report to show growth. Even a number at 51 would have indicated growth. We couldn't get 51, we couldn't even get 50.5 or 50. That is not a good sign.
Just when the ISM number was terrible, the construction spending data came in ahead of expectations (+0.9% versus +0.2% estimate). We saw the same battle last week. Real Estate numbers were good, then consumer confidence was bad. While Durable Goods orders overall beat expectations, the numbers excluding transportation items missed. Michigan sentiment numbers were also poor, while Initial Claims, Personal Income and Spending, and Chicago PMI numbers were in-line with expectations.
Jobs, Jobs, Jobs:
Yes, in the end, it all is going to come down to jobs. Right now, the numbers are not looking good. Weekly claims had been improving over time, but over the past two months, they've spiked back up. The following chart shows how they've fared in recent weeks. The numbers presented below are the numbers actually reported that week.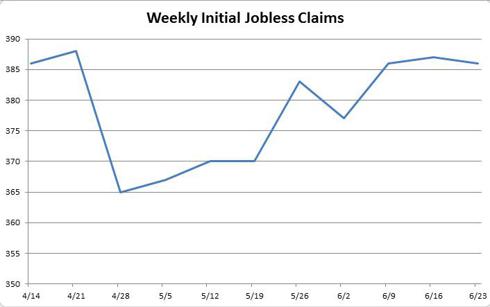 This week, we will get the June monthly employment report. The last three months have been extremely disappointing. As a result, analysts have tempered their expectations, only expecting an increase of about 100,000 non-farm payrolls. That number is much less than the 150-200 thousand analysts had been expecting the past few months, but it would be a nice rise from last month's dismal increase of just 69,000.
How is Europe? Is Today an Odd or Even Numbered Day?
It almost seems like Europe is doomed or saved depending on the day. How many times in the past three months have things been bad, then good just a few days later? When things appear bad, the Dow Jones Industrial Average (NYSEARCA:DIA) drops 200 or 300 points. Then, you get days like last Friday, where we rally that much. The "buy and hold" strategy never works in situations like this. The market ends up trading flat over time, which is basically what we have done recently.
What to Make of Earnings Season:
Believe it or not, we are just a week away from the start of earnings season. While some will be at the beach, away for their summer vacations, there still will be plenty of action for those who are sticking around. There's guaranteed to be at least a few high profile blowups. We saw plenty last quarter, including Green Mountain Coffee Roasters (NASDAQ:GMCR), Netflix (NASDAQ:NFLX), Fossil (NASDAQ:FOSL), and Tempur-Pedic (NYSE:TPX) just to name a few.
We also know that Europe's troubles will affect some of the large name internationals. Cisco Systems (NASDAQ:CSCO) and Oracle (NYSE:ORCL) have noted weakness in Europe, and even machinery names like Joy Global (NYSE:JOY) have noted slowdowns in Europe, and even Asia.
How about financials as well? Investors are waiting to hear from JP Morgan (NYSE:JPM) about how large the losses will be on their bad trade. We know it will be more than $2 billion, but the company claims that recent reports of a $9 billion loss are overblown. Current estimates call for about $5 to $6 billion in losses. How about the rest of the sector as well? Europe has taken a toll on some names, and even the Facebook (NASDAQ:FB) IPO mess hung a cloud over the investment banks.
Conclusion - Sideways is Possible:
Trying to gauge this market on a daily basis can be nearly impossible. If it wasn't, everyone would be making millions. But it is even harder for investors to make money when there is no real direction, especially over longer periods of time. We're basically flat since the end of February, so buy and hold is not really working for the overall market.
I could say that this week's jobs data will go a long way towards determining the direction of this market, but whatever we gain or lose this week could easily be lost or made up next week with more economic data or earnings reports. I would not be surprised if three months from now, indices stood close to where they are right now.
Source Data: All charts created by author.
Disclosure: I have no positions in any stocks mentioned, and no plans to initiate any positions within the next 72 hours.