Generally speaking, higher risk means higher returns and in commercial real estate that is a well known fact. By increasing leverage, an income-producing property can spread overall equity risk while also providing some astonishing returns.
One fundamental reason that investors flock to mortgage REITs is because of the leverage principle whereby owning shares in a mortgage REIT is akin to owning a bank, minus the branches or ATMs. And the similarity to the banking business model is the main reason mortgage REITs are so popular now.
Even after funding costs and hedging, competent mortgage REIT managers can lock in spreads of 200 basis points or so. With modest leverage around 8-to-1, they can achieve return on equity in the mid-teens (and by definition have to distribute 90 percent of the taxable income back to investors as dividends).
Leverage magnifies both returns and risks, of course, and many of the better known mortgage REITs include: Annaly Capital Management (NYSE:NLY) and Cypress Sharpridge Investments (NYSE:CYS), Colony Financial (CLNY), Apollo Commercial Real Estate Finance (NYSE:ARI), PennyMac Mortgage Investment Trust (NYSE:PMT), Chimera Investment Corp. (NYSE:CIM), and American Capital Agency Corp. (NASDAQ:AGNC).
As many learned during the great recession, use of high leverage results means magnified risks and investors today have become much more concerned with researching risk before investing in REITs - especially the ones with a higher degree of leverage. This excerpt came from a July 1, 2009 article, Capital Structure in the REIT sector, written by Green Street Advisors:
Higher leverage should be accompanied by higher returns in order to compensate for its added risk. This has not been the case, however, in the REIT sector, as more levered REITs failed to provide meaningfully better returns even in the ten-year period preceding the peak of the asset valuation bubble. Lower levered REITs have substantially outperformed over the last fifteen years.
Accordingly, I concur with Green Street Advisors and I believe that REITs that utilize more than moderate leverage are considered speculative and are not aligned towards long-term dividend fundamentals. As Green Street Advisors further explained:
Old habits can, however, be hard to break. Despite the powerful arguments that follow as to why REITs should have less leverage than most companies, even today's more conservatively levered REITs utilize a lot more debt than is common at other corporations.
CapLease Inc. - Low Risk and High Returns
CapLease Inc. (NYSE:LSE) was founded around 17 years ago and since 1996, the New York-based REIT has originated and underwritten over $4.0 billion in single tenant transactions involving more than 500 properties with more than 100 different tenants. Today, CapLease focuses on owning premier high-quality single tenant properties where a key component of the REIT's strategy is to utilize leverage to invest in a greater number of assets and enhance asset returns.
In light of the high-credit quality of its asset base, CapLease utilizes higher leverage compared to certain equity REIT peers; however, the company has made considerable improvement by reducing leverage through natural amortization and targeted debt repayment.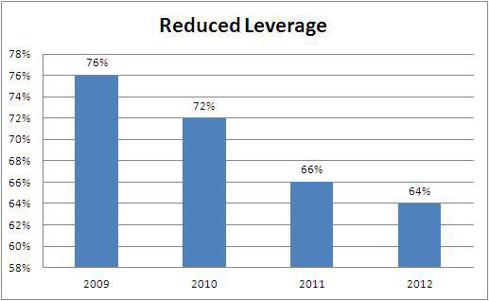 In addition, CapLease has become more risk-aligned by reducing recourse leverage (by 66 percent) and amortizing debt. So far in 2012, CapLease has reduced balance sheet debt portfolio by around $40 million.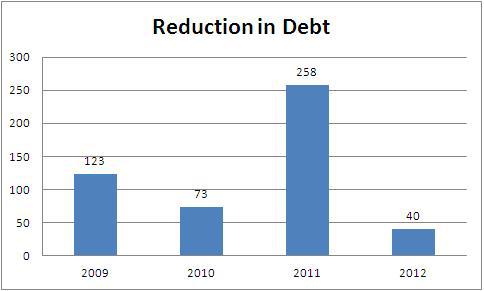 One significant enhancement to the CapLease platform has been its strategic divestiture of non-owned (mortgage) properties that has increased the percentage of owned assets to 95 percent. Today, CapLease owns around $1.7 billion in assets (and the company has around $93.1 million in debt related instruments).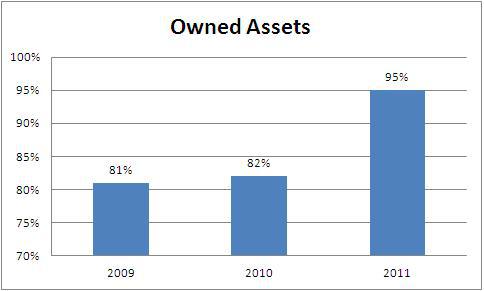 The majority of owned assets are single tenant, institutional-grade properties located in major U.S. markets. The 11.6 million square foot portfolio consists of 64 properties representative of a diverse composition of industries and property types: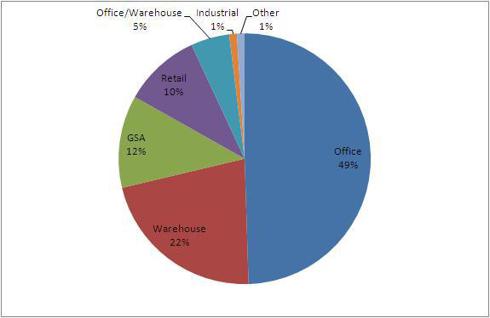 The portfolio composition is comprised of both investment-grade rated and below investment-grade rated tenants (approximately $117.4 million, or 7 percent is below investment-grade). During 2010 and 2011, CapLease acquired a majority of properties leased to below investment grade companies and these investments have a greater risk of default and bankruptcy than investments in properties leased exclusively to investment grade tenants.
Several recent non-investment grade properties include an 807,042 square foot in Franklin, IN leased to Cooper Tire & Rubber (BB-) and a 324,324 square foot facility in Tulsa, OK leased to Cimerex Energy (BB+). CapLease has consistently been able to generate new yield enhanced investments by acquiring (and build to suit) properties at going in cap rates of around 8.7 percent (average in 2011). Here is a snapshot of CapLease's largest investment-based holdings: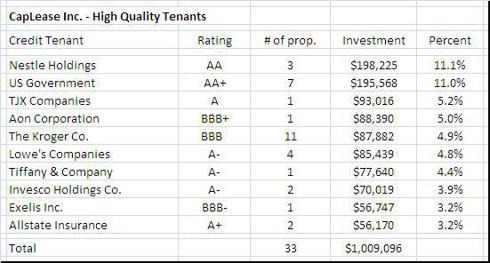 One notable risk of CapLease's portfolio composition is its largest tenant, Nestle Holdings. Although Nestle is considered a high quality (S&P AA) tenant, the leverage risk makes the underlying asset vulnerable to possible to property level default. As fellow Seeking Alpha writer Dane Bowler wrote:
On March 27, 2010, CapLease announced a five-year rental renewal with Nestle for a 1,045,153 square foot property at a rate of $4.40/square foot/annum, increasing by 3% annually. Yielding $4.598 million in rent for the first year, this is much lower rent than was secured by its previous contract in which they were getting $6.301 million for the same property. As there was a paucity of demand for this type of property, Nestle had the bargaining power to negotiate a lower rate. CapLease has a $117 million loan associated with the mortgage on this property and that of two others currently being leased by Nestle.
This loan has an effective financing rate of 5.7% as of the 2010 annual report, which bears an annual cost of $6.669 million. There is currently one lease with Nestle (two of three leases are already renewed) that expires in December 2012, and that renewal has not yet been announced. With the reduced rental rate obtained on the renewal and the impending expiry of the remaining lease, CapLease may have trouble covering the $117 million mortgage loan that comes due in August 2012. However, this loan will likely be worked out and there is no risk to CapLease except losing the equity in the properties as the loan is non-recourse to the company (most of the CapLease portfolio is financed with non-recourse loans that substantially lower risk).
Given that Nestle is the largest (11.1 percent of portfolio) tenant in CapLease's portfolio there is no assurance regarding the expected outcomes, including as to when and on what terms CapLease will be able to lease or sell any property which may need to re-tenant. Furthermore, earnings impact whether the loan is refinanced as expected or if the lender is given back the keys - there is minimum impact with either of these outcomes.
As mentioned above, CapLease's biggest risk appears to be leverage and the cross-collateralization associated with the Nestle transaction is more of a leverage risk than a diversification risk. In other words, if CapLease had secured each property individually, there would have been a lesser chance of lender default. So clearly diversification is important and had CapLease utilized more conservative leverage principles it would not be faced with its pending dilemma relative to possible lender default.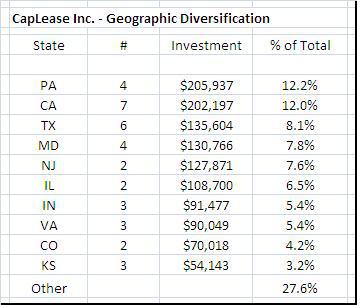 By reducing leverage and increasing acquisitions, CapLease has built a more balanced portfolio. This acquisition strategy should result in risk-adjusted investments providing accretive yield-driven results.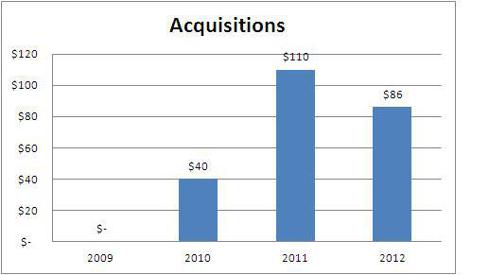 In addition, CapLease has maintained a consistent occupancy level and the experienced management team has demonstrated skillful risk control fundamentals as it relates to retaining tenants (and values beyond the initial lease terms).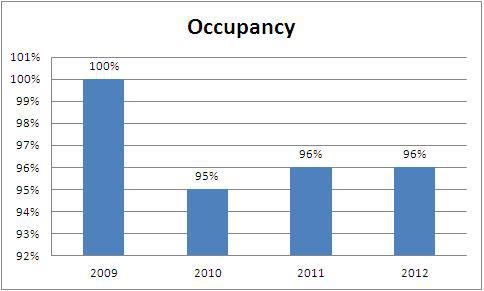 Another example of CapLease's risk-control differentiation is the company's low FFO payout levels, compared with its peers. As of 2012 (estimates), CapLease's 42.98 percent payout ratio is one of the lowest in the industry: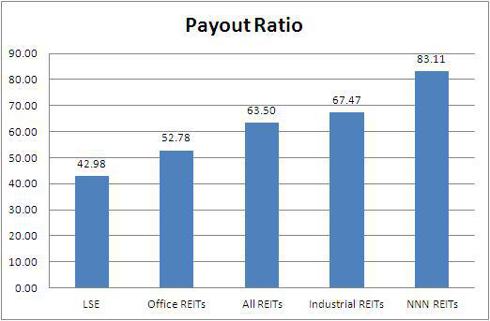 In addition, CapLease's FFO multiple (of 6.8x) is one of the lowest in the industry.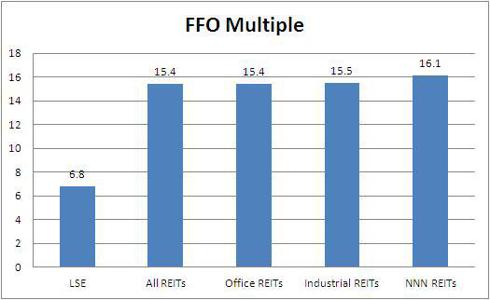 As noted above, CapLease has focused on investments at or below investment grade and that acquisition strategy has resulted in higher peer-based cap rate comps. During 2011, CapLease achieved an average 8.64 percent cap rate on its investments.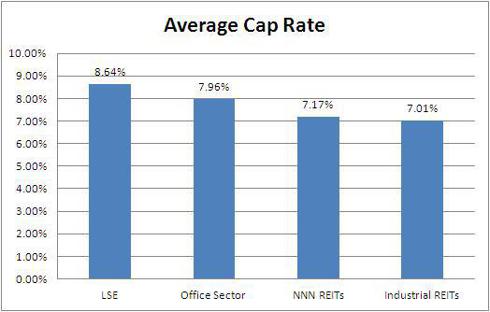 By focusing on its fee-simple platform (95 percent owned) and reducing leverage, CapLease has navigated the economic recovery well. Substantially all financing is amortizing, non-recourse, and secured by individual assets (except Nestle) and 86 percent of CapLease's portfolio is financed on a long-term fixed-rate basis.
Further evidence of improved fundamentals are in CapLease's dividends. CapLease has paid steady dividends (since 2009) and the long-term lease fundamentals should propel the sustainable income levels and growth.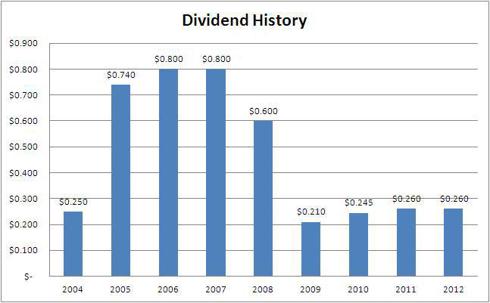 Relative to its peer group, CapLease pays an above average dividend yield (of 6.4 percent):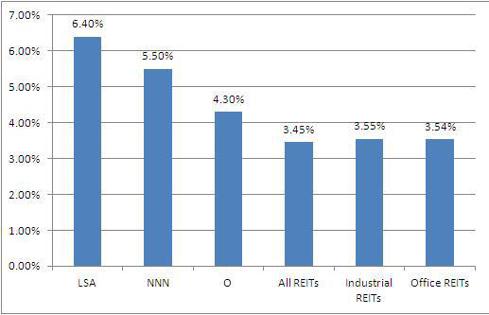 CapLease has a series of preferred stock available, the Series A, which has a yield of 8.22%. (see Michael Terry's article). The common stock is currently trading at $4.15 per share, 21 percent below the 52-week high of $5.02. The current market capitalization is $277 million and the shares are currently trading at a steep discount to both NAV and peers.
With a 6.3 percent dividend yield and expected growth of around 15 percent (my target twelve month price per share is $4.75), I believe CapLease investors could achieve a total return of at least 20 percent. The Nestle related leverage risks are moderate and the experienced capital markets team provides investors with valuable risk management expertise.

By investing in institutional-quality, single-tenant properties, CapLease investors are protected by sound principal preservation fundamentals. In addition,the CapLease strategy of utilizing leverage (non-recourse) products and acquiring long-term leased properties provides a compelling value proposition of yield enhancement. By hitting singles (single tenant net lease properties), CapLease is certain to score consistent points and provide investors with a well-balanced game plan aimed to be a home run investment choice.
CapLease peer group includes (NYSE:O), (NYSE:NNN), (NASDAQ:ARCT-OLD), and (NYSE:WPC).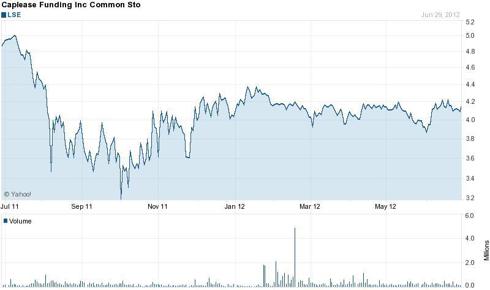 Disclosure: I have no positions in any stocks mentioned, and no plans to initiate any positions within the next 72 hours.