A. Schulman, Inc. (NASDAQ:SHLM) supplies plastic compounds and resins for packaging, consumer products, industrial, and automotive applications. The company offers additive compounds, custom color concentrates for film and molding, carbon black color concentrates, white color concentrates, additive compounds for polyester resins and special pearl effects, antistatic concentrates, and masterbatch for the production of synthetic paper.
It is scheduled to report its Q3 2012 results on July 9, 2012, after the bell.
Technical Overview
The stock has a market capitalization of $585.97M and is currently trading at $19.68 with a 52-week range of $16.16-$28.00. The stock performance year to date: -4.80%. It is currently trading above 20 SMA, but below 50 and 200 SMA.
Key Metrics
Trailing P/E: 12.49
Forward P/E: 8.90
Price/Sales: 0.26
Price/Book: 1.12
PEG Ratio: 0.91
Total Debt: 239.37M
Annual dividend yield: 3.50%
Return on Equity: 9.26%
Return on Assets: 4.36%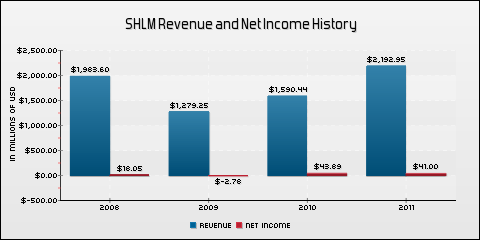 Recent EPS Actuals vs. Estimates
The company has failed to meet analysts' estimates in the last few quarters. In the last quarter, it reported $0.38 EPS, failing to meet analyst estimates of $0.44.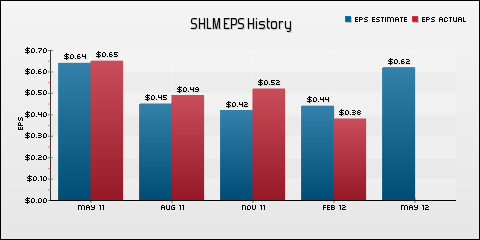 The consensus EPS is $0.62 based on 4 analysts' estimates, down from $0.65 a year ago. Revenue estimates are $565.60M, down from $611.14M a year ago. The median target price by analysts for the stock is $30.00.
Average recommendation: Hold
Source: Marketwatch
Analyst Upgrades and Downgrades
On June 14, 2012, the company was downgraded from Buy to Hold at Gabelli & Co.
On June 5, 2012, the company was downgraded from Neutral to Sell at Longbow.
Latest Developments
On June 10, 2012, Alujain Corporation announced that its subsidiary, National Petrochemical Industrial Company (NATPET), has entered into a joint venture agreement with A. Schulman Inc, a United States-based company.
On April 4, 2012, A. Schulman Inc. announced that for fiscal 2012, it expects net income to exceed the levels that the Company posted during fiscal 2011. The company reported net income of $58.01 million in fiscal 2011.
On January 5, 2012, A. Schulman Inc. announced that the Board of Directors of the company on January 4, 2012, declared a regular cash dividend of $0.17 per common share, payable February 1, 2012, to shareholders of record on January 20, 2012.
Competitors
A. Schulman, Inc. operates in Specialty Chemicals industry. A comparison can be made with Buckeye Technologies Inc. (NYSE:BKI-OLD), E. I. du Pont de Nemours and Company (DD), Dow Chemical Company (DOW), and Westlake Chemical Corp. (NYSE:WLK). Below is the table comparison of the most important ratios between these companies and the industry.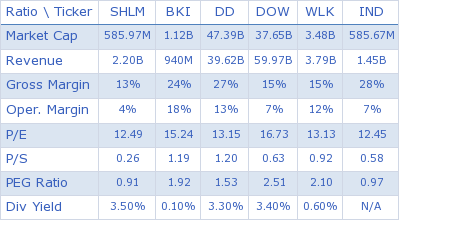 Below is the chart comparison with the stock price changes as a percentage for the selected companies and S&P 500 index for the last one-year period.
Competitors' Latest Development
Sources: Yahoo Finance, Google Finance, Marketwatch, Finviz, Reuters.
Disclosure: I have no positions in any stocks mentioned, and no plans to initiate any positions within the next 72 hours.