Revlon's (NYSE:REV) Chairman of the Board, Ronald Perelman, recently purchased 3.2 million shares of (REV) stock. Apparently, Perelman is convinced that drop-dead-gorgeous actress, Jessica Alba, named the "World's Sexiest Actress" by Victoria's Secret, and FHM's 2007's "Sexiest Woman", can provide the drive for increasing profits. Alba is featured in alluring print and TV ads worldwide for Revlon's new product lines. Recently, Alba appeared in several Revlon commercials broadcast during American Idol, a show that targets the 14-30 something crowd and has an estimated 30 million weekly viewers. Actress Halle Berry is promoting Revlon's new minerals makeup line in print and TV ads that appeal to women of all ages, but the minerals makeup stands to gain a greater market share among the 40 plus crowd.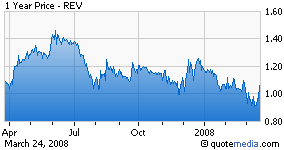 So, is the "World's Sexist Actress" impacting Revlon's profits?
In February's 2008 financial release, CEO David Kennedy said, "We are executing our strategy and our financial results in 2007 were our best in many years."
The numbers don't lie. Revlon posted a .08 cents per share profit in the last quarter, compared to a (.01) cent per share loss in the same year-ago period. Revlon's market cap is 554 million with 1.4 billion gross revenues and a share price of 1.04 – way oversold. With Jessica Alba as the irresistible new face of Revlon, and several exciting new product lines, Revlon shares could easily climb to 3.00 bucks over the next few quarters. Revlon could very well become this decade's Sleeping Beauty.
Revlon still holds one trump card they have yet to play. According to a recent independent laboratory study published by www.safecosmetics.org, 33 brand-name lipsticks were tested for dangerous levels of lead. About 1/3 of the lipsticks tested exceeded the FDA's 0.1 ppm limit for lead in candy -- a standard established to protect children from directly ingesting lead in candy. Revlon's lipsticks tested well under the safe level 0.1 ppm, and contained virtually no-detectable lead, making Revlon lipstick one of the safest. This is a powerful marketing fact that could trump the competition and launch a market share coup for Revlon.
The combination of Alba and Revlon's undervalued share price is simply irresistible.
Disclosure: Author has a long position in REV