Macy's (NYSE:M) is perhaps one of the most iconic American department stores. At current valuations, it may also shape up as a good investment.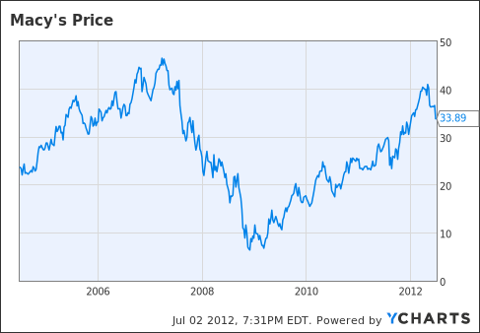 Reasons to give Macy's a closer look:
Macy's is trading at a trailing P/E of 11.6 and a forward P/E of 9.7, which represent a 32% and 20% discount to five year averages respectively. Forward PEG is 0.8, suggesting future growth is not priced into shares. Price/cash flow, at 6.05, is significantly lower than the multiline retail industry average of 10.71.
Multiline retail has been punished as of late, with TTM EPS growth at a staggering NEGATIVE 249%. However, Macy's recorded a 37% growth in EPS over the same period.
Macy's has beaten earnings estimates for twelve consecutive quarters.
Reports from Michigan suggest that retail strength may be improving. This was confirmed by retailer Hennes & Mauritz's recent earnings report, which cited sales strength in the US.
Macy's offers a 2.4% dividend.
Analyst consensus is bullish. Of 19 analysts covering Macy's, 4 have a "strong buy" rating, 8 have a "buy" rating, 6 have a "hold" rating, and only 1 has a "reduce" rating.
Analyst price targets suggest most of the downside is priced in already: the lowest target is $35, which represents a very slight premium to current prices. The high target is $51 and the mean is $43.40, representing an upside of about 26%.
Disclosure: I have no positions in any stocks mentioned, and no plans to initiate any positions within the next 72 hours.