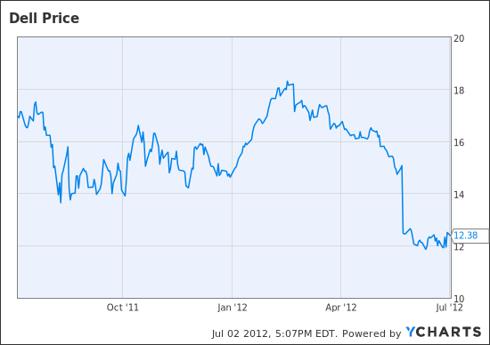 Dell Inc. (NASDAQ:DELL) is to purchase Quest Software (NASDAQ:QSFT) for $2.36 billion, or about 27 times Quest's 2011 free-cash-flow. With about $12.8 billion cash and cash equivalents at May 4, 2012, the company has plenty of room to move after this purchase. Dell has acquired nine other companies in the last twelve months. The acquisitions are part of Dell's end-to-end IT strategy.
At the heart of Dell's strategy, the "Enterprise Solutions and Services" segment has grown revenue from $13.8 billion in 2009 to $18.6 billion in 2011. In 2008, 23% of Dell revenues came from "Enterprise Solutions and Services"; in 2011, it represented 31% of revenues. According to management, the segment makes up almost 50% of the company's gross margin.
Dell is, with the purchase of Quest, incorporating new companies almost like Russian dolls. Quest Software over the last five years has acquired 25 companies itself, for an aggregate cost of $610 million. Quest Software generates its revenue by licensing its software on a perpetual basis, with a small amount of its revenue coming from shorter-term license contracts. A basic financial snap-shot of Quest can be gleaned below:
Click to enlarge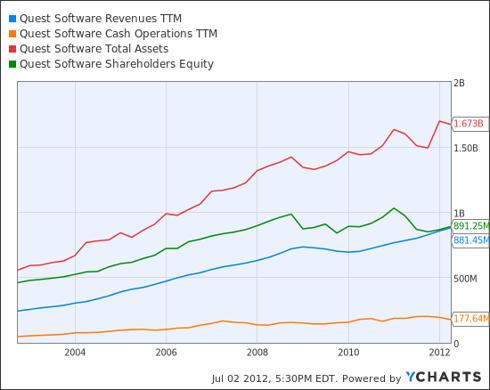 Dell has about $7.22 cash per share and cash equivalents on hand, with $5.07 debt per share, and a working capital balance of $4.07 per share. Dell's revenues and cash from operations have been steady while it continues to ramp up its services segment.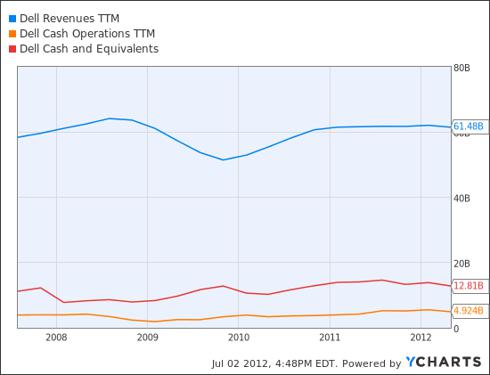 Dell is selling at a large discount, which is mostly due to a perceived weakness of Dell to its exposure in the consumer PC market and its marginal participation in the tablet market. There is probably also a perception that Apple will leave Dell in its wake as well. And perhaps, the now frequent comparisons to IBM are making Dell look bad in comparison.
Revenue broken down by global segments: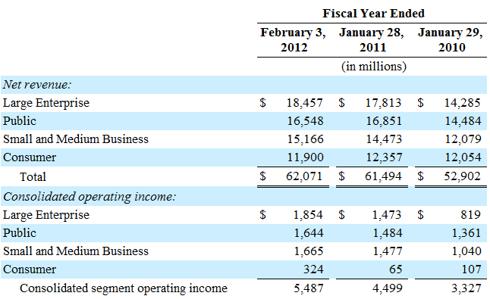 The company's presence is diminishing in the consumer segment with fiscal 2012 4 percent lower than fiscal 2011. The losses are made up in its commercial and enterprise segments. The perception is that the consumer segment has no future, and that Dell cannot compete in the enterprise world with the likes of IBM and HP. The growth is not phenomenal, but the numbers do not suggest defeat.
With free-cash-flow last year at around $3.7 billion dollars, and a present market cap of $21.66 billion, the company is selling at a 5.8 P/FCF multiple. Obviously, whether Dell is undervalued will be determined by future earnings. However, the numbers suggest superficially that Dell's strategy is working and that future earnings are maintainable.
Lastly of note, Dell has been making major share repurchases, lowering shares outstanding by about 22% since Michael Dell returned as CEO: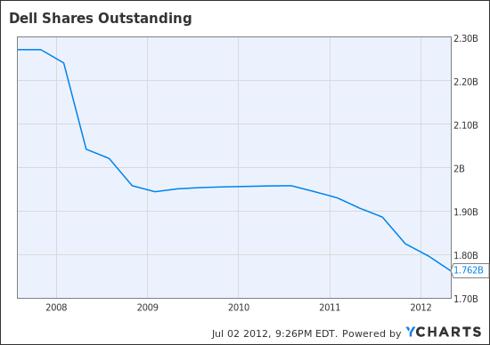 If Dell's free-cash-flow is maintainable and if we see more pessimism in the shares of Dell, Dell's shares could enter margin-of-safety territory and present us with a safe investment opportunity. Whether the margin-of-safety comes into play around a P/FCF multiple of 5 or lower is hard to say. With the bearish attitude against Dell, investors might see a lower, more attractive multiple in the future.
From my stand-point, Dell's emphasis on the enterprise market means steadier, surer and safer revenue. In addition to the enterprise market, its global revenue stream (51% of Dell's 2011 revenue came from outside the United States) allows for diversification across country lines. If the future promises more steady and safe returns, then a purchase at today's prices could be justified.
Disclosure: I have no positions in any stocks mentioned, but may initiate a long position in DELL over the next 72 hours.