Planning for retirement should be an exercise in common sense, implementing a plan, and proving the plan works. A diverse portfolio allows for some stocks to excel as other stocks are struggling. I prefer to hold stocks in strong sectors that favor high dividends, increasing dividends, and an increased net return. In this article, I highlight 2 stocks to buy, one stock to sell, and one stock to avoid for retirees seeking dividend income.

Stock to Sell: Johnson & Johnson (NYSE:JNJ)
Johnson & Johnson is clearly a healthcare blue chip. The company has a low 19% debt to capitalization level. In addition, the dividend yield is 3.6% and offers a compelling value. The stock has provided patient investors a disappointing 4.6% over the past 10 years.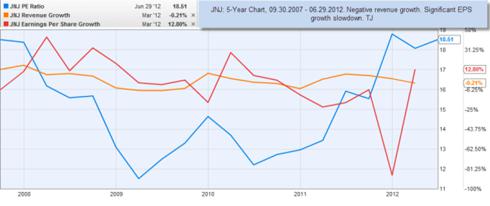 Johnson & Johnson's earnings do not exhibit a constant upward trend. The company's forecast is for a mid range of 2-4% increase in revenues and earnings. The stock is inexpensive at a 13x price to earnings multiple.
The company received, on June 13th, U.S. regulatory closure for the $19.7 billion acquisition of Synthes Inc. Synthes is a leading worldwide manufacturer of orthopedic devices. This unit will be placed under the Johnson & Johnson's Medical Devices and Diagnostics segment.
2 Stocks to Avoid: AT&T (NYSE:T) and Verizon (NYSE:VZ)
AT&T and Verizon have simply run up in share price. There will be a more opportune time to establish a position. AT&T and Verizon are two of America's favorite dividend stocks. Both are widely held. Unfortunately, the public buying pressure has forced a currently unreasonable valuation on the stocks.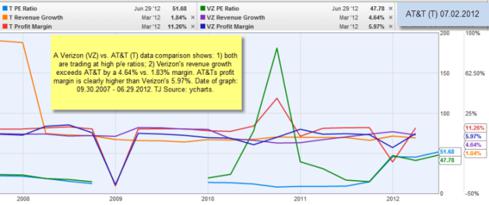 The current AT&T dividend yield is 4.9%. Many blue chip dividend stocks have experienced low yields due to the current Treasury Bond market. The 10-Year Treasury Bond market, on June 29th, closed at 1.67%. Investors are stretched to find yield. Verizon and AT&T's yields have decreased to the point where common share loss is higher than the yield warrants.
In my view, investors are simply buying the exact same 30-50 dividend stocks. I would focus upon a blue chip company with a growing dividend yield. Philip Morris International, Inc. (NYSE:PM) increased its 2011 dividend by over 15% versus the 2010 dividend level.
Verizon offers an unattractive 4.5% annual dividend yield. The stock is currently priced at $44.44 per share. There are many dividend stocks with higher dividend growth prospects and possess lower debt to equity strangleholds.
2 Stocks to Buy
I believe the market is under appreciating three blue chip names with very bright futures.
1. The Coca Cola Company (NYSE:KO)
Coca Cola is the number one beverage company in an overwhelming number of its markets. The company continues to buy back shares, increase annual dividends, and enter new markets as necessary. Not many folks thought bottled water would be a major revenue source. Now the company is reportedly considering entering a new market.
Currently, Coca Cola is exploring entering the energy drink market. The company released, in late April, a press release stating they were not interested in acquiring Monster Beverage (NASDAQ:MNST). The company faces Pepsi (NYSE:PEP) head to head in most markets. Coca Cola will establish their product mix on their own pricing terms and timeline.
Warren Buffett's conglomerate, Berkshire Hathaway (NYSE:BRK.B), owns 200 million shares of Coca Cola. Barry Diller owns 1.7 million shares. The shareholders have long holding periods.
2. SeaDrill Limited (NYSE:SDRL)
SeaDrill has the offshore drilling's best and clearly best tech engineered modern fleet. SeaDrill is often the first and last company to receive a call for a contract. SeaDrill offers the right products for the best drilling prospects.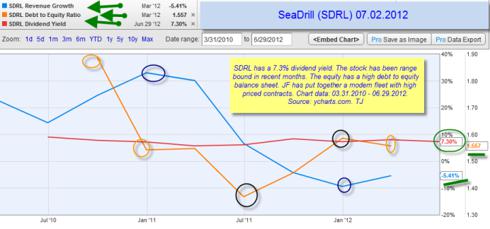 Friday's run up decreased the current annualized dividend yield to 6.9%. I would prefer, instead of being long SeaDrill common shares, to establish a synthetic covered call position. The January 2014 options are available to establish a position with limited capital. Once this position is established, then I would sell at the money covered calls through January 2014.
The company's contracts are in place. The focus is to generate income on SeaDrill's presence. Per the above chart, SeaDrill has provided shareholders a -9% annualized performance return. The synthetic position is likely to provide solid income due to the premiums built in on the calls and puts.
Action
At the end of the day, a retirement portfolio should provide quantifiable results, allow one to sleep at night, and provide necessary income. If there are warning signs, an investor should pass. Buffett said we only have to swing at the stocks that are fat pitches straight down the middle.
Demand positive results for your retiree dividend income portfolio. Ignore hype and focus upon results.