On Monday, March 24, 2008, Radio One, Inc. (NASDAQ:ROIA) announced it would sell its Los Angeles radio station to Bonneville International Corp. in a transaction that both analysts and the market seemed to widely applaud - sending the stock as high as $1.95 intraday from its previous Friday close of $1.10.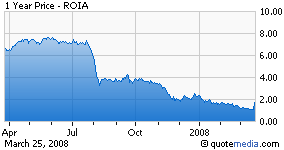 This transaction not only solidifies Radio One for the future, it also sends a signal that strategic deals in the radio business may be back in play.
Bear Stearns put out a note on Monday entitled Good Bye L.A. - Hello Share Repurchases discussing the transaction, its benefits, and reiterating their Outperform rating on the stock. They also upped their price target for the stock.
Highlights of their note include:
Good Bye L.A. - ROIA to Sell KRBV-FM for $137.5M. Radio One announced that it had agreed to sell its only radio station in Los Angeles, KRBV-FM, to Bonneville for $137.5M. We estimate that the station lost $5M of cash flow in 2007, and we were budgeting the station to be break even in 2008. We believe the tax basis for KRBV-FM was $250M, and estimate that net proceeds from the sale will be approximately $135M. We expect proceeds will be utilized to 1) purchase Bonneville's WPRS-FM in D.C. for $35M (ROIAK had an option to buy the station); 2) delever the balance sheet; 3) repurchase shares; and 4) invest in the internet. The transaction is expected to close in 2Q 2008.

• Covenants No Longer in Play. The sale creates considerable breathing room between the company's bank covenants and its leverage ratio. At year-end, ROIAK's leverage was 7.58x vs. a covenant of 7.75x. In April, the covenant steps down to 7.5x. With this deal, we calculate PF leverage at roughly 6x.

• Hello Share Repurchases. ROIAK also announced that its Board of Directors had authorized a stock repurchase program for up to $150M of the company's Class A and D stock through December 2009. We estimate the company's float to be approximately 80 million shares. At today's prices, the company could buy in the entire float under the new plan.

• Raising Target Price on ROIA to $3.50 from $3. We had projected the L.A. station to generate $5M in incremental EBITDA to 2008 results. Without L.A., we are lowering 2008E EBITDA to $105.5M from $110.5M. Prior to today's announcement, ROIAK shares were trading at 6.9x 2008E EBITDA. Even considering today's intraday move, pro forma for the deal, shares are currently trading at 6.3x our new estimates.
Disclosure: None
Disclaimer: This article reflects the individual views of Mr. Hannan and may not be attributed to any person, company or other entity with whom Mr. Hannan is affiliated.