Company Summary
DryShips Inc. (NASDAQ:DRYS) is a shipping company that specializes in the transportation of dry bulk cargoes all around the world. The company was formed in 2004 and is located in Athens, Greece. The company owned a fleet of 47 dry bulk carriers and 12 tankers as of June 2012. DryShips' combined fleet carrying capacity is estimated at over 3.4 million deadweight tons. DryShips Inc charters vessels overseas for carrying a wide range of products for several industries. These products are mainly coal and iron ore for energy and steel production grain for feedstocks, as well as steel products, fertilizers, minerals, forest products, bauxite, alumina, cement and other construction materials. Cardiff Marine Inc., a subsidiary of DryShips, manages all of the carriers. The carriers are employed through different types of leases. DryShips also owns and operates 9 offshore ultra deepwater drilling units through its majority owned subsidiary, Ocean Rig.
Competition
DryShips exceeds its competitors in terms of fleet capacity and worldwide trading routes. Most of DryShips' competitors -such as Diana Shipping (NYSE:DSX), Genco Shipping (NYSE:GNK), Excel Maritime (NYSE:EXM), Eagle Bulk (NASDAQ:EGLE) and Navios Maritime (NYSE:NM) - offer quite the same services. However, they operate mainly in specific geographical regions. Consequently, they depend on both global and region-specific economic conditions. Moreover, DryShips has invested over $600 million to new dry bulk ships and more than $460 million to new tankers, all to be delivered over the next three years. These investments certainly lower operational costs as a single ship has at least 25 years of useful life.
The Industry
The shipping industry is indeed struggling so far in 2012. That is because of low demand of dry bulk products on behalf of the international community, volatile oil prices, the insecurity of Europe's economic crisis and a slowdown in China. However, things may be looking better for the industry, as the Baltic Dry Index seems to be picking up again. The "BDI" provides an overview of the global demand for DryShips and the related dry bulk shippers' services. DryShips over the years has presented a short term bias on its contracts. Furthermore, it has operated its entire fleet mostly in the spot market. Therefore, an investment in DryShips is in fact an inherent bet on the rates of the BDI. This is evident in the links between the stock price and the BDI this past year as a whole. Higher rates, in fact, mean more income.
Stock Valuation
DryShips currently trades at $2.17 with a 52-week range of $1.75-$4.34, approaching its 52 week low of $1.75. The stock has been traded at $2-$4 over the past few months. Therefore, DryShips is presented as a stock that could double its value or even reach the price of $7-$8 during the next 12 months. Basic valuation ratios indicate that the stock is currently undervalued. DryShips' current P/B ratio is 0.3 compared to the industry average of 1.0. Over the last five years, P/B ratio has averaged 1.1 and ranged from a low of 0.2 to high of 4.6. DryShips' current P/S ratio is 0.79, and it has averaged 2.4 for the same period of time, with a high of 7.2 and low of 0.7.
Analysts who follow DryShips agree that the price target $4.40, suggesting again that the stock is currently undervalued. With such a significant upside, this stock can certainly be an attractive investment choice.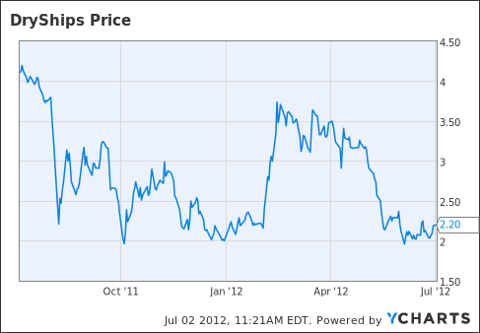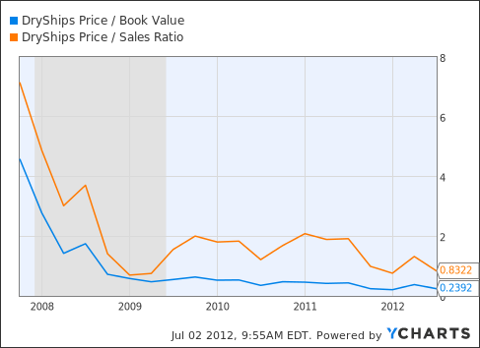 DRYS Price / Book Value data by YCharts
Financials
The Company, as indicated in the latest financial statement, reported mixed financial results. On the negative side, the total net loss recorded was $47.5 million. In other words, $0.12 basic and diluted loss per share was reported for the Q1 of 2012. Adjusted EBITDA was $105.5 million for the same period, compared to $107.1 million for the first quarter of 2011.
However, in April 2012, 11.5 million shares of Ocean Rig common stock were sold, thereby reducing DryShips' ownership in Ocean Rig to 65.2%. As a result, the net proceeds received strengthened the company's balance sheet, while at the same time contributed to the increase of Ocean Rig's visibility in the US market and its public float. On the positive side, according to the company's financial statement, revenues from drilling contracts increased by $53.7 million for the first quarter of 2012 as compared to $109.3 million for the same period in 2011. For the tanker segment, net voyage revenues amounted to $7.2 million for the three-month period ended March 31, 2012 as compared to $1.0 million for the same period in 2011. Analysts expect that revenues will show significant growth over the next five years at approximately 13% rate, while the industry as a whole grows at 4%. Moreover, Wells Fargo says the weak situation led by disappointing Q1 report can be a unique buying opportunity.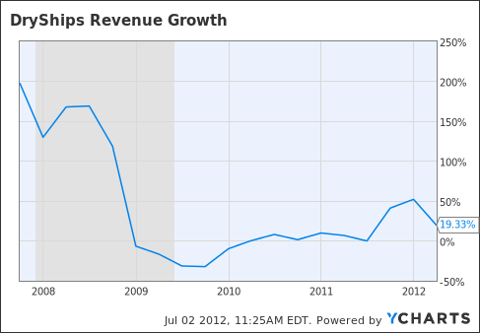 DRYS Revenue Growth data by YCharts
Summary
Overall, the Greek shipping industry is one of the largest in the world and is responsible for over 20% of the Greek economy. The recent political developments in Greece have brought some sound optimism for the country's market. DryShips is indeed one of the most liquid Greek ADRs and clearly shows signals of an upcoming rebound. As investors, we have been very worried about Europe as headlines were filled with Spain and Greece for months. However, DryShips is quite a haven in Europe. Management is also discussing a possible spinoff or IPO of their tanker business, which will surely bring more value to the stock. Moreover, lower oil prices led to lower fuel costs for the company's transportation services. It is certain that in the medium and long term, DryShips will continue to hold a leading place in the dry bulk services sector, making it an even more intriguing investment as the global demand returns to an accelerating pace.
Disclosure: I have no positions in any stocks mentioned, and no plans to initiate any positions within the next 72 hours.